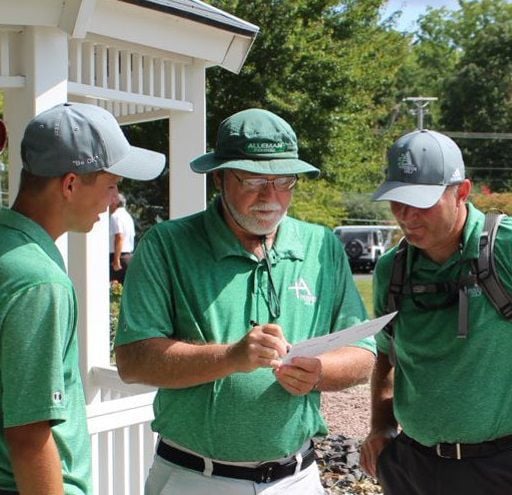 ROCK ISLAND — When it prepared to open the Class 1A postseason a week ago, the Alleman boys' golf team had a simple goal: survive and advance.
Despite having won their second straight Western Big 6 Conference title and their third in a five-year span, the Pioneers did not head to the Kewanee Dunes Golf Club thinking regional championship.
"The team that finished third (Ridgewood) had the best scores on paper going into regionals," said longtime Alleman coach Gene Elsner. "They didn't get a good number from their No. 2 player. If they get a good score, maybe they're champs, or us, or (runner-up Williamsfield)."
In the wake of last Monday's first-place finish at the Wethersfield Regional, Elsner's squad feels that another crown is not out of reach at today's 1A Brown County Sectional in Mount Sterling.
"If you're not prepared now, at the end of the year, then you've got a problem," he said. "We're ready. If we move around the course and don't make too many mistakes, we should be playing on Friday (at the state meet in Bloomington)."
Prepared for this time of year not only by a tough regular-season schedule, but by playing at a regional that produced the three best scores out of the 12 teams that will be teeing it up this morning at Rolling Greens Golf Course, the Pioneers feel ready to take the next step.
"Hopefully we carry our (regional) play over to sectionals, so we can advance to state. That's the main goal," said junior Luke Lofgren, whose regional-round of 74 earned him a second-place finish, one stroke behind Ridgewood's Thomas Bumann, and fueled Alleman's final team total of 328 strokes.
Four years removed from a third-place finish at the 1A state tournament, Alleman was a state qualifier at the 2A level last fall. This past season, the Pioneers compiled an 8-4 dual-meet record.
The four years prior to this season, Alleman won 39 of 40 dual meets. Ironically, it finished 8-4 as a prelude to its third-place state finish in 2015.
"The journey starts for us in August, or even before. It's all preparation for this upcoming weekend," Elsner said. "We try to play as tough a competition as we can. Every year, we put that on the table."
If the numbers line up right for Alleman, a sectional championship could very well be in the cards.
The Pioneers' first such title came in 2004, and it took them five years to capture another sectional plaque, in '09. Now, 10 years later, the timing is right, but Elsner stresses the need to be prepared much like last Monday.
"We finished a (Sunday) practice round, and it's a nice course, but not a lot to block the wind, which means the wind could affect the scores and who wins," he said. "If we're not ready for it — if we don't play well enough — we don't deserve to move on."
Be the first to know
Get local news delivered to your inbox!