When ground was broken in June 2018 on the nearly $10 million project to upgrade the school that serves some 1,650 students, Superintendent Jay Morrow said it was the project district leaders had had in mind since Rock Island County voters, on the fourth try, approved a 1 percent sales tax for school construction on Nov. 8, 2016.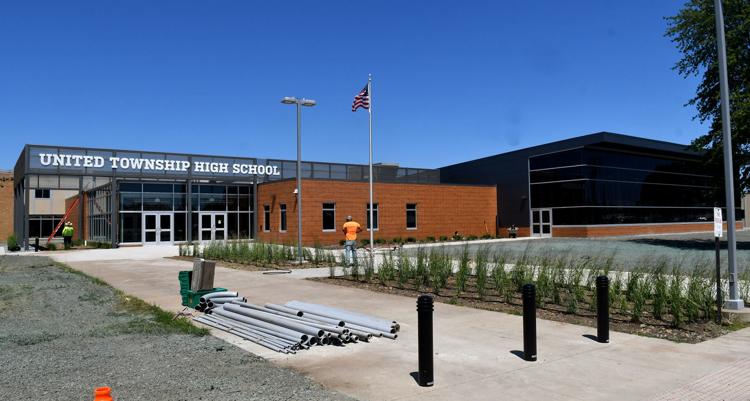 "The main goal was to improve the safety and security of the building," Morrow said then. The upgrade also was designed to "impact all students" and to create a school that the five communities that feed into the high school can be "very proud of."
Mission accomplished and then some.
"It's hard to come into this space and not feel good," Matt Wright, UTHS principal, said during an Aug. 2 preview of the new multi-purpose commons, student lounge and eating area. The commons also connects to a once-jam-packed 600-student cafeteria that now boasts room for 100 more students.
A new book store, student café with vending machines, a library and a media center also are included. So is an expanded, modernized nurses office that Curt Pratt, director of facilities, said is "probably the nicest one in the Quad-Cities."
You have free articles remaining.
There's also room for more new features thanks  to a space currently called "the gallery" that was created in place of the old library. It will be used for study hall and classroom space while UT mulls a better long-term future.
While students enjoy the new things they find inside, passersby on the Avenue of the Cities also are treated to an impressive new front door that represents a significant upgrade for a boxy building that had been built in 1960.
A giant, backlit UTHS sheet metal mural also announces the school's purpose day and night to passing traffic.  
"We were trying to get a lantern effect so we can keep the lighting on overnight," Pratt said. "It's one thing to see the changes here on the inside, another to see it from the outside."
Pratt called the school's facelift a "community boon," and the new exterior's curb appeal nicely announces that fact. So do changes to the interior designed to better serve parents and community members. They include an office realignment designed for "one-stop shopping" for all who visit the school.
In all, the new, improved school does just what we hoped it would do. That is join other Illinois Quad-Cities schools that have completed projects that have put them on equal footing with the first-class facilities our Iowa neighbors created with their own facilities sales tax.
Best of all, like the East Moline high school's recently completed upgrade, they do much more than simply show a pretty new face to the community. They create 21st century learning centers designed to better prepare our kids to meet the needs of tomorrow.
Kudos and thanks to taxpayers and the district leaders who are working and have worked to make great things happen.