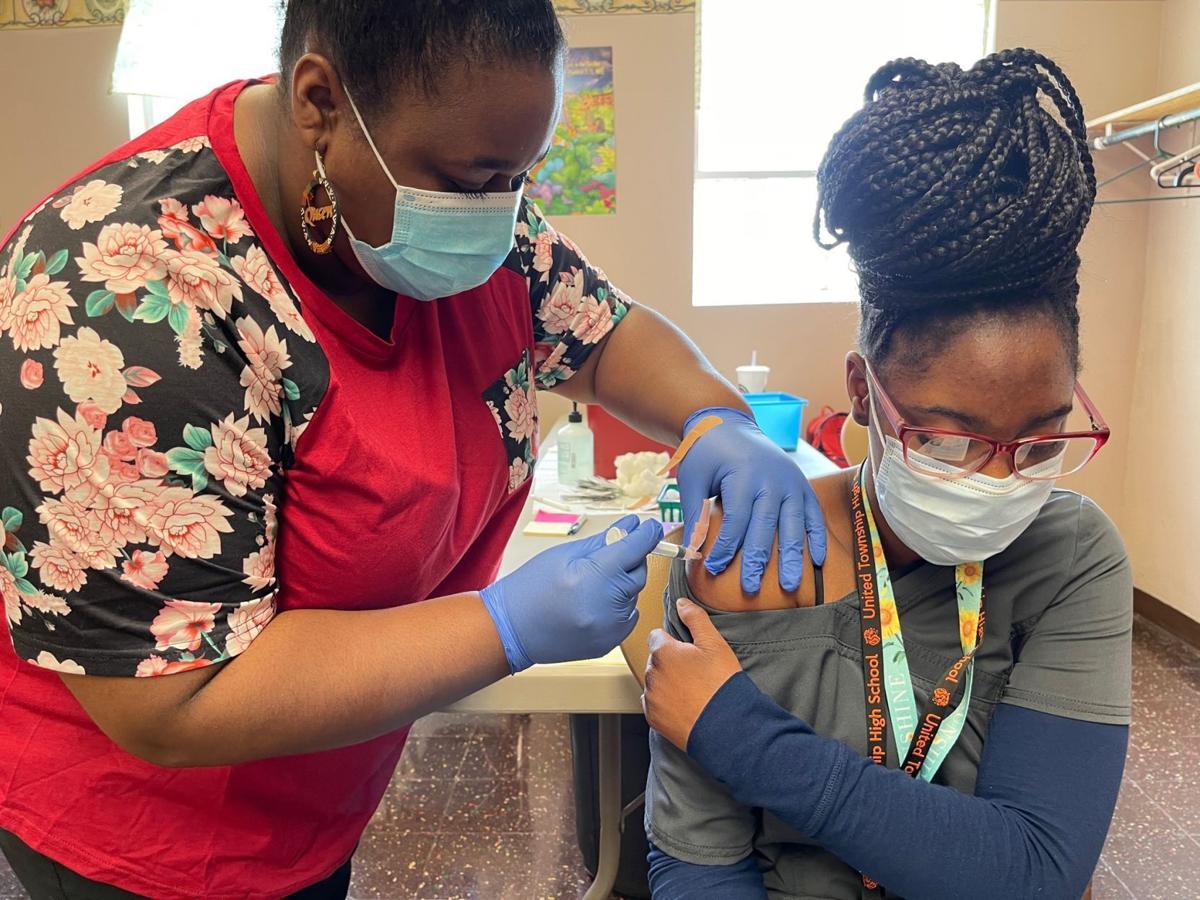 Thumbs Up … to the efforts by local and state health departments to ramp up interest in Covid vaccinations. It's clear the pace of vaccinations have slowed somewhat over the past couple weeks nationwide. So we're happy to see state and local officials in the Quad-Cities ramping up their efforts to drum up additional interest and put shots in arms where they can find them.
The Rock Island County Health Department held a pop-up clinic this week at Zion Missionary Baptist Church in East Moline, and it offered walk-in hours at the Camden Centre mass vaccination site in Milan. Meanwhile, officials from Scott and Rock Island counties were joined by representatives from Deere & Co. and Sears Manufacturing to talk about how employers can help with their own vaccination efforts.
Also, the Davenport School District announced it will hold vaccination clinics next month for students and their families. Even Davenport's transit system is offering free rides to people who are going to Genesis Health System's vaccination clinic on Elmore Avenue.
The New York Times, using CDC data, reported Friday that 33.2% of Iowans have been fully vaccinated, while in Illinois it is 29.9% (43.8% of Iowans have received one shot; 46.1% have done so in Illinois.)
We have passed the point where vaccines are in such ultra-high demand as they were earlier; now, officials must get creative to convince those who haven't been inoculated to step up and do so. We hope they continue the efforts and are successful. Public health officials said this week increasing vaccinations appear to be bringing down the number of new infections, which should be reason enough for more people to get vaccinated.
Thumbs Up … to Sen. Joni Ernst, R-Iowa, for her decision to support a bill aimed at curbing military sexual assaults that takes commanders out of the prosecution process. Ernst, a former National Guard commander and a sexual assault survivor herself, has always supported legislation in this area, but she previously didn't want to take this outside the chain of command.
Well, this week, Ernst announced she is supporting legislation also sponsored by Sen. Kirsten Gillibrand, D-New York, and Sen. Chuck Grassley, R-Iowa, among others, that would place decisions on prosecutions with independent military prosecutors, as well as provide for increased security and more and better training for commanders.
Gillibrand, who also has worked for years on this issue, said Ernst's decision is a "defining moment," according to the New York Times. And now it appears there is a real chance there will be legislation to attack a problem that has festered for years.
We appreciate the work that Ernst and Grassley, and Gillibrand, have done on this, and we're hopeful this is truly a turning point, a moment when victims can count on their government to protect them as they serve this nation.
Thumbs Down … to the ridiculously false claims that President Biden has a plan to force Americans to eat less meat in order to curb climate change. (Yes, somebody actually believes that). A number of conservative media outlets were reporting last weekend about the grand conspiracy of the White House to put strict limits on meat consumption. And this, just as we are on the cusp of grilling season. The nerve!
One claim had it that Americans might even be limited to one hamburger a month. Which doesn't seem possible to us.
By the way, this fake controversy is separate from Sen. Ernst's bill, announced earlier this month, that would ban federal agencies from prohibiting the serving of meat to employees — which itself is a solution to a non-existent problem. (Apparently, the peg in that case is a 9-year old newsletter that circulated within the USDA suggesting employees take part in a "meatless Monday.")
To be fair, we know there are those out there who want Americans to eat less meat – for their sake and the sake of the planet. The web site Epicurious just announced it wouldn't publish recipes featuring beef. But the government banning beef? As the president might say, 'C'mon, man.' Don't we have bigger fish to fry?
It appears this story got legs, as they say, from a British tabloid that linked Biden's climate plans with a 2020 study discussing how moving to a mostly plant-based diet could affect greenhouse gas emissions. However, as the Associated Press reported, the author of study said it had nothing to do with Biden's proposals.
That didn't stop the story from spreading, though. USDA Secretary Tom Vilsack even felt compelled to reassure the public there was no such plan to ban beef.
Like so many of these phony outrages, this was a story that turned out to be nothing but empty calories.