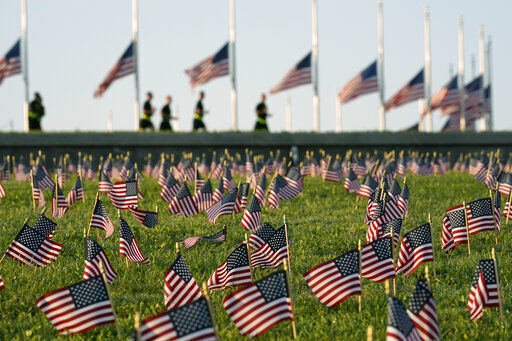 This month, we passed the six-month mark for the coronavirus pandemic. It was March 13, when a national emergency was declared and our country ground to a halt.
It's hard to imagine the days before then; the days when we didn't worry about wearing a mask, or whether it was safe to go into a restaurant; when we didn't wonder if we were walking down the right aisle in the grocery store to try to avoid others. The days when we didn't think twice about going to our houses of worship, or when we didn't inwardly groan at the daily death toll as it was reported in our newspapers and on television.
The days when we didn't have millions of Americans unemployed and about 900,000 new unemployment claims each week.
Last week, the United States observed the loss of 200,000 lives to COVID-19. That alone is a reason to stop and reflect. It is a staggering figure none of us should ever forget. In the Quad-Cities, as of Friday afternoon, we'd lost 110 of our friends and neighbors. How many others are suffering?
We don't raise this prospect to deepen anybody's misery. The coronavirus can do that on its own. But there are times when we need to stop and remember, to recognize this is a seminal moment in our nation's history, in our community and in our own lives. And we need to rededicate ourselves to fighting this disease that has so thrown us into turmoil. We need to dedicate ourselves in these divisive times to binding ourselves to the idea that we all are worthy of protecting.
Few of us are alive who remember the Spanish Flu of 1918-19; even the stories passed down are a generation or two removed. For the rest of us, this is new territory, even six months in.
But in addition to recognizing what has been inflicted upon us, it also is vital that we remember what it was like not to face such a crisis — and to realize we will find that day again. It is worth remembering, because that is what will sustain us.
Yes, there will be a day when this is all behind us; when we can stand down and breathe easier. If there is anything that unites Americans these days, it is the wish that an effective vaccine for this virus be found soon and that it is distributed quickly.
But we are not there yet. Dr. Anthony Fauci, the nation's top infectious diseases expert, predicted this month it would be sometime in 2021 before this country would be back to normal.
"By the time you mobilize the distribution of the vaccine and get a majority or more of the population vaccinated and protected, that's likely not going to happen until the end of 2021," he said. "If you're talking about getting back to a degree of normality prior to Covid, it's going to be well into 2021, towards the end of 2021."
These are difficult words to hear. The idea of another six months to a year before a return to normalcy is hard for many to take. But the evidence that we are not yet out of this crisis is all around us.
Students at North Scott High School are completing a week off in-person learning after an outbreak. Students and staff were scheduled to go back on Monday. In Illinois, meanwhile, student-athletes still are largely on the sidelines. And in Iowa, cases are yet again on the rise, with daily infections up about 25% on average over the last two weeks.
It's been a long six months, but we are learning to live with this virus. We have made mistakes, but we have learned much, too. We have doctors and nurses and scientists to thank for much of that. We hope they continue to learn — and cope with their unique challenges.
As we observe this moment, it is important that we all remember the stakes in this once-in-a-lifetime crisis; that we rededicate ourselves to taking those steps that make us safer; that we bind ourselves as Americans and find our common purpose.
We can't wait until that day when this pandemic is just a bad memory. But we are not there yet.
Concerned about COVID-19?
Sign up now to get the most recent coronavirus headlines and other important local and national news sent to your email inbox daily.