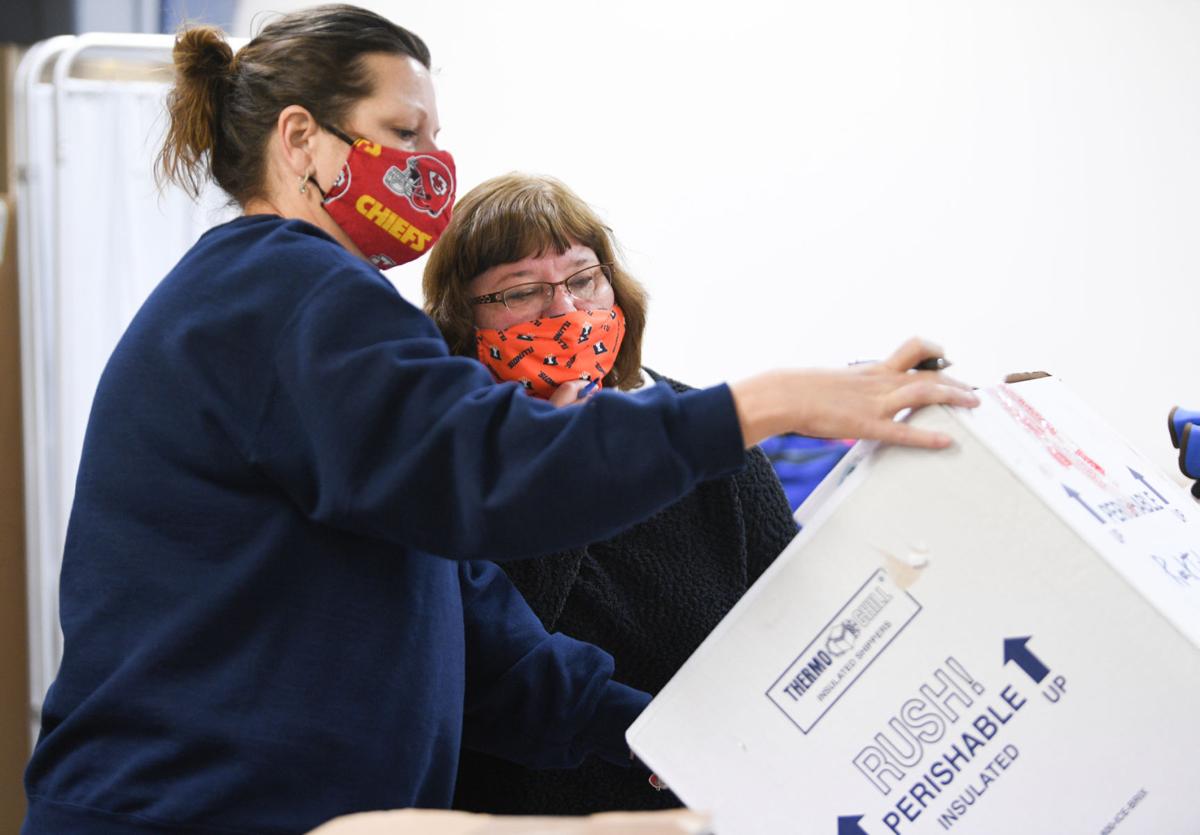 It's been nearly a month since the first COVID-19 vaccine was given in the Quad-Cities, and last week we heard, to varying degrees, local public health leaders sketch out what is to come in the next phases of the distribution plan.
Public health officials in Rock Island and Scott counties have different plans, but much of their message is the same: They've told us that, so far, supply of the vaccine is sparse. They've told us it will take months to accomplish widespread immunization. They've counseled patience.
We realize that people are eager to get vaccinated – that the jab in the arm, and the one that follows, represent our most concrete step toward normalcy. And after 10 months, this is what we all want.
Still, even as we agree with the call for patience, we believe the public has a right to some frustration, too. We were told by the federal government that by the end of the year, 20 million Americans would be vaccinated. We didn't even come close to that mark.
Iowans and Illinoisans also see news from other states, like Texas and Florida, where some older Americans in the general population are already able to sign up for vaccinations. They legitimately ask: What about me?
These states aren't necessarily leaps and bounds ahead of us. Witness the reports out of Florida, where seniors are standing in impossibly long lines, while phones are jammed and web sites inoperable, as thousands try to set up appointments. Many of them give up frustrated.
"I'm just flabbergasted and beside myself at how unorganized everything is," Anthony Isch, a 67-year-old retiree, told the Tampa Bay Times. "How can all the websites be down and the phone lines be down? How can everything be down? It's a train wreck."
Train wrecks don't exactly help build confidence in vaccination efforts, and public confidence is exactly what this effort requires in order to get enough people to take part.
In Illinois, Gov. JB Pritzker announced last week that when the next phase of vaccination efforts take place, it will be open to people 65 and older. That goes beyond the federal recommendation that the age threshold for this phase be set at 75 and up.
We still are waiting for Iowa to outline its next phase. The council advising the state department of public health is scheduled to meet this week to consider the matter. Meanwhile, Gov. Kim Reynolds said she is not happy about the pace of vaccinations for nursing home residents and staff. Those shots are being given by a partnership that includes major pharmacy chains.
Here in the Quad-Cities, local health departments have scheduled clinics to vaccinate the remaining healthcare workers who are in the first batch of those to get shots. This process, we're told, should be completed at about the end of the month.
We wish the rollout would go faster. But local officials tell us that they are constrained by the lack of vaccine available. That's a problem at the federal level, and it is unacceptable. We're told this effort will speed up, but we need our representatives in Congress to push for faster action. There have already been too many distractions from what should have been our federal government's top priority – racing to administer vaccines in order to stop the deaths of thousands of people each day because of this virus.
We do think this bottleneck gives state and local officials time to learn from the mistakes of other places, like Florida. We certainly hope they are paying attention and setting up the networks and workforce needed to handle what will be a huge volume of interest. We also see reporting there also are bottlenecks at the state level.
All across the country, we saw failures to supply adequate testing early on in this crisis. We also watched as states have failed to adequately handle unemployment claims that flooded offices because of the pandemic's economic fallout.
We must avoid these mistakes with vaccine distribution. We need to get this right.
We have confidence in our local public health experts and workforce, and we believe you should too. We believe they are the ones we should look to for reliable information about vaccines and their distribution, not what we see on our Facebook or Twitter feeds.
We also are committed, as a local news source, to provide you with reliable information about the vaccination plans as soon as we can.
In the meantime, we are patient. But we are eager to get our turn. We know you are, too.