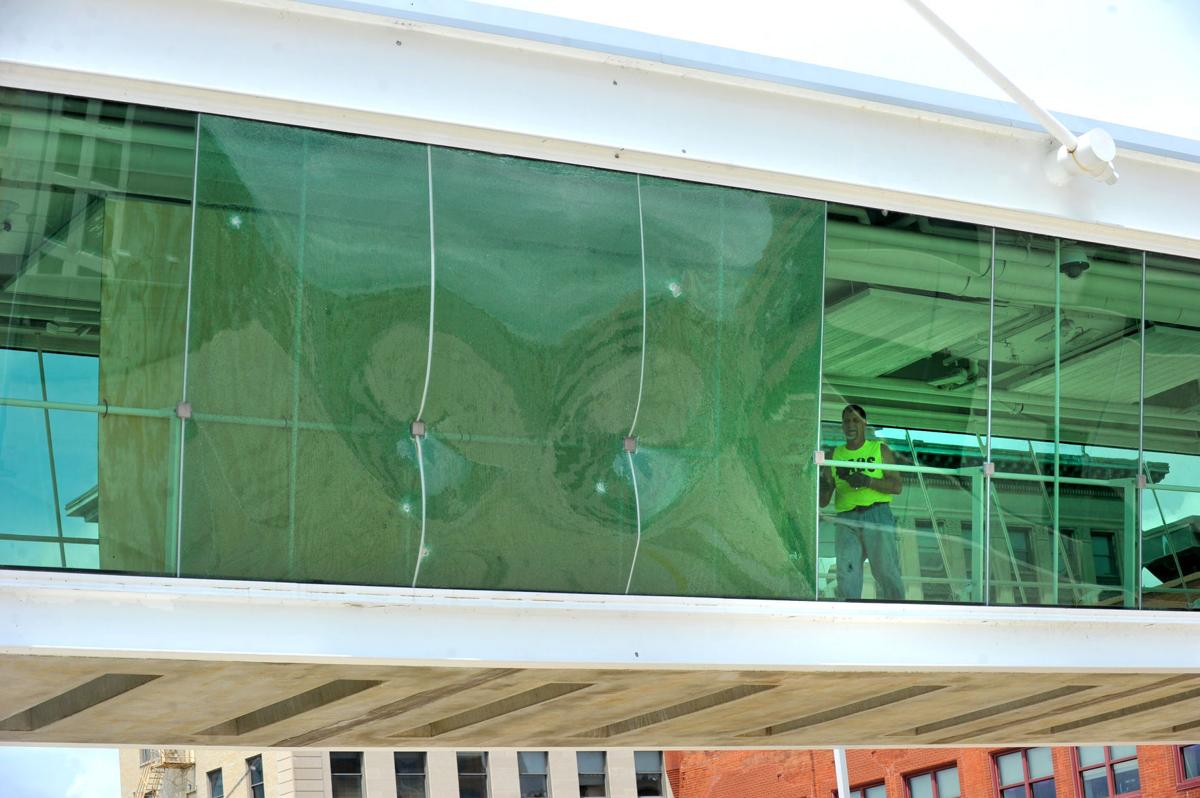 Unfortunately, the people of Davenport have become accustomed to gunfire. Still, the reports that early Sunday nearly 80 shots were fired downtown, destroying windows at the Figge Art Museum and the Skybridge, was a shock. It's not that these buildings are sacrosanct, nor the area, but the volume of firepower was startling.
What's more: This is just the latest manifestation of a problem that isn't getting any better.
In 2020, there were 279 gunfire incidents in Davenport; that was up more than 40% over the year before. Compare that to Cedar Rapids, a larger city, where there were 163 shooting incidents in 2020.
In other words, Davenport, the state's third largest city, experienced about 70% more gunfire incidents last year than the state's second largest city.
The city has long recognized that gun violence is an issue here. In 2019, the city of Davenport, with much fanfare, announced a cooperative agreement with the federal government to form a partnership aimed at stemming the violence.
At the time, officials made it clear that guns and the people who illegally fire them were now the targets and would be dealt with seriously.
The message was communicated loudly, and clearly: Gun crimes would be prosecuted in federal court, and in the federal system, there is no parole.
Late last year, the city also announced a $700,000 federal grant to be used to create a crime analysis division.
Still, the violence continues; the number of lives lost mounts. Perhaps the most disheartening thing about the news conference city officials and other leaders held at the police department on Monday was this revelation: As bad as the increase was in 2020 over the year before, Police Chief Paul Sikorski said, "we're right on track with where we were last year. So we're not seeing a decline yet. That's why we're here."
The city is taking a range of actions to combat this problem, but there will be no easy fix.
Despite the fact there was a large crowd at the scene of the shooting, authorities said they got little cooperation from people at the scene and were left pleading with the community to help out with the investigation. We would echo that call. Silence serves nobody.
It is vital that police are able to hold those who are responsible accountable.
That said, as Sikorski has long noted, we can't just arrest our way out of this problem. We must find a way to steer people away from these influences.
We eagerly await the city's long-promised Youth Assessment Program, and we hope that it will make a noticeable difference.
Unfortunately, it has taken too long to get to this point.
We also must recognize our community is flush with guns. Apparently, it is not hard to get them; new laws at the state level are making it even easier. It's also discouraging to read reports, like the investigation recently from USA Today and The Trace, which said the federal ATF is too lax when it comes to penalties against gun sellers who commit serious violations.
Sikorski was right about another thing Monday; he was right that we are fortunate that police weren't talking about the deaths of several people. The idea that nearly 80 gun shots found only glass and building material as their final destination, rather than flesh and bone, sounds to us like the kind of luck we can only count on rarely. The next time, who knows?
It was shocking to see that amount of gunfire in downtown Davenport this weekend, a place where many of us go to have fun, to listen to music or look at the river. Imagine how much more shocking it would have been if those 80 rounds had found a human target, or more than one, rather than an art museum and a pedestrian overpass.
Let's hope that it doesn't come to that. Let's hope that after all the years of talking about a problem we've all recognized, that soon we get the results we all want.