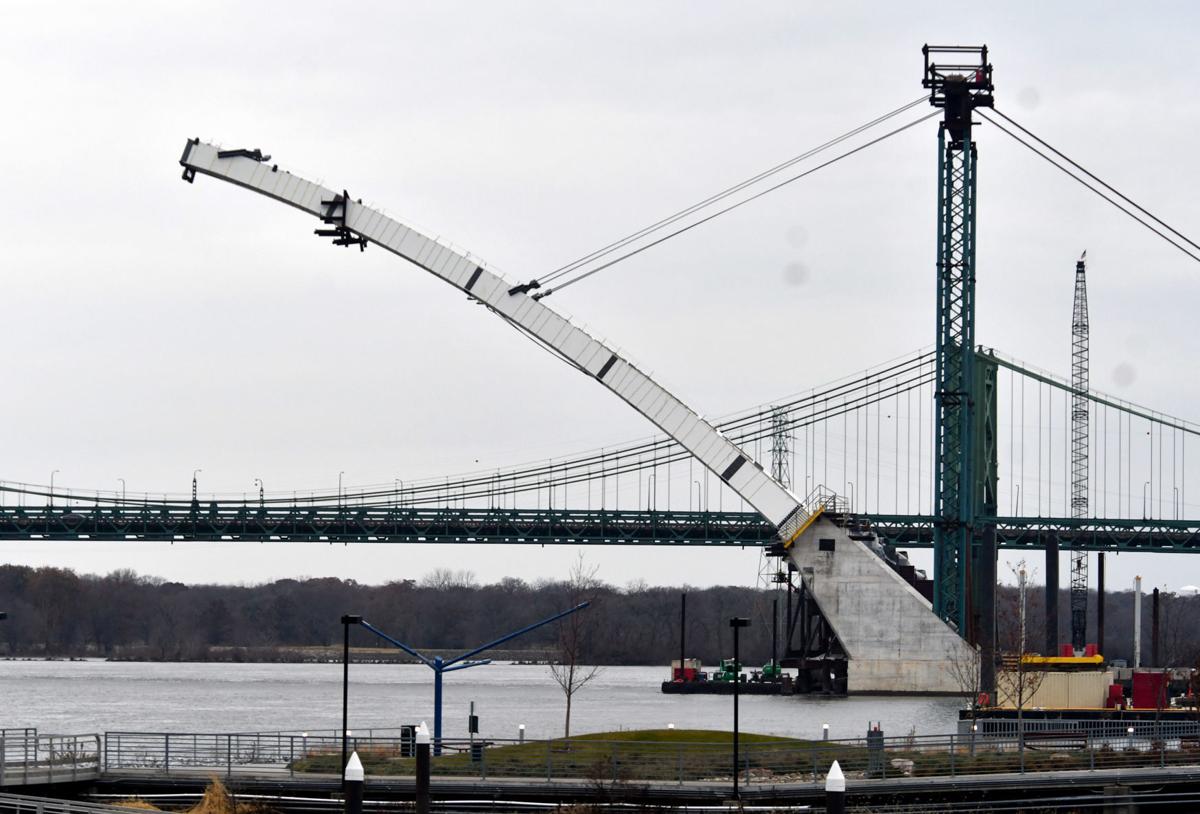 We've seen a lot of progress since the I-74 bridge project got underway two years ago. But, as our readers know, lately there have been reasons to be discouraged.
Reporting by Barb Ickes has pointed to disputes between the Iowa Department of Transportation and its main contractor, Lunda Construction of Black River Falls, Wisconsin. Also, the project is at least a year behind schedule, with it now slated to wrap up sometime in 2021.
There has been progress, but DOT and Lunda are still gridlocked over some key components, namely whether the bridge is "constructible" as designed, and how much this thing is really going to cost to get built.
In layman's terms, IDOT says the blueprints should be good to go, but Lunda says the designs don't allow for enough flexibility when it comes to lining up those high-profile basket-handle arches, the signature element of the bridge's design. To be clear, no one is saying the bridge won't be built, or that it won't be built safely. In fact, that's part of the issue: The bridge must meet so many safety benchmarks, it only adds to the complexity of the construction. It's inspected routinely.
Really, this is a dispute about money. We're told that Lunda says it's owed more than the state is willing to pay because it has a different opinion about the constructibility of the original design, which with other factors, have led to delays. IDOT essentially says Lunda should have known what it was in for, and it's on them to construct the bridge for close to what it was bid.
Though the overages are estimated to be "significant," IDOT thinks they'll still come in lower than the original project estimate of $386 million.
We don't find that comforting.
In a meeting last week with Ickes and two editors, IDOT Director Mark Lowe was obviously frustrated. Lunda has repeatedly declined to comment to reporters.
The $322 million contract is set up to deal with disputes, but it could be the courts will have the final say. Construction would continue even if Lunda and IDOT reach a stalemate over the final price tag.
Project managers say hiccups worked out in these stages may allow workers to avoid the same mistakes when they move to further phases of the project. We're hopeful but wary. Having been told construction of the decking is just as delicate as placing the arches, we can't help but think more unexpected problems may well arise.
With so much taxpayer money at stake – this contract accounts for about a quarter of the $1.2 billion project that includes the on-ramps, road widening and overpass relocations – we hope our state and federal lawmakers have been following our reporting. Iowa's attorney general's office is representing the state in negotiations with Lunda, and we have faith its attorneys will act in the best interest of taxpayers.
However, our editors also pointed out to Lowe the uncalculated costs these delays are foisting on Quad-Citians -- the lost productivity from sitting in traffic, not to mention the additional gas costs. Or the time wasted having to drive through detours or sit at stoplights and train gates. Those costs mount with every bridge setback.
Quad-Citians can't afford any more delays. And the builders and project managers can't afford to lose public faith. We should all expect and demand accountability and transparency in 2020 – and a safe, brisk and frugal construction timeline.
Catch the latest in Opinion
Get opinion pieces, letters and editorials sent directly to your inbox weekly!