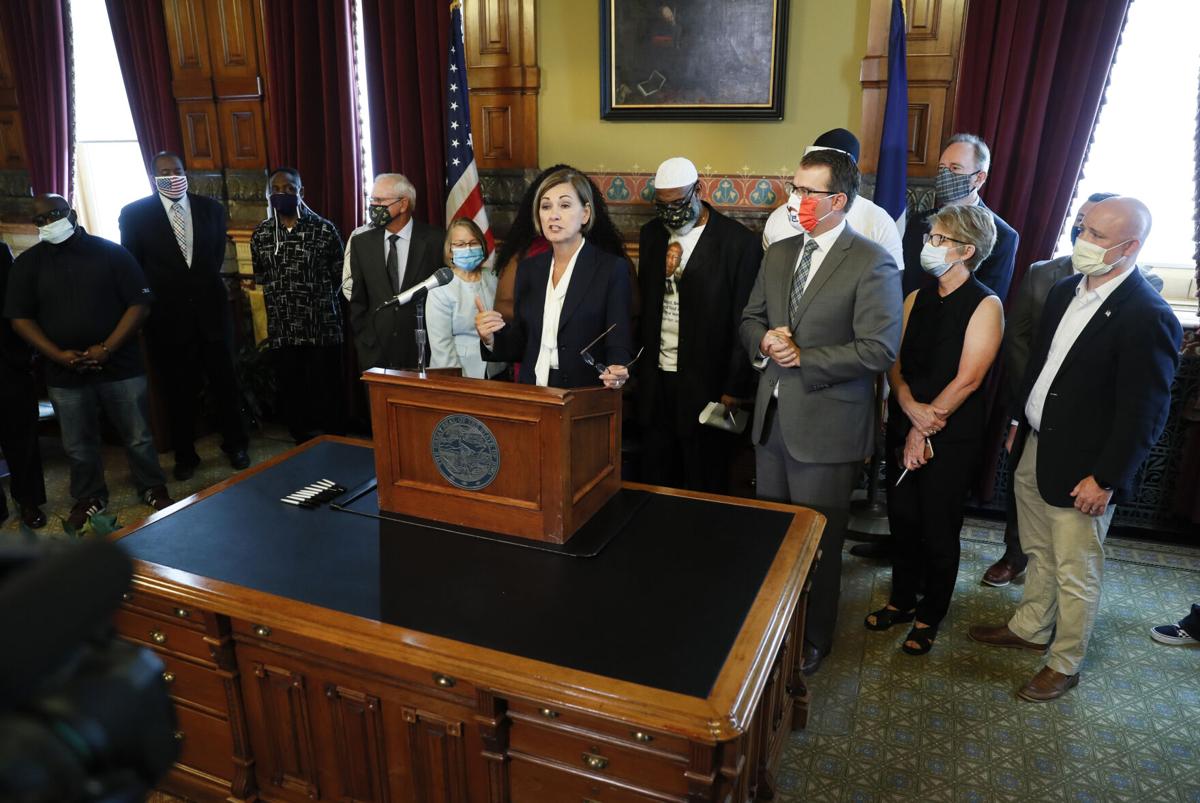 Iowa has finally rid itself of its shameful standing as the only state in the nation to automatically ban people with felony convictions from voting.
Gov. Kim Reynolds, as promised, signed an executive order accomplishing this task on Wednesday.
The move will open the voting booth to up to 60,000 Iowans, particularly those who are Black and Latino, who have not been able to fully participate in public life, or reintegrate into society, because of this inexcusable ban.
No more. The governor, surrounded by people who have spent years fighting this battle, signed the order, reversing the action taken by her predecessor, Terry Branstad, in 2011. It was Branstad who reversed Tom Vilsack's order in 2005 that allowed people with felony convictions to vote.
"It's a big step for so many on the road to redemption and proving to themselves and maybe to others that their crimes or their convictions do not define them," Reynolds said Wednesday.
Not all are included in this order. The ban still applies to people who have committed crimes like murder and manslaughter. It also requires the completion of prison, probation, parole or special sentences. Notably, though, this order does not require that people repay financial restitution before they can vote.
That's good. For too many, this would amount to an insurmountable poll tax.
In her remarks, the governor rightly noted this order is a temporary fix. The real solution is to amend the state's Constitution.
Unfortunately, the Republican-controlled Senate has so far declined to take action. In addition, the Legislature passed a law, which the governor signed, to require payment of restitution if an amendment were to be approved by the public.
This needs to be addressed. It would be a shame to approve a constitutional amendment with this stipulation. It would amount to backtracking from the historic step taken on Wednesday.
There also is work to do to implement this order. With fewer than 100 days until the election, the state must ensure that those with felony convictions be removed from databases so they may cast their ballots unfettered.
Still, Wednesday's signing was a historic victory for civil rights in Iowa; it is a victory for all those who have been marching for justice this summer. The Black Lives Matter movement provided significant momentum to this fight the past several weeks.
This moment has been a long time coming, and all Iowans should celebrate. It is, at long last, the removal of a stain on the state's honor and a testament to its determination to be better.
Catch the latest in Opinion
Get opinion pieces, letters and editorials sent directly to your inbox weekly!