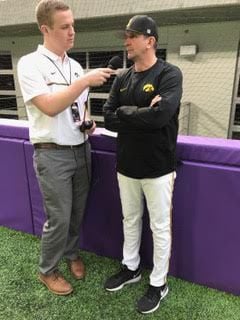 GENESEO — Zach Mackey's practical-joking housemates are forever busting on his "announcer" voice. No harm, just dudes being dudes.
Yet they speak the truth with the nickname they have given him.
"They call me 'Golden Pipes,'" said Mackey, the ever-smooth radio voice of University of Iowa baseball who has the potential to be a big-time play-by-play announcer in a variety of sports. "It's a way of giving me a hard time, but they mean it as a compliment. It's always Golden Pipes this or Golden Pipes that when it comes to my play-by-play voice.''
Truth be told, Mackey is way past good, easily worth the nickname, and good-natured enough to handle any ribbing from his buddies. He also is light years ahead of the curve for those chasing a broadcasting career.
A junior at Iowa majoring in sports management with a minor in mass communications, Mackey has been a broadcaster for the Big Ten Network, BTN Student U and a reporter/anchor for Daily Iowan TV. He has called action for eight Iowa sports, including football, men's and women's basketball, and wrestling.
This past spring, the 22-year-old former Geneseo football standout was at the mike when the Iowa baseball team captured the Big Ten Tournament championship and appeared at the Houston, Texas-based NCAA Super Regional. In August he will travel with the Iowa baseball team to Taiwan for an international baseball festival but also finds time to work in the school's football recruiting office.
He was named an All-American by the Sportscasters Talent Agency of America in 2016 as one of the top six collegiate sportscasters in the country. He was the only underclassmen in the Top 10. He was also the recipient of the Bob Sheppard High School P.A. Announcer of the Year Award and runner-up for the Bob Costas High School Play-by-Play Broadcaster of the Year in 2013 as a prep at Geneseo.
Zach Mackey is as gifted as they come.
"I called some early season baseball games in 2016,'' said Mackey, who splits time between a house shared with the roommates in Iowa and his boyhood home in Geneseo. "I have great respect for Coach (Rick) Heller and his baseball staff, and they make what I do easy. The players are great and, along with the Big Ten people, have gone out of their way to help. This year's run was amazing to call. I'm just grateful to do what I do.''
Despite nationally televised opportunities and his radio work, Mackey is ego-free. He is a "grinder," someone willing to do whatever it takes to improve.
For example: Mackey served as the play-by-play voice for the Chillicothe Mudcats in the MINK (Missouri, Iowa, Nebraska and Kansas) Summer Baseball League in 2016. He called 45 games over a 50-day span from June 1 to the middle of July.
He is also aware that to live his dream of calling Major League Baseball there will be plenty of late-night bus rides to some out-of-the-way towns along the way.
"It really is about paying your dues,'' Mackey said. "And I am willing to do whatever is needed to get an opportunity. Play-by-play jobs at any level just don't fall into your lap. You have to earn them, and once you get one, you have to get better each day in order to get another. I'm OK with that.''
But Mackey, who graduates in December 2018, says there is a time-frame in his dream search. Two of his housemates are headed to dental school and one to medical school. If Mackey's career has not advanced to a certain level by the time his buddies are through dental and medical schools, respectively, he will search elsewhere for the right fit.
"We'll see what happens, but that's where it stands today,'' Mackey said. "I'm going to chase the dream, but I also have plans to step back and evaluate where I am after a certain time.''
Until then, Golden Pipes is going to enjoy the chase.
"Me, the kid from Geneseo, gets to pick the brain of (Iowa football and basketball radio announcer) Gary Dolphin,'' Mackey said. "And listen and watch him — a real pro — work. I just assisted in a football recruiting weekend and get to be around Coach (Kirk) Ferentz and his staff, some of the best people I will ever meet. I get to call major college athletics, and I'm still a student. It's been a dream so far, and aren't we supposed to chase our dreams?''
Here's hoping Zach Mackey — good enough to have the nickname he has — never stops chasing.