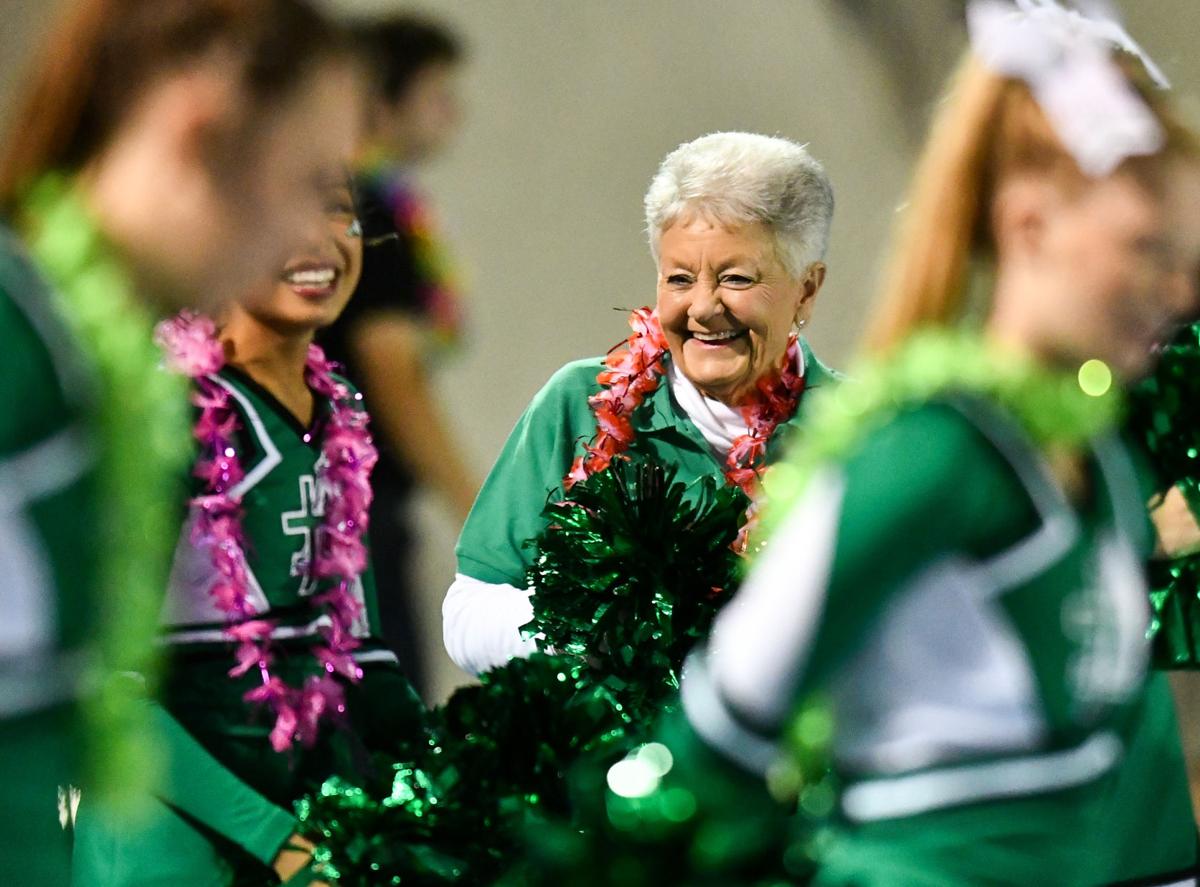 ROCK ISLAND — At a shade past 10 on a blustery late-summer's eve, Nancy Fischer gathered her supportive and smile-fueled family and proclaimed:
"Boy, was that fun, but I don't want to make a career of this,'' Fischer, as first-rate and charming as they come, said after realizing her dream of being a high school cheerleader, 61 years after graduating from high school.
Fischer spent the first quarter of the Sterling High School-Alleman Catholic football game working alongside the 2017-18 Pioneer cheer squad, guiding a vocal and boisterous crowd through several routines.
At age 79, it was Fischer's first taste of the cheer life.
The oldest of five growing up in Rock Island, Fischer and her light-up-a-room personality, attended St. Joseph's Catholic School through eighth grade. Like many young people of that era, including several of her peers, the cost of tuition to Alleman High School fell on the student. Fischer was no different than countless other teens - regardless of school — who earned their way through those years.
To pay her way through high school — $50 per year — Fischer took on as many babysitting jobs as time would allow. But the heavy workload kept her from an extracurricular activity she longed to be a part of.
"My case was like a lot of kids I went to high school with; you did what you could to help and pay your own way,'' Fischer, who enjoyed a lengthy career as a secretary at Augustana College, said, noting that even after her full-time career ended at Augustana, she returned yearly to the school to assist with annual class registrations and work in the school's bookstore.
"And I sat for a lot of folks,'' Fischer continued. "I got to know many wonderful families. I made 35 cents an hour no matter what, and when I would sit for a family in (Rock Island's) Watch Hill, I would earn 50 cents an hour.''
When old enough, Fischer also worked at Rock Island's Peerless Dairy, but babysitting and her second job kept her from chasing the dream of cheering for her high school. Football and basketball games conflicted with the hours spent on the job.
"There are no regrets,'' Fischer said. "But I did share many years ago that I wished I had the opportunity to be a cheerleader. It would have added something to my high school experience.''
Knowing that, her longtime pal, Dolly Sladek Grupallo, formulated a plan. She would bid on the "Be an "Honorary Cheerleader'' silent-auction package offered at Alleman's Father Mirabelli Heritage Ball. On that March night, Grupallo — in a three-hour, back-and-forth bid competition via phone — won the right for her pal to cheer.
"The kids were amazing,'' Fischer said of her Friday night cheer mates. "I even got to practice with them earlier in the week. I don't think they were expecting the little gray-haired lady, but they made me feel welcomed and I loved being around all of them. Some amazing friend I have in Dolly, huh? Can you imagine three hours on the phone? It is a night I will never forget.''
And a night worth a six-decade wait.
Catch the latest in Opinion
Get opinion pieces, letters and editorials sent directly to your inbox weekly!