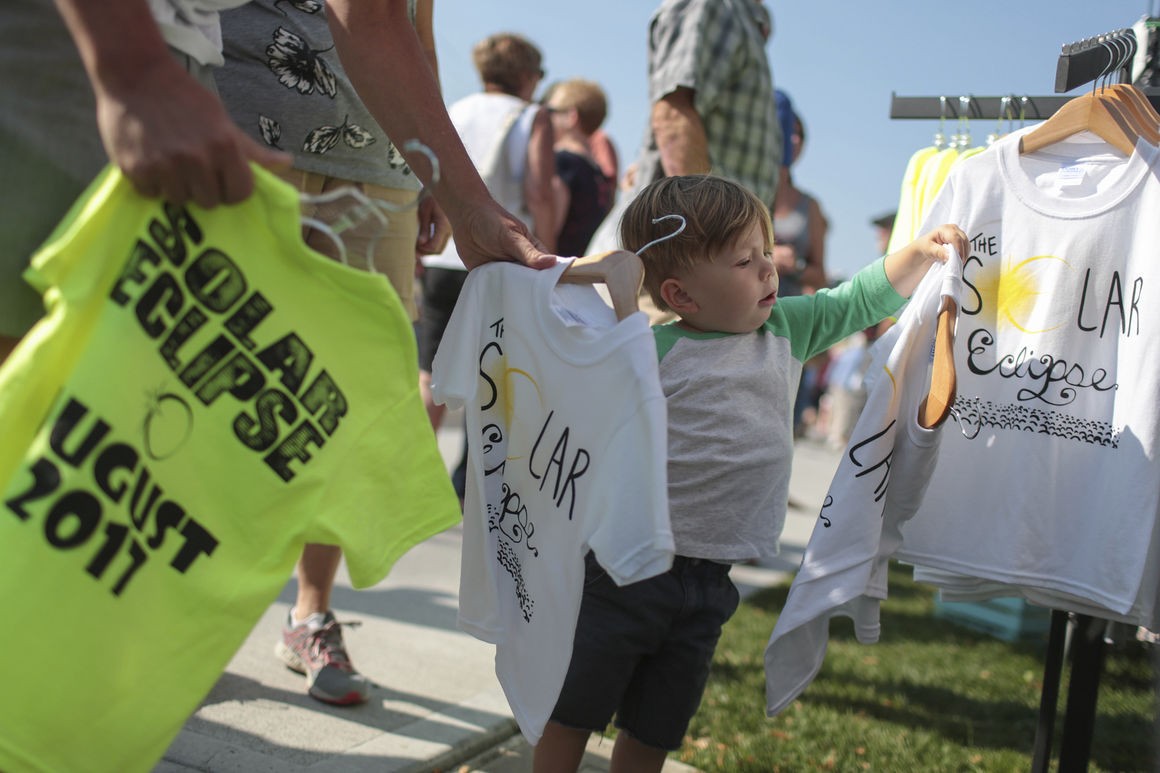 I am out.  See ya.  Buhhh bye.
I was in for the longest time, but now -- like my relationship with fireworks -- I am off the solar eclipse bandwagon.
I'm a "sky'' guy, almost nerd-like when it comes to up above. I dig the Big Dipper, Orion's Belt and the North Star (Polaris), the brightest of stars. I could spend hours at the planetarium at Augustana College, was a frequent visitor to my wife's uncle's house during his "telescope'' days and hope someday to find my way to Niabi Zoo and night- watch with the Popular Astronomy Club.
I do not know much, but I knew a solar eclipse was going to happening sometime between 11:48 a.m.and 2:39 p.m. today. And I was looking forward to it.
I knew there are two different types of eclipses --  solar and lunar. Solar eclipses happen when the moon's shadow falls on the Earth as it passes between us and the sun. Lunar eclipses happen when the moon is blacked out by moving into the shadow of the Earth.
I read -- and found it to be pretty cool -- that it has  been 38 years since a total eclipse was visible from the continental United States, and that even then it was visible only in the northwest U.S. and Canada. It has been a whopping 99 years since the last total eclipse crossed the continental U.S. from coast-to-coast. 
As I stated, I was in --  almost with both feet.
By the time some marketing dude e-mailed me with a story idea about the proper wine to serve at my eclipse party, I was slowing the horses on my eclipse bandwagon.  
When a local television station aired that a member of the Oregon Red Cross issued an "Eclipsed Preparedness'' video -- complete with CHEEZ-IT crackers -- I was standing at the edge of enough-is-enough.
Then I read where hotel rooms in Carbondale --  a wonderful-mid-sized college town in Illinois and a  viewing hub for the  the eclipse -- were as high as $500 per night with a three-night minimum. Add to that hotel rooms in Nashville, Tenn, and across Idaho were going for upward of $1,000 per night.
That sent my bandwagon rolling over the cliff.
The over-eclipsing the eclipse reminds me of the days when they first started hustling Christmas albums in August and the first big box store holiday display would come to life in September. The fun of all that is something special is gone before the day.
The price-gouging to profit from the eclipse reminds me of the way one convenience store chain raised its gas prices to more than $ 4 per gallon after Sept 11, 2001.
My anticipation of something pretty cool has to turned to frustration.
So today, thanks to the 100th TV story on being ready for the eclipse, I will have a three-day supply of water, a box of CHEEZE-ITs, a flashlight, a first aid kit and a multi-purpose tool in my trunk. I know some kind of traffic gridlock will stretch across 14 states because of the eclipse, and if I were out driving during the eclipse I could be stranded.
I would have to care -- and be involved --  for that to happen.
Sorry -- and sadly -- I am out.
Catch the latest in Opinion
Get opinion pieces, letters and editorials sent directly to your inbox weekly!