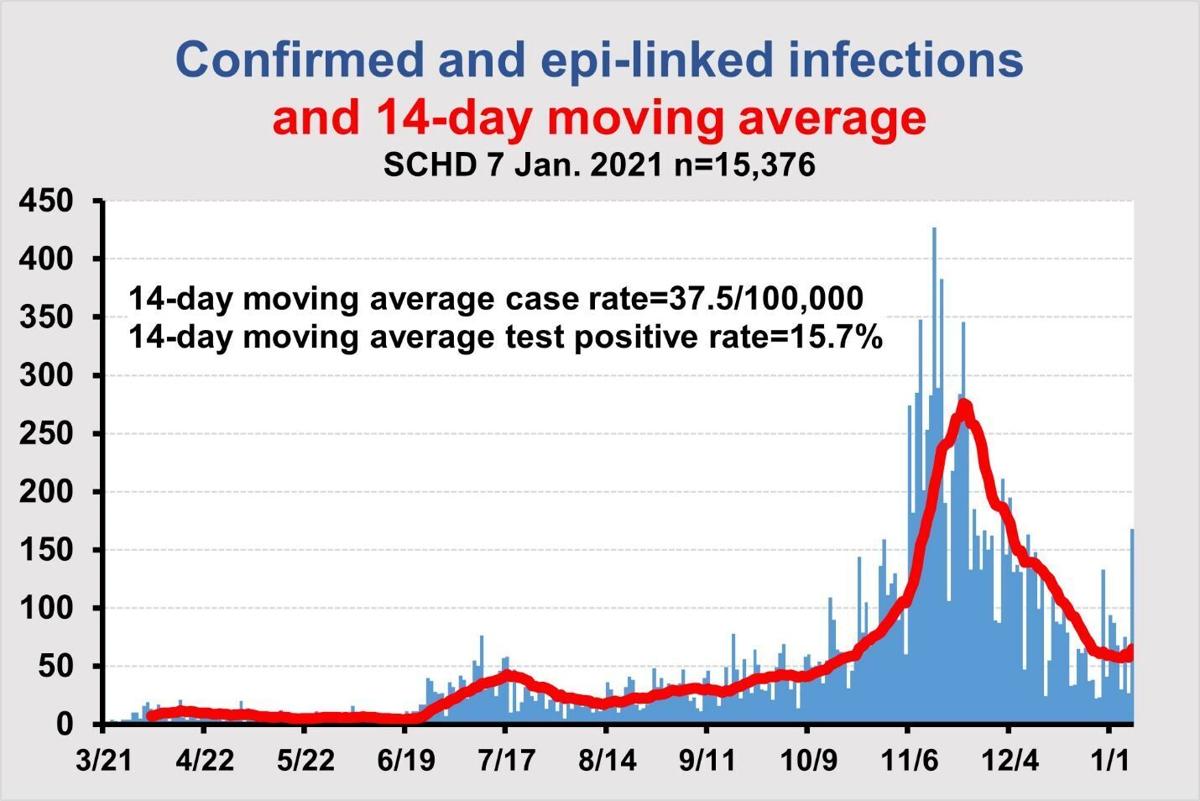 Light at the end of the tunnel?
This is the Scott County COVID-19 epidemic curve from the start last March. You see the peak in November and a steep decline that includes the post-Thanksgiving and Christmas weeks. This is while most of the United States saw and continues to endure steep increases in cases. Elsewhere, there are now widespread limitations on the ability to deliver health care that are unrecognizable to me as an American.
What changed? Our local decline precedes any reasonable expectation that the measures announced by Governor Kim Reynolds on November 16 are responsible. Also, the drop is obviously not due to immunizations starting after Christmas for a quite limited group of health care providers. We are struggling a bit at the health department to understand it but suspect it may be as simple as a literate citizenry seeing what was happening and saying, "I get it". I have walked through several Davenport retail stores in recent weeks. Virtually everyone was masked and most appeared to be trying to maintain reasonable distancing. When an infected person and their contacts are both masked, transmission of the virus is extremely difficult. We are seeing the impact of Christmas get togethers now, mostly as a stall in the decline of infections, but no definite increase (yet). If we can get to mid-month without a new spike after New Year's Day, it bodes well for holding the curve down while we build the capacity to immunize the population over the first two quarters of 2021.
As you read this, the two dominant health systems in the area are actively immunizing their frontline folk, who you will need when you need health care (whether for COVID or a heart attack). National pharmacy chains are putting vaccine into arms at local skilled nursing facilities that have borne a lion's share of the more than 350,000 U.S. COVID-19 deaths. Scott County (Rock Island County as well), with more partners than can be listed, has stood up what we think will be a high throughput immunization clinic that will be able to serve the essential health care providers not affiliated with the dominant systems and much larger populations soon. After that, with the anticipated growth of vaccine supplies, the jabs will be eventually available in the usual places where vaccines are given.
What now? If we can maintain our success, get your vaccine when you are eligible. To stay well until then (and to keep your family and friends alive and well) you need to 'dance with the one that brung ya". That means we have to redouble adherence to the "non-pharmaceutical" interventions that brought us down from that horrid Fall peak.
• Everyone has to minimize non-essential trips in public.
• When we must be out, wear a mask and stay away from crowds, especially indoor crowds, where 6 feet of physical distancing is hard.
• Wash or disinfect your hands frequently.
The governor needs to maintain the more stringent recommendations she made in her November proclamation, but the bottom line is that we can keep the curve flat without her "help"….
When can we all get shots? That will come in stages based on risk after essential workers and high-risk people are vaccinated in stage 1. It may be reasonable to predict that everyone can get their first shots by the dog days of summer. We hope to be approaching herd immunity by fall if all goes as well as possible. The health department, with our media partners, will be clear about when you are eligible. Given the current uncertainty about vaccine supplies, anything I say more definite than that is likely change, so just stay tuned.
I think about my parents a lot these days, reflecting on the sacrifices they made through 15 years of the Great Depression and World War II. While I certainly understand and suffer from "pandemic fatigue" after 10 months of this, I am pretty sure they would be rolling their eyes at me a bit. Hang in there. There is light at the end of the tunnel.
Dr. Louis Katz is medical director of the Scott County Health Department. His opinions are his own and do not necessarily reflect those of the Scott County Health Department.