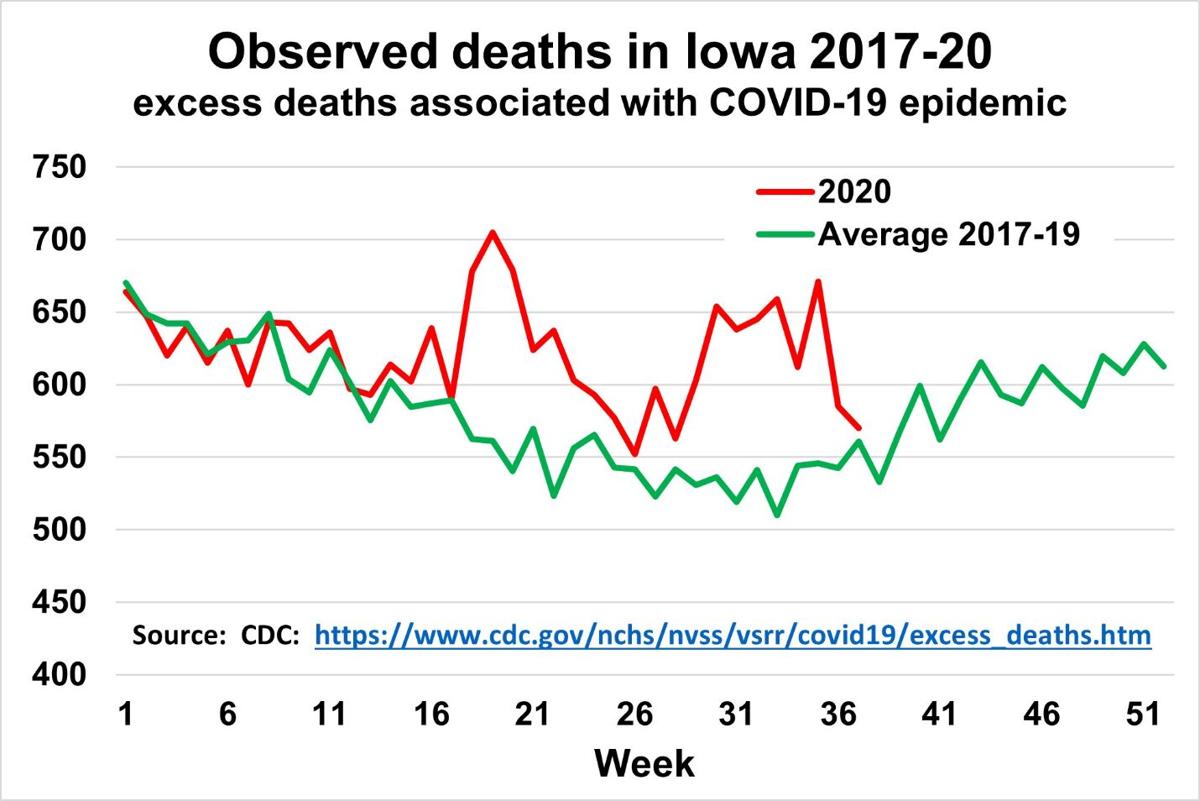 The week before last, the U.S. went past 200,000 deaths caused by COVID-19. There have been a lot of questions about some of the mortality figures reported during this crisis. The fact is, measuring what kills people is not simple, and precise numbers take time to compile and validate. That's no reason to doubt the impact of this infection, so here's a short primer:
• A cause of death is entered on a death certificate by a health care provider. Counting these would seem straightforward but it really is not, even ignoring reporting delays that can stretch to months. A patient whose cause of death is "COVID-19 pneumonia" is easy. But, for example, COVID is associated with abnormal blood clotting. What if a COVID admission is associated with a fatal blood clot in the lung — is it counted a COVID death or from that pulmonary clot? A hospitalized COVID patient has a heart attack and needs bypass surgery. A surgical infection develops, and the patient dies with sepsis. The latter can be called the cause of death with heart attack listed as a secondary and COVID-19 as a tertiary cause. How does this count in the toll from heart disease vs. healthcare-associated infection vs. COVID in the vital statistics? Clearly, in these examples of direct cause and effect, one hopes the death shows up in the COVID numbers, but it can depend on the death certificate.
• The cause of death may not get tied to COVID in people who delay or don't seek medical care and die without a complete diagnostic process having taken place. Overwhelming evidence tells us this is important in the pandemic. Emergency room visits and hospitalizations for things like stroke, heart attacks and diabetic complications have fallen steeply since February. There is no medically plausible reason these urgent, lethal events should have decreased. Folks with serious acute and chronic medical illness are avoiding contact with the healthcare system, probably out of concern about the safety of emergency rooms and hospitals where they fear encountering pandemic victims. (Good infection control practices in these places effectively controls that risk, but patients still avoid needed care.) These patients may not have COVID, but the virus is clearly indirectly a cause of death and should be counted in the toll of the pandemic.
• Disparities in at-risk populations across geography and jurisdictions can make rates wildly different. Examples: a zip code with many poor people living in crowded, multi-generational housing has both higher case and mortality rates than an immediately adjacent middle-class subdivision; a locale with multiple outbreaks in congregate settings, like long-term care facilities, will measure more deaths than a nearby area with fewer such facilities or better control procedures inside them. You need a lot of detail about deaths in a small area to understand them.
We have learned about these pitfalls from influenza. So, we rely on a surrogate measure for influenza deaths. This is "excess mortality" that is very useful at the population level. Excess mortality counts observed deaths by week or month during the non-pandemic recent past and compares them to the same time frames during the epidemic to measure its impact. During a bad flu season there is an increase in deaths (from late fall into spring) and this excess between a good year vs. a bad year gives us an estimate of both the direct and indirect tolls from flu. The same will be true of COVID so we can compare years past with current data.
When one looks at deaths in the Iowa this year on this graph, the decreasing mortality as flu season waned in late winter is obvious in green for 2017-19. It is interrupted in 2020 after the onset of COVID in spring and the green and red lines diverge. There are 1,700 excess deaths during an interval when only 1,311 COVID deaths have been counted by the state. There are 23% more deaths than counted as COVID-19 cases, and these are likely largely attributable to COVID-19's direct plus indirect effects. We have passed 200,000 COVID-19 deaths in the U.S. in the past week. A similar approach to U.S. deaths finds that count is an underestimate by 30%.
An advantage of counting excess deaths is that death is a very objective outcome without the pitfalls of death certificates. We can estimate the burden of direct COVID deaths and indirect deaths not attributed to COVID occurring because of missed diagnoses and delays and refusals to seek care for other lethal conditions. And look at the positive side — if COVID precautions (for example masking and social distancing) are associated with a milder influenza season, as they appear to be in the southern hemisphere where flu season is ending, we can estimate a "beneficial" effect of our pandemic responses beyond preventing COVID-19.
Dr. Louis Katz is the medical director at the Scott County Health Department and an infectious diseases specialist. His views are not necessarily those of the Scott County Health Department.
Catch the latest in Opinion
Get opinion pieces, letters and editorials sent directly to your inbox weekly!