CHICAGO — On a windy spring day 50 years ago this week, John Porzuczek helped guide the final piece of steel into place on what was then known as Chicago's Sears Tower.
Placement of the beam — painted white and signed by thousands of Sears employees — ended nearly three years of construction that required Porzuczek and other ironworkers to climb up and down the steadily rising tower, wearing up to 70 pounds of tools around their waists. They frequently raced each other, Porzuczek said.
Porzuczek spent his days walking along the steel girders on the tower's highest reaches, an elite assignment. Safety standards were looser in the early 1970s, he recalled.
"If it was windy, we would crawl, but we hardly ever tied off," Porzuczek said. "Now, you can't walk around like that without a harness."
Porzuczek, 73, said he still feels pride when he sees the tower.
"It gives you a real sense of accomplishment," he said.
The 110-story skyscraper at 233 S. Wacker Drive was topped out May 3, 1973. It ended the Empire State Building's four-decade reign as the world's tallest building and transformed the West Loop into a glittering office corridor.
"Along with the Standard Oil Building, it set the tone for the entire market," said Goldie Wolfe Miller, who spent decades leasing downtown buildings. "All of a sudden, we became a mecca of first-class quality office buildings."
Now called Willis Tower, the building has been a trendsetter since its debut. After starting life as a headquarters for Sears, Roebuck & Co., the building saw its namesake tenant relocate to the suburbs. Along with the rest of downtown, it suffered other blows, including fears raised by the terrorist attacks of 2001 and the Great Recession. It's always bounced back.
But the tower now faces what might be its biggest test. The pandemic shuttered downtown and proved companies could operate with employees working from home several days a week.
Kathleen McCarthy, global co-head of Blackstone Real Estate, said she's confident Willis Tower will continue thriving. Her company plunked down $1.3 billion for the building in 2015 and then spent more than $500 million modernizing it.
"At 50, we all need a freshening up," said Todd Heiser, co-managing director of Gensler, the renovation's lead architectural firm.
Javier Quintana de Uña, CEO of the nonprofit Council on Tall Buildings and Urban Habitat, said he's optimistic Willis will get through this crisis.
"This is a building architects have always studied, and it always keeps ahead of everything else," he said. "That's why it's still one of the most respected buildings in the world."
Engineering feat
The first step in creating Willis Tower came when structural engineer Fazlur Khan convinced his firm, Skidmore, Owings & Merrill, to buy its first computer. The new machine filled an entire room.
"When this thing would run, it would click and clack like a mechanical monster," said John Zils, a project engineer who worked on the tower. But the computer allowed Khan to do calculations in 30 minutes that would previously have taken months.
Khan understood the traditional way of putting together tall buildings, using interior columns, was inefficient. He pioneered using a vertical tube of steel or concrete, allowing big, open spaces, and finished the first such structure, an apartment building, in 1966. He then partnered with Skidmore Owings architect Bruce Graham to create the John Hancock Center, after which the duo launched Sears Tower, their most ambitious project. To satisfy the retailer's desire for more than 4 million square feet, Khan proposed bundling nine steel tubes.
"It's like a tick-tack-toe board with nine cells," Zils said. "It's a much stiffer structure using much less material."
The tower only needed 76,000 tons of steel, he added. Built the old-fashioned way, it could have needed twice as much and cost far more.
"That was the big breakthrough," Zils said. "Without the computer, who knows where we would have gone."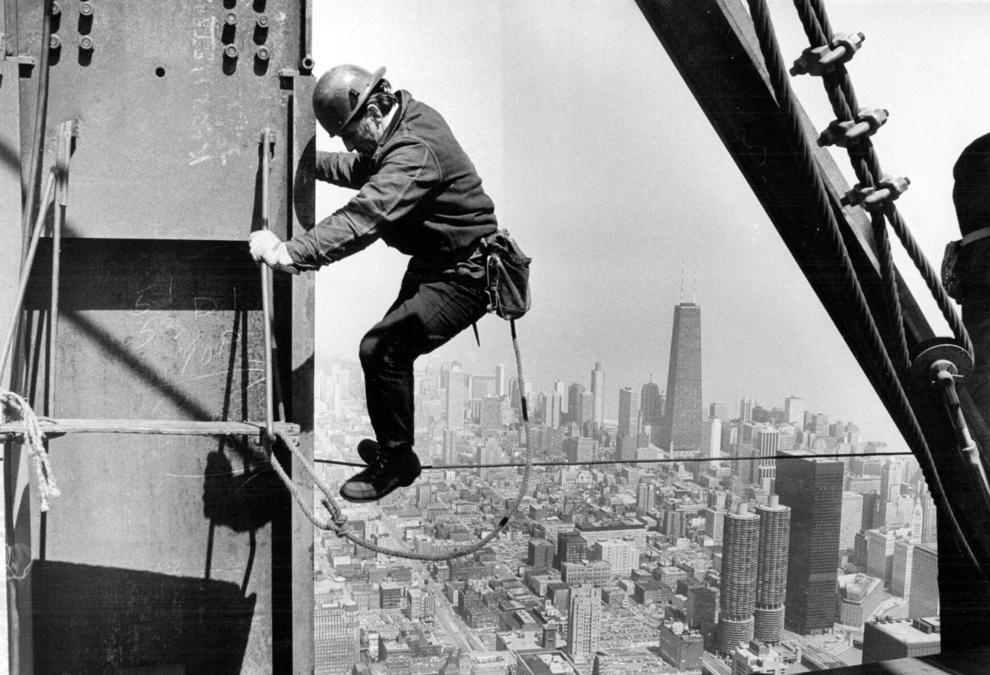 That blueprint also allowed Graham and Khan to design more than a plain box. They narrowed the structure by making the tubes different heights, sculpting it into the now-familiar shape.
Sears originally had no intention of building the world's tallest building, Zils said. The retailer just wanted to replace the old Homan Square headquarters with offices near downtown's Metra train lines. After buying land at 233 South Wacker Drive, Sears hired Skidmore Owings to craft a plan that would give it several million square feet on the parcel.
"Sears was a very frugal operation that didn't spend any extra money for anything," Zils said. "They were not interested in being an innovator, they just wanted something that was rock solid."
Sears also wanted an extra several million square feet of space, enough to handle expected growth throughout the 1970s and 1980s, he added. The retailer planned to rent out those upper-floor offices to other firms at first, but since few companies would want massive floor plates like Sears, Graham and Khan realized the building needed a massive base and narrow top.
"It just kept getting taller and thinner, and soon we had what would be the tallest building in the world," Zils said.
Two factors convinced Sears to make history and greenlight the more than 4 million square foot building, he added. Khan's design meant the structure would be immensely strong, allowing heavy floor loads, and including a Skydeck for tourists meant a lucrative stream of visitors.
"That tipped the scale, and they finally gave the go-ahead," he said.
Sears moved fast after making its decision. Although Graham and Khan had just one drawing that depicted the entire building, it was enough for Carl Morse, the construction manager hired by Sears, to shake hands on a deal with the president of U.S. Steel to buy 76,000 tons of steel, mostly from its plant in Gary and put men like Porzuczek to work.
The work was sometimes punishing, especially in winter, Porzuczek said. The hard labor didn't bother him.
"I did not see him fall," Porzuczek said of his friend and fellow crew member Jack De Klerk. On April 14, 1973, just three weeks before construction was complete, the two were sitting on a girder above the 100th floor about 25 feet apart when a sling used to raise steel beams caught the 28-year-old De Klerk and pulled him over.
He fell about 35 feet into the building, and more beams lay below. Porzuczek said it's likely he hit one.
De Klerk wasn't the only one to die. Four elevator workers were killed April 11 when fire swept through a shaft.
Porzuczek went on to help build the James R. Thompson Center and work on the Chicago Board of Trade expansion, among other projects. He retired to Las Vegas after a 2001 injury.
Spider Dan
One of the most unforgettable days at the tower's took place over Memorial Day weekend in 1981. Early on May 25 of that year, a 25-year-old rock climber from Maine climbed a ladder held by Lakeview resident James Hackett and rolled onto the roof over the Wacker Drive entrance. He sat down for a moment to rest in the darkness.
"I looked up and just saw that black monolith going up into the clouds," said Dan Goodwin, who was equipped with hooks, leg loops and suction cups he designed.
As the sun rose, a gathering crowd of spectators was treated to an improbable sight: a man dressed as Spider-Man inching up the world's tallest building.
"It was a snap for him — almost like walking up stairs," a Chicago police officer told the Tribune that day.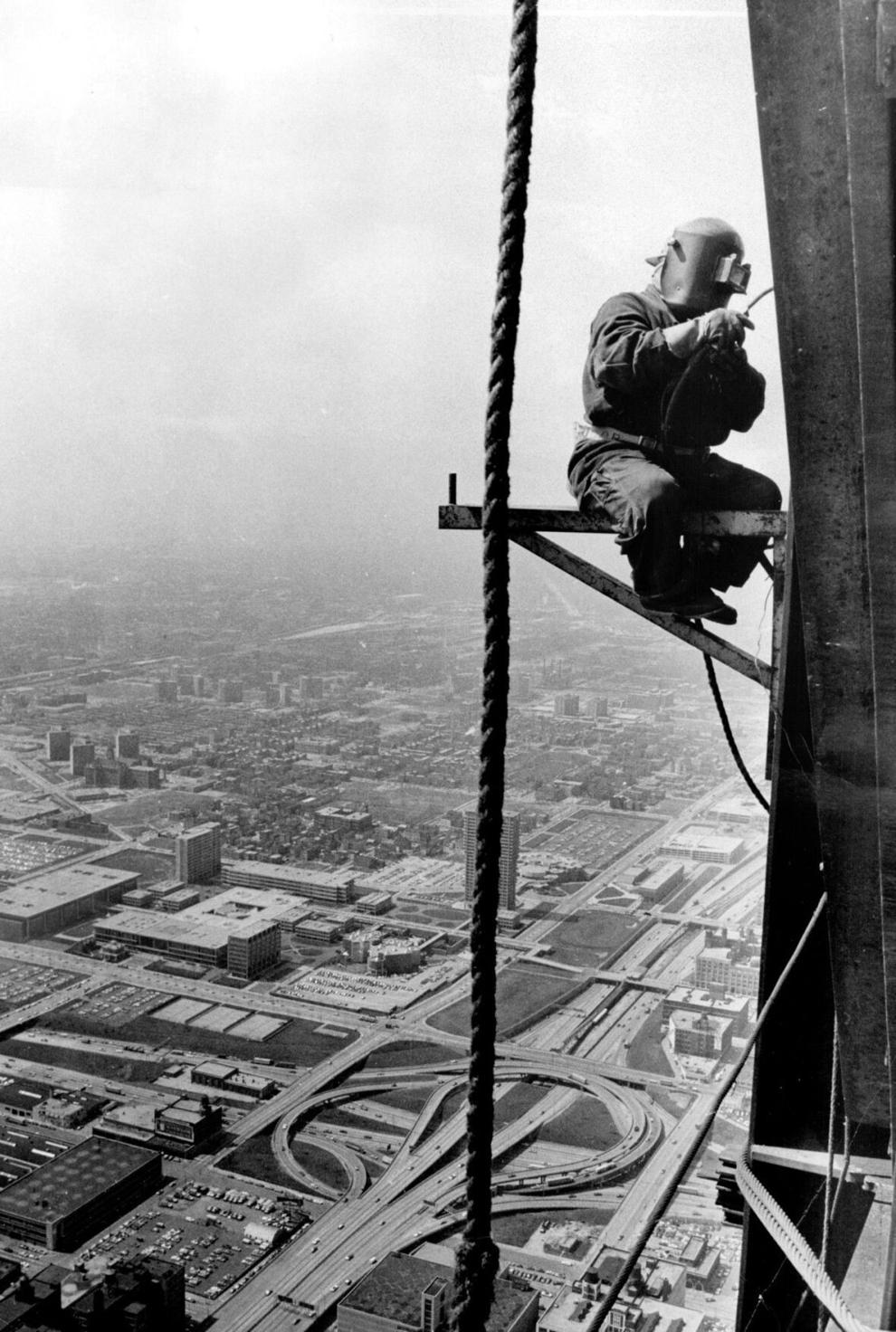 "My son, who was 5 years old at the time, said, 'Daddy, you should do it as Spider-Man,'" Goodwin said. "I also wanted to reassure people that I'm just a climber, not a terrorist."
"I chose Memorial Day weekend because I didn't want to interrupt business and get people mad at me," he added.
But Chicago Fire Commissioner William Blair got plenty mad. He used a window washing platform to block Goodwin midway, and that's when the situation got even more dangerous.
"I was hanging by one suction cup that was slipping and about to pop off," Goodwin said. "I felt like an astronaut stepping out into space. Inside, I was super calm, collected and pretended I was right near the ground, but I wasn't near the ground, I was 660 feet above it."
That dangerous moment passed.
"Someone called down and said, 'we got orders to let you go to the top because someone's going to get killed here,'" Goodwin said. "And I thought, 'yeah, me.'"
He was arrested after reaching the roof, but police officers greeted him as a conquering hero.
"The cops were throwing their arms around me, saying that was the greatest thing they'd ever seen," he said.
The tower was undamaged, said Goodwin, and he was later fined $35.
"From that point on, I was nicknamed Spider Dan."
A success
Sears Tower quickly become a symbol of Chicago's corporate might, according to Mike Duncan, a principal with Cresa Chicago, a real estate firm. Not only did it have Sears filling its bottom half, but other well-known companies, many looking to do business with the retailer, began leasing upper floors.
"Sears helped fill the tower by saying, 'Goldman Sachs, if you want to issue our bonds and stocks, you should be a tenant in our building in Chicago,'" said Duncan, whose wife was a Sears employee in the 1970s who signed the final beam.
It was also an era of mammoth construction projects, including the 1,136-foot Standard Oil Building, finished in 1973 and now named Aon Center, and the 850-foot First National Plaza, completed in 1969 and now called Chase Tower.
But the oil shocks and inflation of the 1970s weakened Chicago's muscular economy and its market for new supertall buildings. And Sears' position as middle-America's top retailer grew shaky.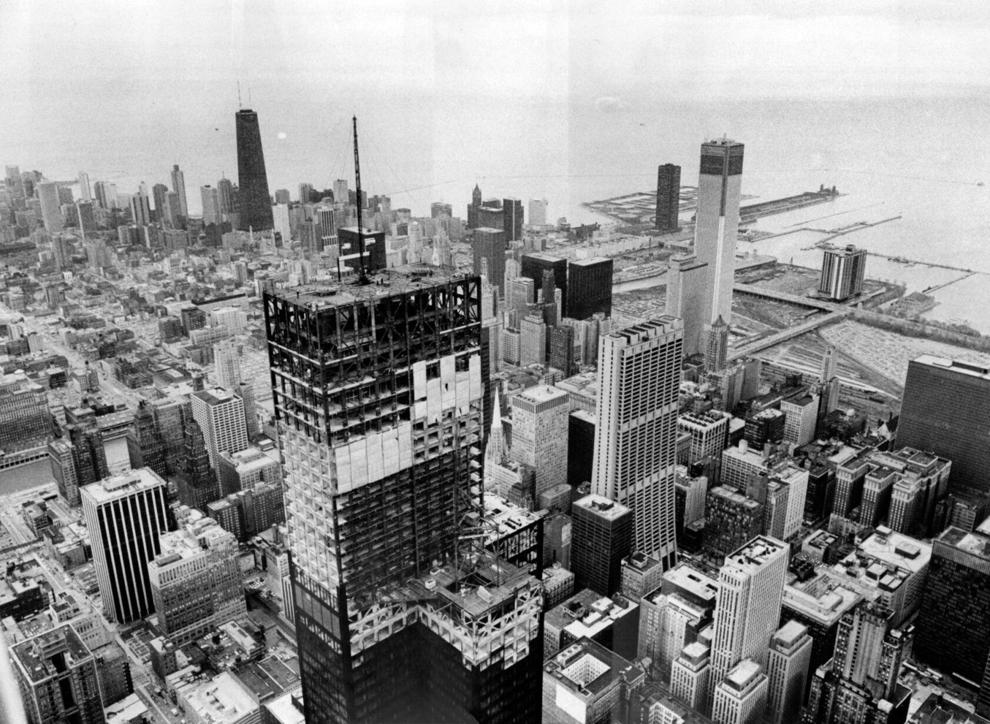 Its plans to expand into the upper floors were set aside. And after helping create modern downtown Chicago, the company then helped reverse the trend. In 1992, Sears moved to Hoffman Estates, joining other firms such as McDonalds and AT&T in choosing suburban office campuses.
The 1,451-foot Willis Tower lost its crown as world's tallest in 1998, when it was surpassed by Malaysia's Petronas Twin Towers, and the American title in 2014 when New York City's One World Trade Center was completed. After decades of construction in Asian countries, it's now the 23rd tallest in the world.
But the tower, much like downtown, proved to be a survivor, Duncan said.
Duncan partly credits Graham and Khan's design. Its construction allowed heavy loads and reduced sway. And the 1993 terrorist bombing at New York's World Trade Center heightened interest in buildings that could withstand shocks.
The 2001 terrorist attacks at New York's World Trade Center kicked off new worries about supertall buildings. Once again, vacancies opened throughout the tower.
But United Airlines began moving its operations center from Elk Grove Township to the building in 2010, and by 2012 it established its headquarters there, taking about 20% of the building and becoming the largest tenant.
Willis Group also signed a lease in 2009, paying extra to name the landmark building Willis Tower, a change many older Chicagoans still don't accept.
COVID may be Willis Tower's biggest challenge yet. Chicago companies shed millions of square feet of office space, leaving more than one-fifth vacant, according to Colliers International.
Willis Tower wasn't immune. After cutting thousands of jobs, United decided in 2021 to vacate several floors, and more companies could follow suit.
But according to CoStar Willis Tower is still more than 88% leased, and McCarthy says Blackstone also signed major lease agreements last year, including one with pharmaceutical giant Abbott Labs, and the $500 million makeover will keep the building competitive.
"Willis Tower, frankly, when it was built, was a bit of a fortress, and that's because when towers like this were created, they were monuments to corporations," said Gensler's Heiser.
Gensler opened up the complex and transformed its empty plaza into Catalog, five levels of retail, restaurants and a terrace for working or relaxing outdoors. Whole floors were dedicated to amenities such as fitness centers and a private club, all designed to make office work comfortable.
"Today we need buildings that support the whole human," Heiser said.
The prospect of a makeover brought Ben Altman and his family-owned investment firm Altman Advisors to Willis Tower in 2016.
It was no accident that the firm took nearly 1,000 square feet on the 97th floor. Altman's grandfather worked for Sears as a shipping clerk for 30 years, and reaching the top of its former headquarters fulfills a long-term goal.
"We're from humble West Side roots, so this was the American Dream for us," he said.
Seyfarth Shaw's Chicago office moved in 2017 from the Central Loop to Willis. The firm's offices allow natural light to flow through. And being on the 80th floor has advantages.
"We're the highest law firm in the city, and that's pretty cool," said Tracy Billows, co-managing partner.
Billows said she also feels a personal connection to the building, leading her to make a common mistake.
"I was born and raised in Chicago, so I occasionally slip up and call it Sears," she said.
Photos: Chicago Mayor-elect Brandon Johnson
Election 2023 Chicago Mayor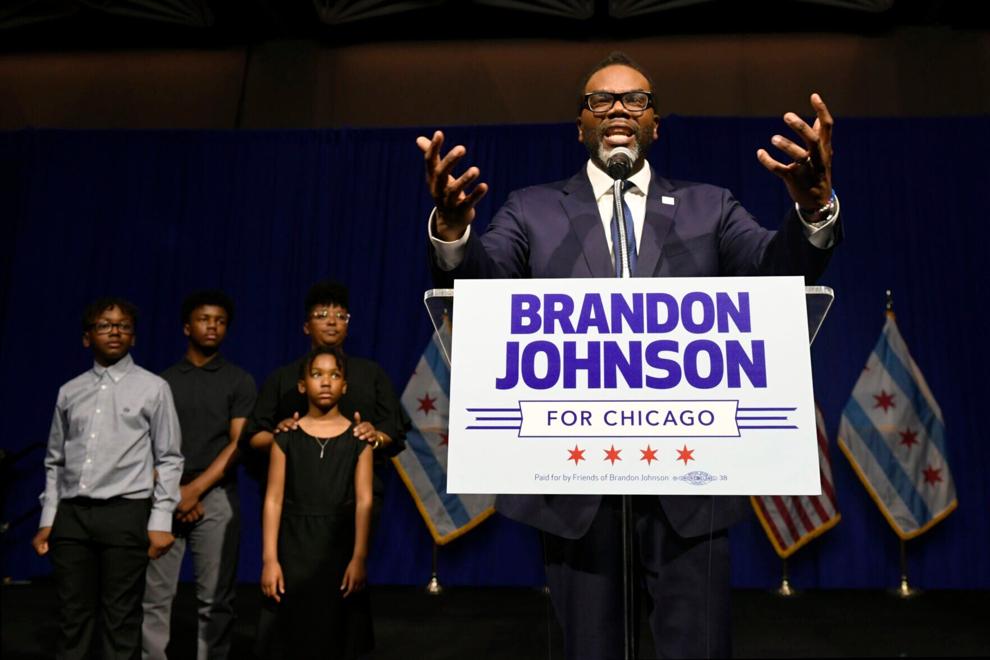 Election 2023 Chicago Mayor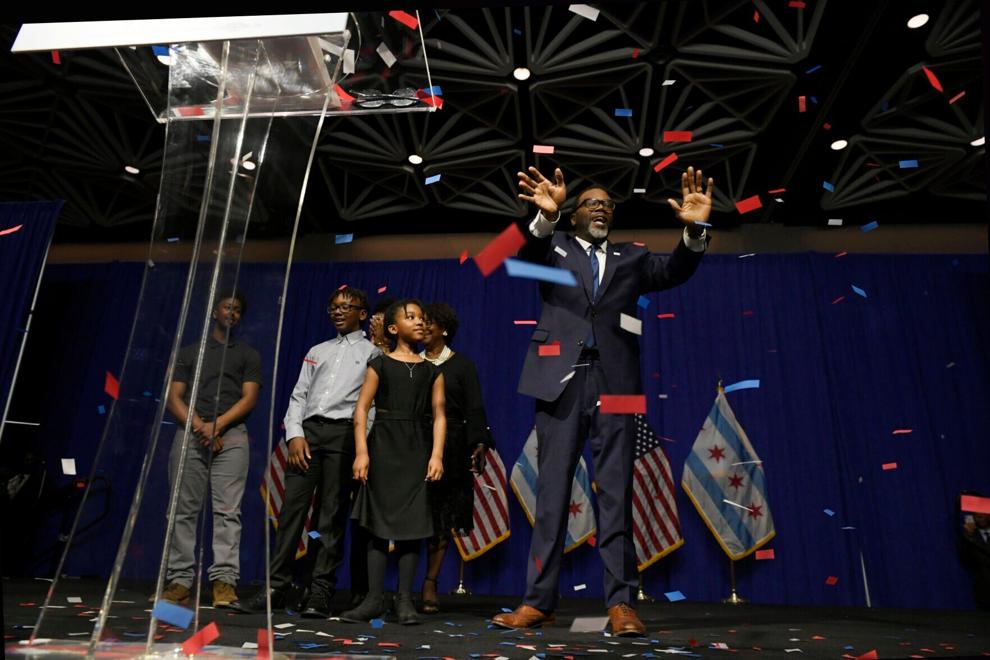 Election 2023 Chicago Mayor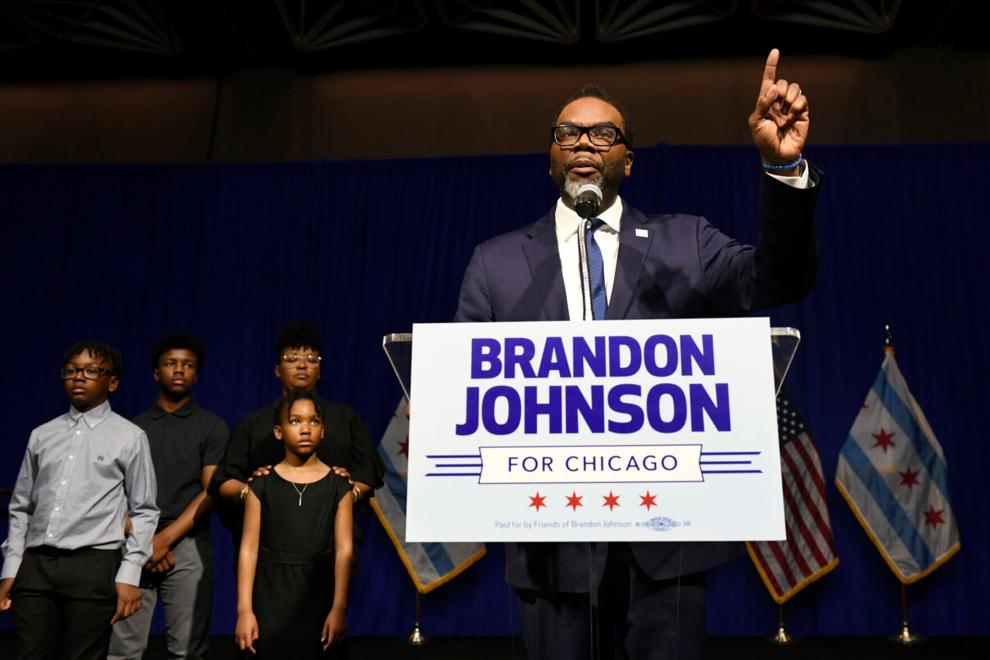 Election 2023 Chicago Mayor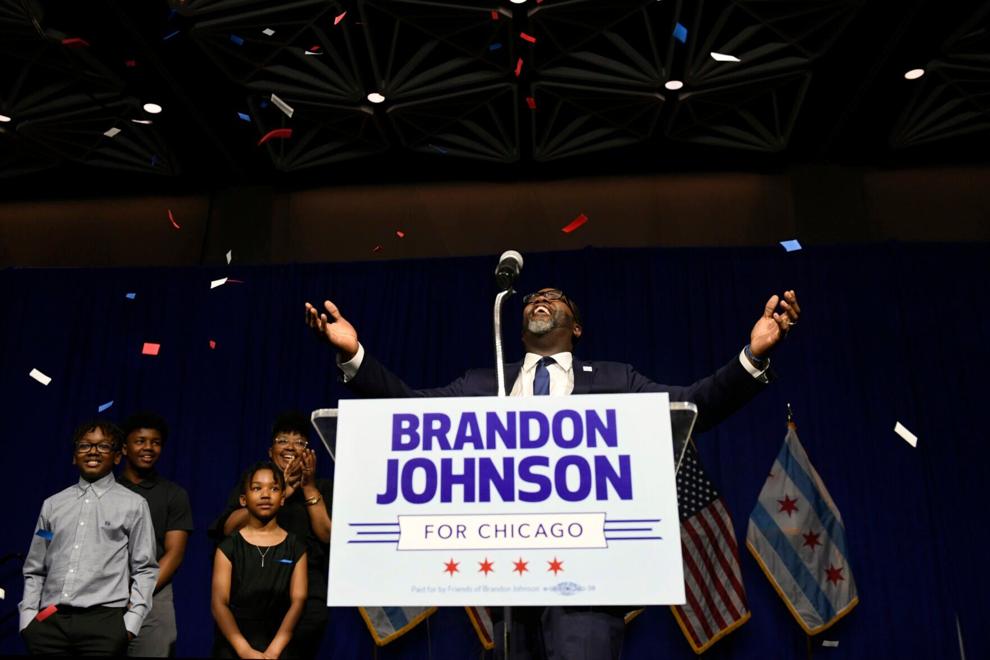 Election 2023 Chicago Mayor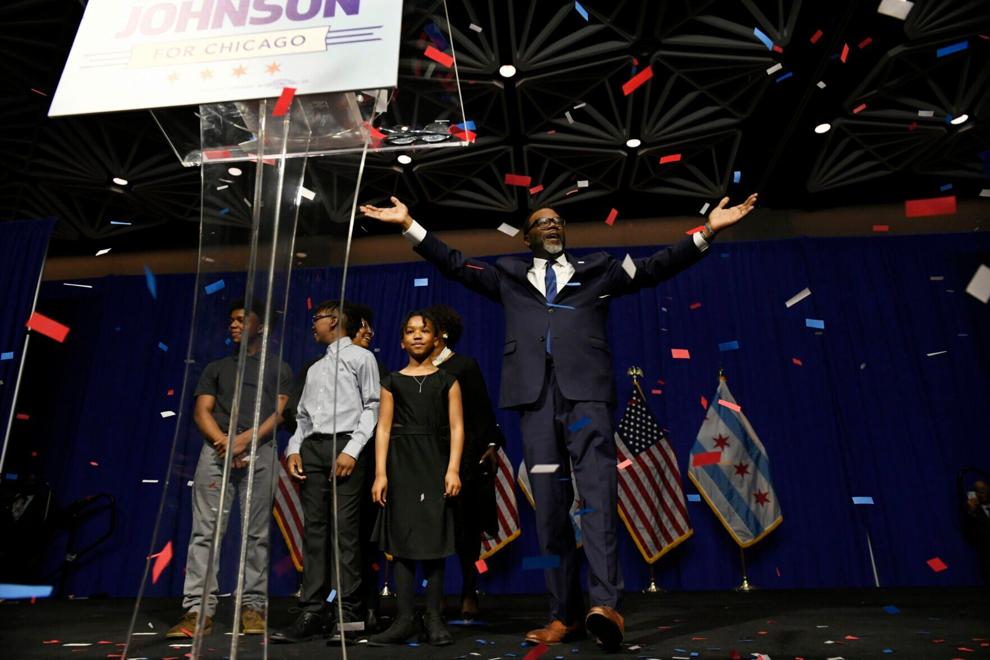 Election 2023 Chicago Mayor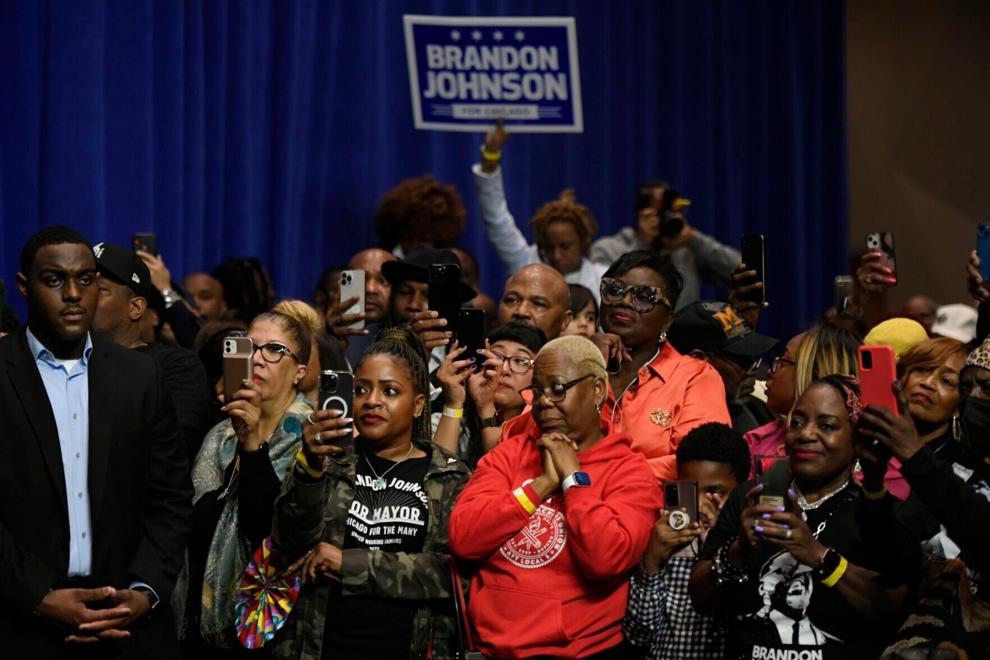 Election 2023 Chicago Mayor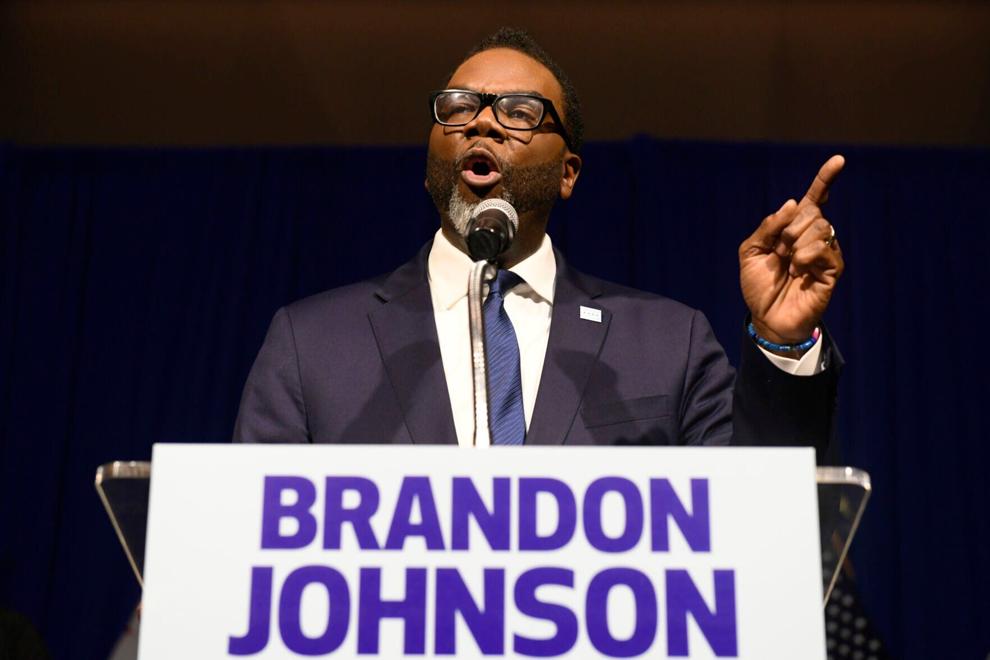 Brandon Johnson - 2022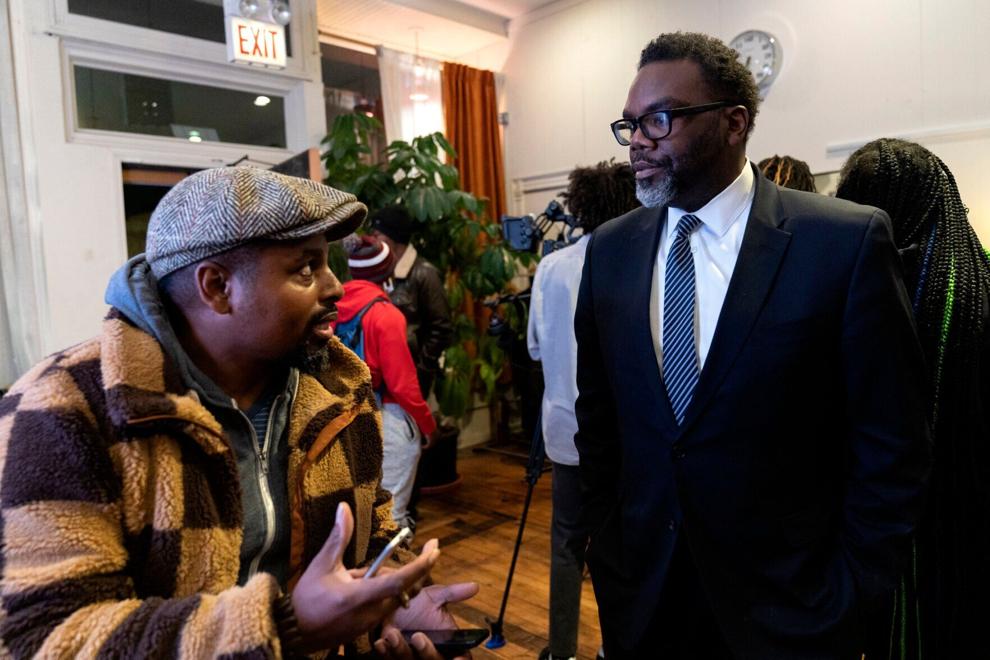 Brandon Johnson - 2023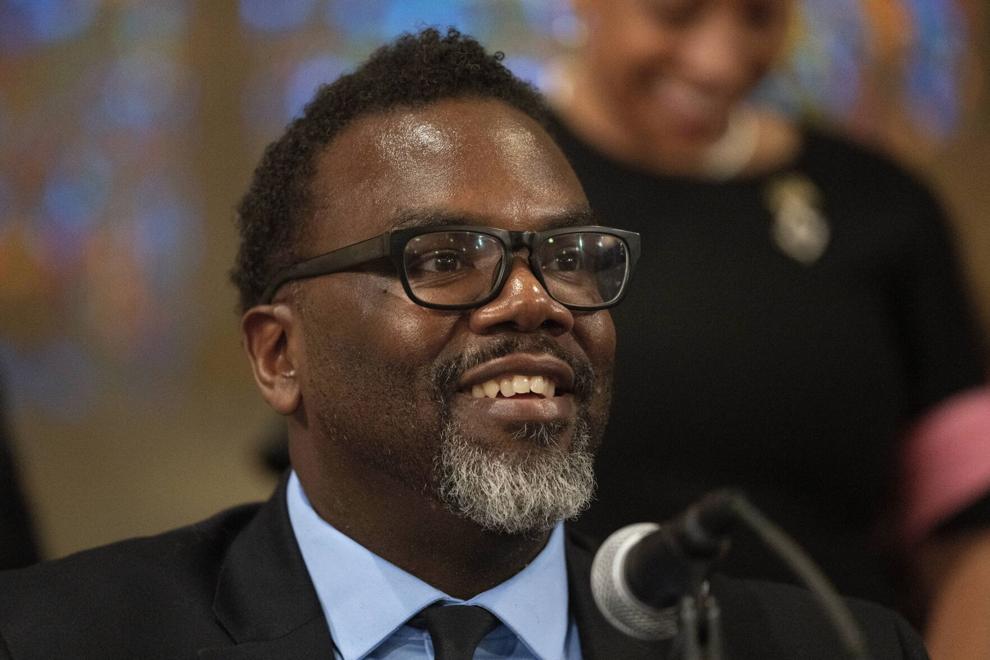 Brandon Johnson - 2023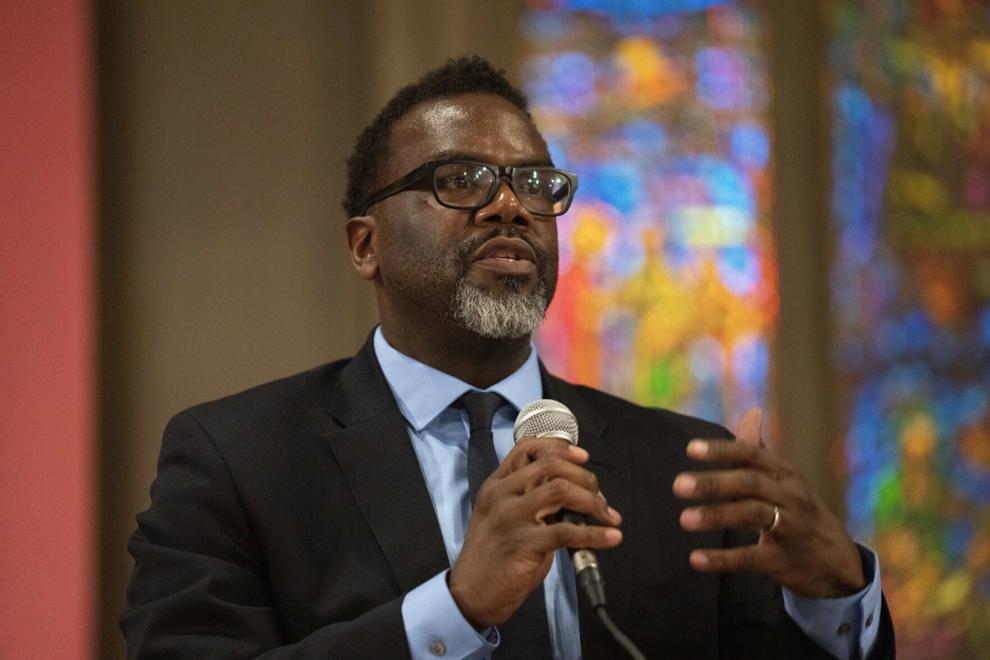 Brandon Johnson - File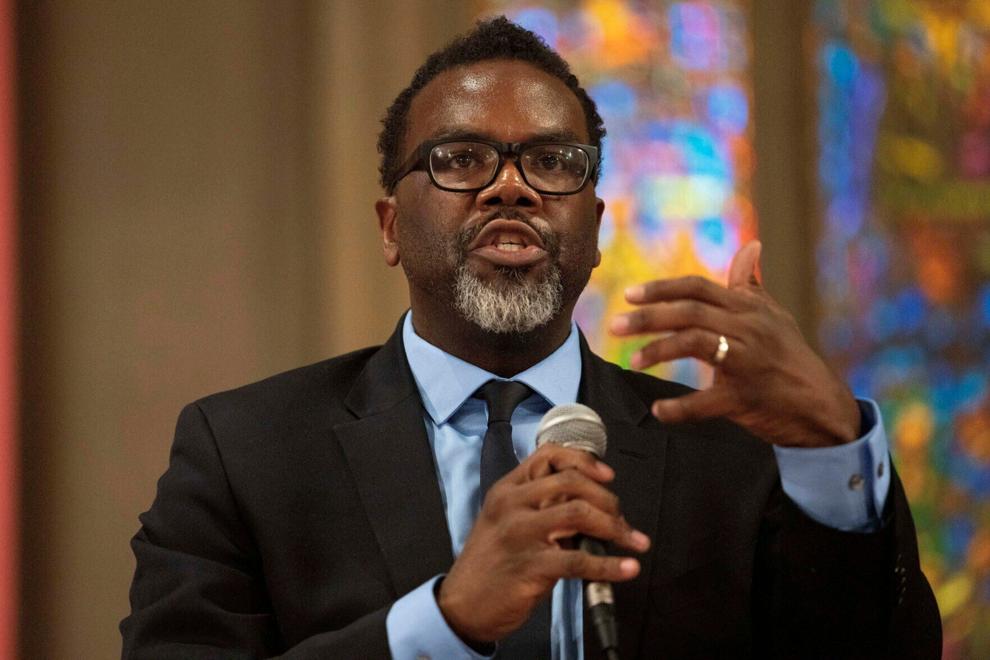 Brandon Johnson - 2022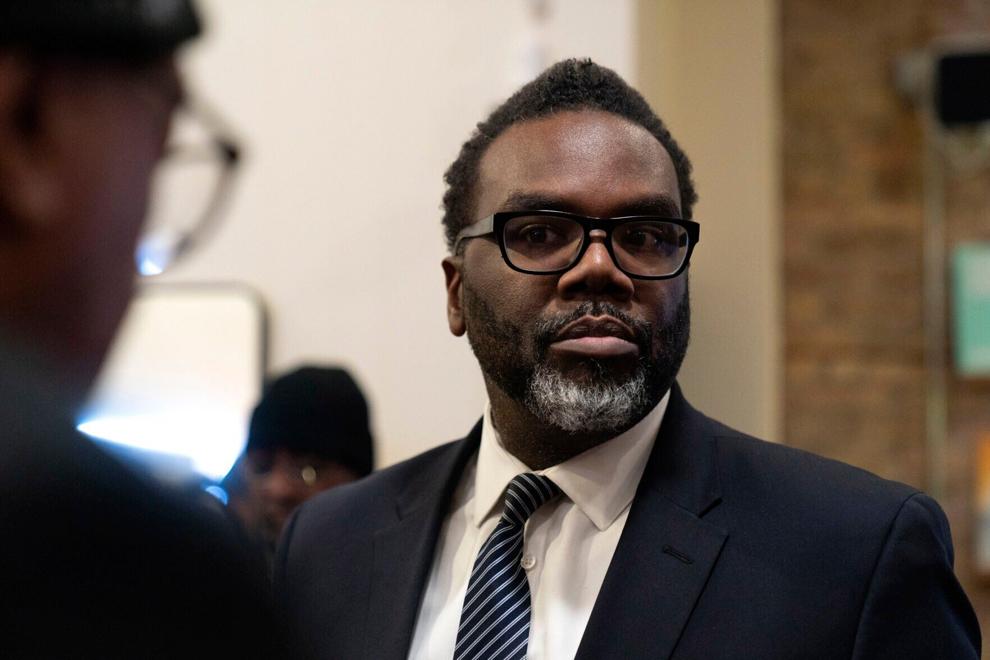 Brandon Johnson - 2022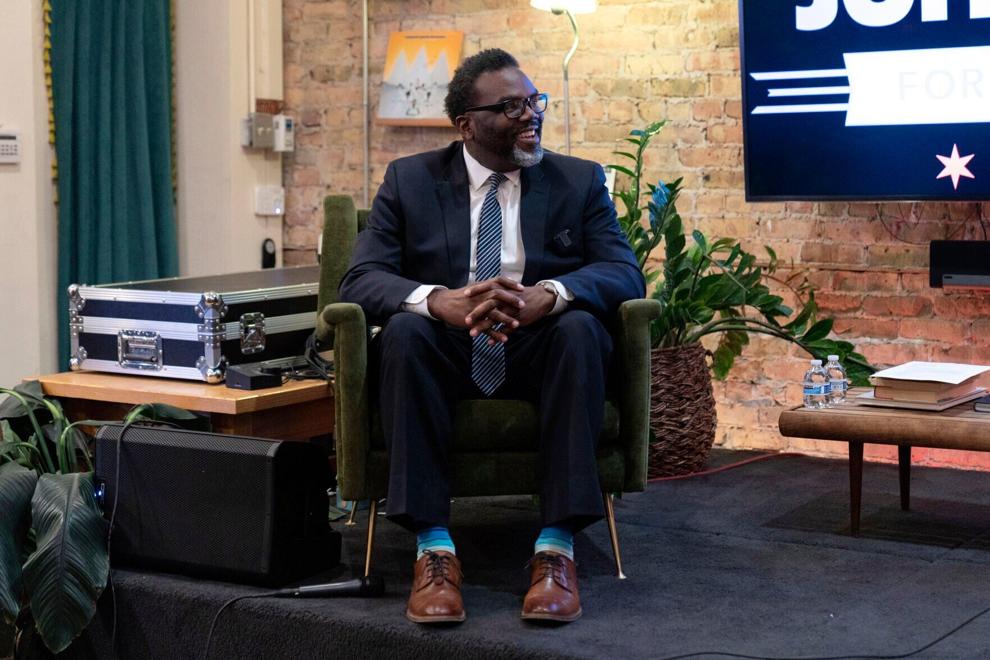 Brandon Johnson - 2022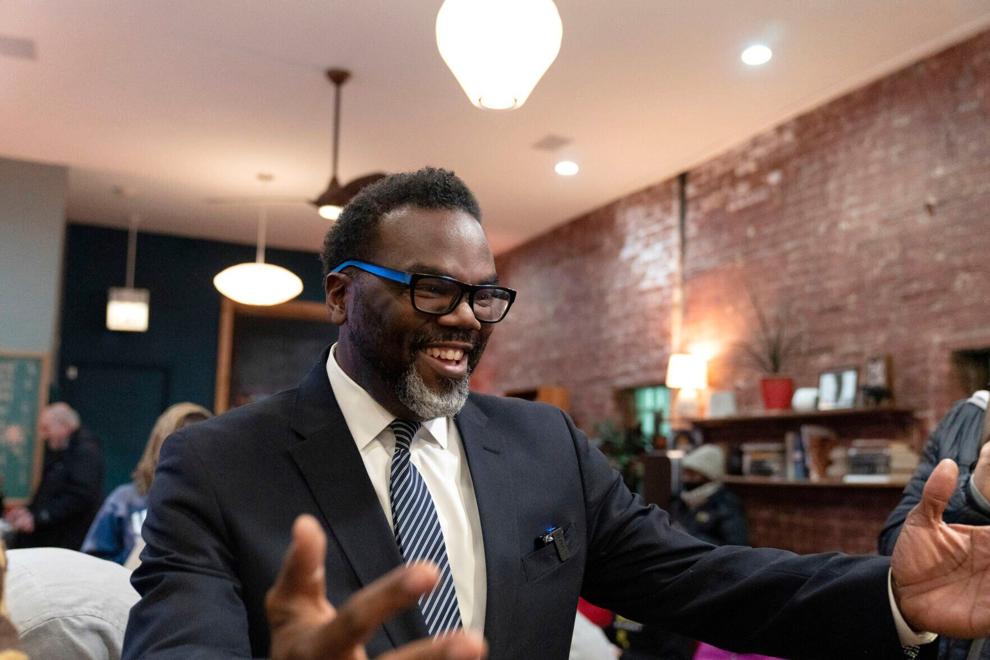 Brandon Johnson - 2022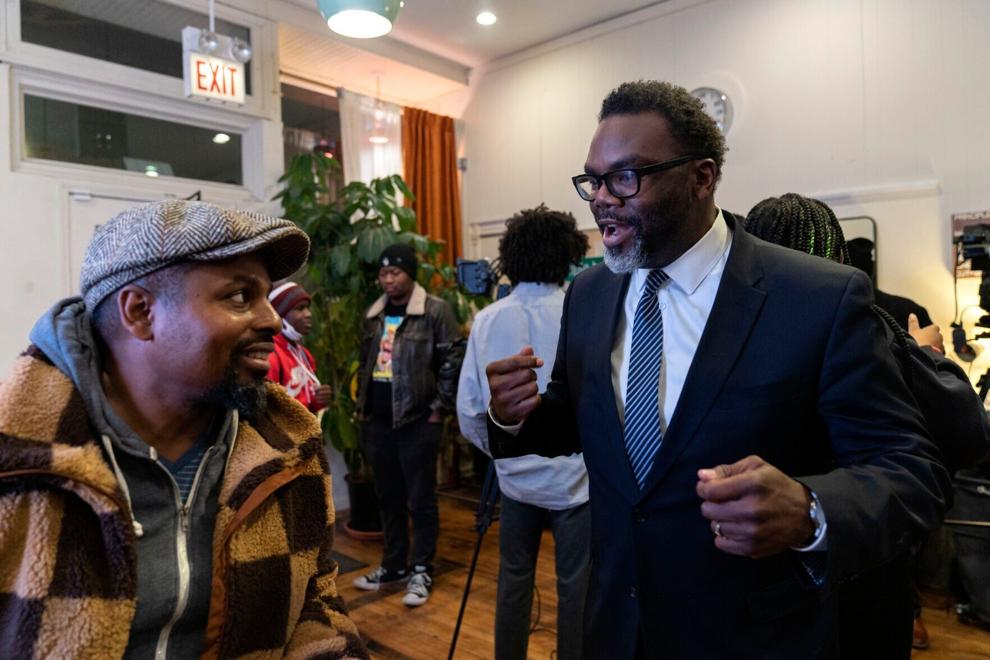 Brandon Johnson - 2022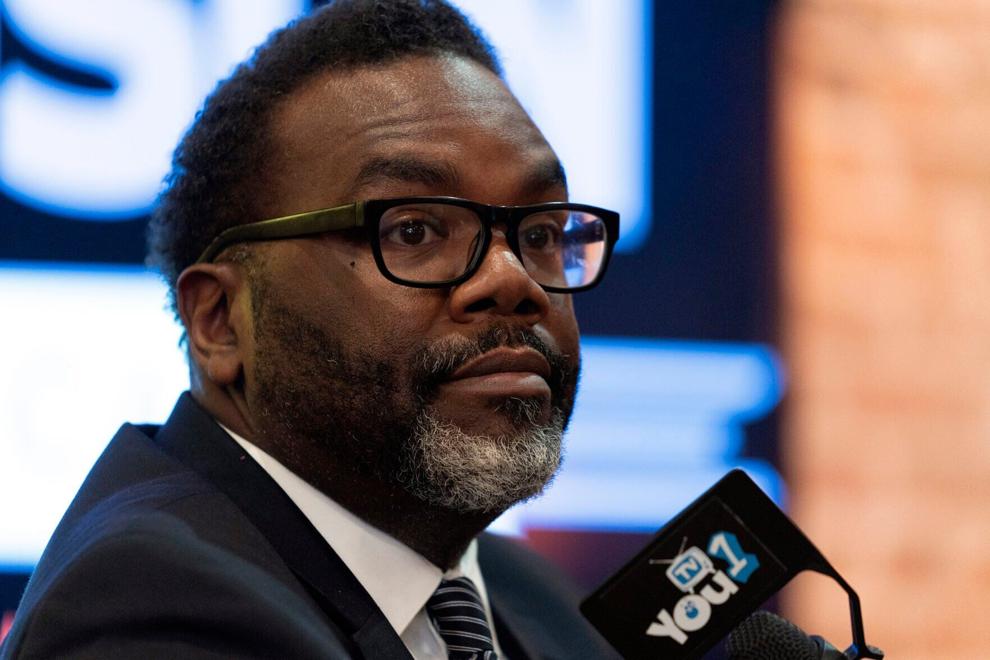 Brandon Johnson - 2022