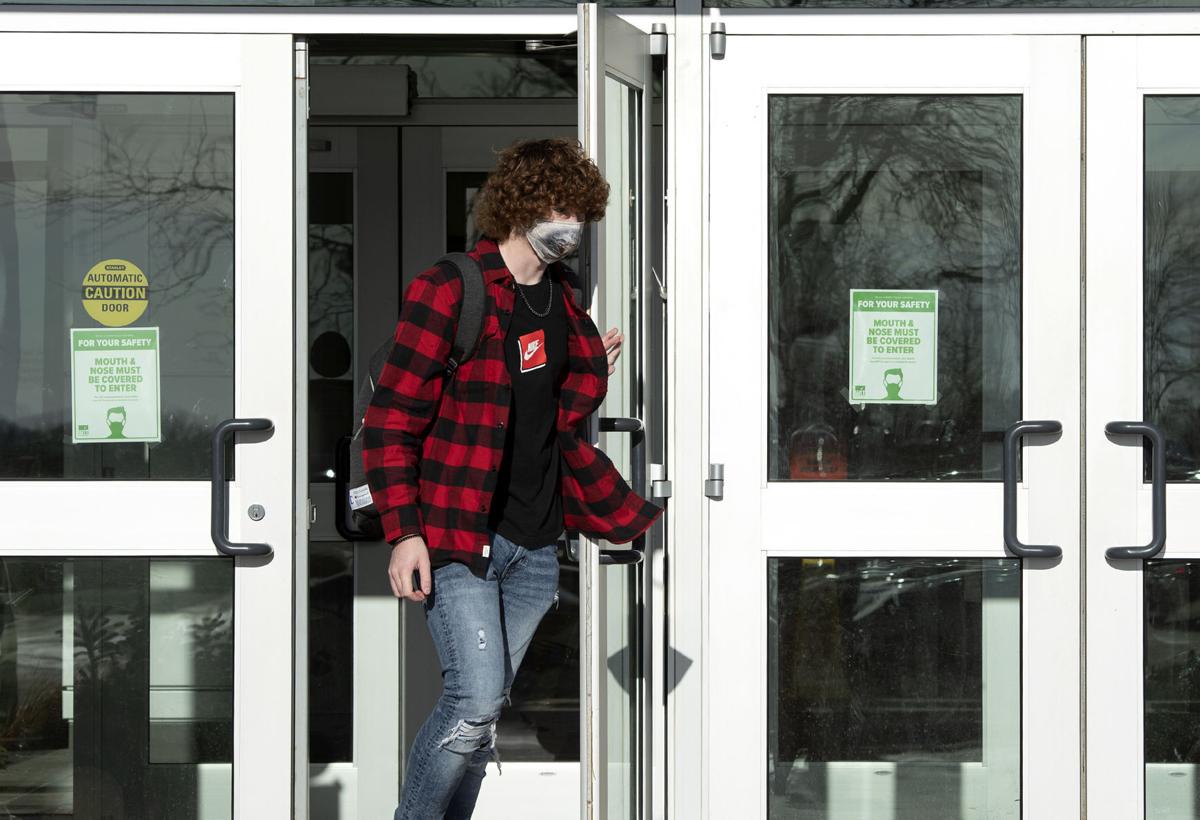 SIOUX CITY — Sioux City Mayor Bob Scott last week warned that police officers will start issuing citations to individuals and businesses who fail to voluntarily comply with Gov. Kim Reynolds' new public health orders designed to slow COVID-19's spread.
"That's not our intent to go out and write 100 tickets Friday night for people gathering," Scott told the Journal. "That's not what we want to do. We just want people to comply with the governor's latest proclamation," he said. 
Reynolds' latest orders include a requirement that anyone in public indoors while within six feet of other people for at least 15 minutes should wear a face mask. The measures also limit gatherings to 15 people indoors and 30 outdoors and order bars and restaurants to close at 10 p.m. 
Immediately after Reynolds outlined the orders in a rare live prime time TV address Monday, Scott said he didn't think police would have the authority to ticket violators. Since then, the city's legal team and police department met to discuss the matter, and city leaders also sought clarification from Reynolds' office.
"Quite frankly, up until this point, it was very voluntary," he said of mask-wearing. "There wasn't anything the police department could really do, even though the public didn't really want to believe that. But now, there are some things we do have the ability to do after visiting with the governor's office."
In a news release Thursday, the city noted "all of us are facing an unprecedented time in our history" and asked that "everyone cooperate to lessen the impact of the pandemic."
Dr. Jeffrey O'Tool, medical director of hospital operations for UnityPoint Health-St. Luke's, said both the hospital and health system are "very supportive" of masking and appreciate the public's compliance with that practice as there continues to be a "high prevalence" of the novel coronavirus in the community. 
Siouxland District Health Department reported 133 new cases of the virus in Woodbury County on Thursday and a total of 91 people hospitalized with COVID-19 at either MercyOne Siouxland Medical Center or St. Luke's. Of those patients, 68 were hospitalized because they had COVID-19. Another 23 people in the hospital have the virus, but are hospitalized for other reasons. Of the total, 51 are Woodbury County residents.
"We have quite a few hospitalized COVID patients at this time," O'Tool said. "It's been a long journey since March, and everybody's stressed due to the challenges of taking care of COVID. And living in a COVID world is stressful for everybody." 
MercyOne Siouxland Medical Center said in a statement Thursday, "We support requiring masking at all times in public places to help reduce the spread of COVID-19. MercyOne medical centers are caring for more COVID-19 patients than ever before. This is a critical point to ensure we can continue to care for those with emergent needs. We need the community to help us stop the spread of the virus."
Though Reynolds' orders applies to all buildings open to the public, the city's release specifically implored "patrons of bars and restaurants to be respectful and to not violate the provisions placed on them," and warned "failure to do so may impact their continued ability to operate."
"The goal of the city of Sioux City and the Sioux City Police Department is to work with our residents and businesses to ensure compliance with the proclamation through education," the release said. "Complaints of violations of the proclamation will be investigated, but our end goal is to educate residents and businesses on the proclamation in order to maintain voluntarily compliance with current guidelines.
"In cases where we cannot obtain voluntary compliance, the Sioux City Police Department will work with the Woodbury County Attorney, Iowa Alcohol Beverage Division, and Iowa Department of Inspections and Appeals to enforce all aspects of the proclamation."
The release did not spell out what enforcement would entail in those cases, including whether it would include potential citations, fines and closure of non-compliance businesses.
"I've heard somewhere between $65 and $625. You can actually fine that much," Scott said. "I'm hopeful we get compliance and we don't have to. If there's somebody violating the proclamation, we'll go visit with them and they'll come into compliance, just like we don't write a ticket every time somebody's not wearing a seat belt. We try to get compliance. That's what we're going to try to do here for sure."
Sioux City Police Chief Rex Mueller said his department will send an officer, if one is available, to investigate a complaint, but he said the Woodbury County Attorney's Office will decide whether to prosecute violators.
"When asked, I'm sure most people are going to do the right thing. In cases of individuals in public buildings, the proprietor is probably going to be asked that they be removed," Mueller said. "County Attorney (P.J.) Jennings said that the default to that would potentially be a citation for trespass."
When a business is not complying, Mueller said an officer might make a referral to the Iowa Alcoholic Beverages Division (ABD) or any other number of agencies that would govern that business' practices. Mueller said citizens can also visit the state's website to report a non-compliant business to agencies such as the (ABD). 
"In a lot of instances, any officers responding might be making a referral," he said. "We have a great community. I have a feeling that most of the time we are going to see voluntary compliance."
Scott said members of the public who witness violations should call the Woodbury County Communications Center and report them, just as they would a speeding car or a bank robbery. However, Scott noted that calls are prioritized based on the level of severity of the incident.
"We're obligated to respond and the police department will be responding," said Scott, who also expressed concerns about the department becoming overwhelmed by an influx of calls. "The governor's issued the proclamation and we're going to try to do what we can to work with her on that."
Mueller said the public can certainly call the department, but he noted that investigating these complaints will challenge its resources. 
"If there is an issue, they are allowed to call us. But, clearly, we would like the citizens to police themselves and do the right thing for the health of their families and their fellow citizens," he said. 
Reynolds renewed her pleas as Iowa continued its trend of setting new record highs every day for COVID-19 cases, hospitalizations and deaths.
Iowa has the third-highest rate of COVID-19 spread in the country, according to the latest report from the White House's pandemic task force. The report classifies all 99 Iowa counties as being in the "red zone" for severe spread of the virus.
"If we all don't step up and do what we need to do to help manage the virus, it's going to get worse. We're seeing that," Reynolds said Tuesday. 
The state's 14-day average for new COVID-19 cases on Tuesday crept over 4,000 for the first time during the pandemic. That average only hit 1,000 for the first time just a month ago.
The state's 14-day average for daily new deaths was also at an all-time high on Tuesday, as was the number of Iowans currently hospitalized for COVID-19: 1,510. That's triple what it was just four weeks ago. And the 14-day average of new COVID-19 hospitalizations has doubled over just the past two weeks.
Concerned about COVID-19?
Sign up now to get the most recent coronavirus headlines and other important local and national news sent to your email inbox daily.