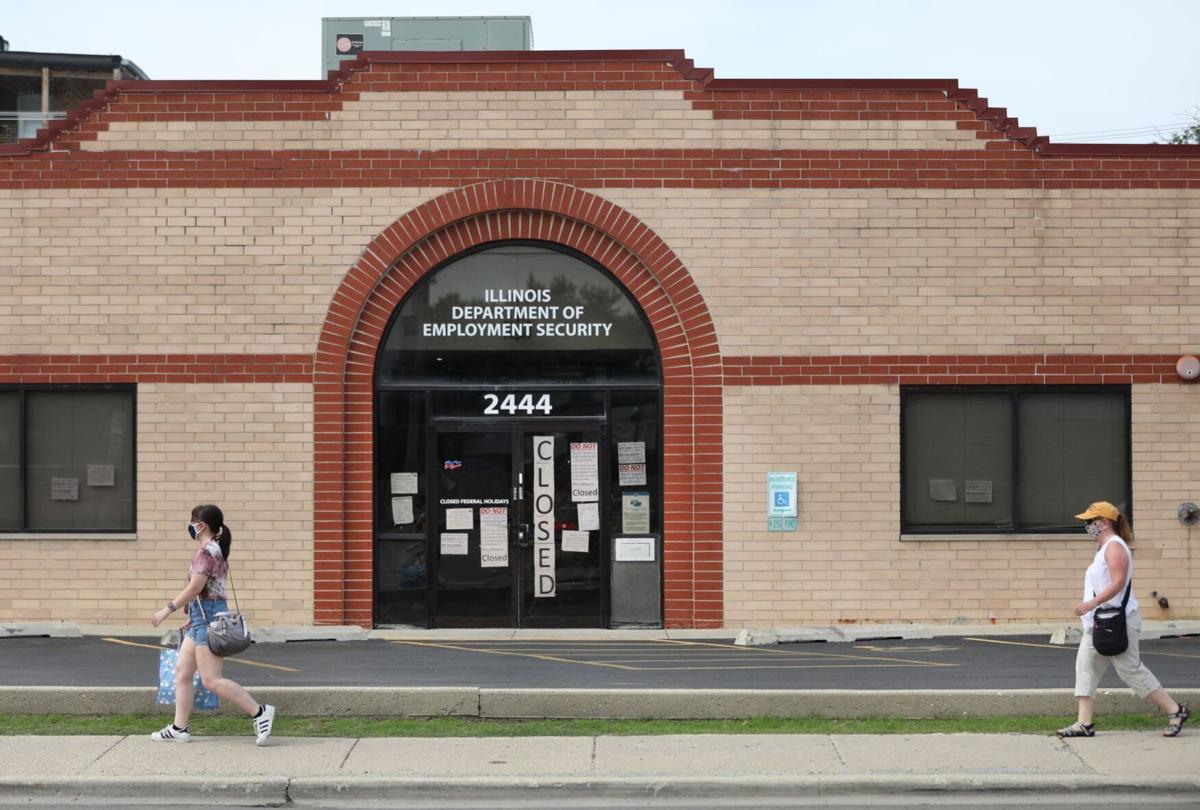 SPRINGFIELD — The statewide unemployment rate in Illinois fell three-tenths of a percentage point in March, to 7.1 percent, as the daily count of new COVID-19 cases and the case positivity rate appeared to be leveling.
The Illinois Department of Employment Security said Thursday that preliminary numbers show employers added 32,200 nonfarm jobs during the month, with the biggest gains showing up in the leisure and hospitality sector, which took the biggest hit during the COVID-19 pandemic.
Other industries posting gains included construction, and business and professional services. The information sector, which includes the media, financial activities and government employment, all posted modest job losses.
"Today's data is a positive step in the right direction in restoring the workforce a year after the COVID-19 pandemic devastated state and national economies and left thousands jobless," Deputy Gov. Dan Hynes said in a statement. "While there is still more work to recover from the effects of this virus, the Pritzker administration remains fully committed to supporting claimants and dislocated workers and getting our economy back on track."
The preliminary estimates reflect activity the week of Friday, March 12. The preliminary jobs numbers for February that were released last month were revised upwards to reflect the addition of 37,300 jobs that month, although the estimated unemployment rate in February was unchanged, at 7.4 percent.
IDES also reported Thursday that first-time unemployment claims rose during the week that ended April 10 to 18,986, a 17 percent increase from the prior week. But that also reflected an 87 percent decline from the same week a year ago, when 140,787 workers filed initial claims.
The U.S. Department of Labor reported that 238,016 were receiving continuing unemployment benefits during the week that ended April 3, down 3.4 percent from the week before.
Meanwhile, data from the Illinois Department of Public Health showed signs that the recent surge of COVID-19 cases may be leveling.
IDPH said Thursday that 3,581 new confirmed and probable cases of the disease had been reported over the previous 24 hours. That number has hovered between 3,000 and 4,000 each day for about the last 10 days. The case positivity rate – new cases as a percent of tests performed – held steady from the previous day at 4.2 percent.
IDES also reported Thursday that 40 virus-related deaths had occurred over the previous 24 hours, bringing the statewide total since the pandemic began to 21,609.
As of late Wednesday night, 2,043 Illinoisans were reported hospitalized with the disease, including 468 patients in intensive care units and 190 patients on ventilators.
Also as of Wednesday night, more than 7.6 million doses of COVID-19 vaccines had been administered. The seven-day rolling average of doses administered daily stood at 129,317.
---
20 outlaws and criminals with ties to Illinois
Charles E. Boles (Black Bart)
A gentleman bandit of the highest order, Charles E. Boles AKA "Black Bart" is known for leaving poetic messages at the scene of two of his robberies.
While Boles is most notorious for his stagecoach robberies in states like California and Oregon, he also served as a private in the 116th Illinois Regiment (organized in Decatur, IL) during the American Civil War.
Lester Gillis (Baby Face Nelson)
Lester Joseph Gillis, AKA "Baby Face Nelson," was a known associate of another famous Illinois outlaw: John Dillinger.
Nelson was born in Chicago in 1908 and following his iconic life of crime, he was killed in a shootout in Wilmette in 1934.
His story started and ended right here in Illinois.
Al Capone "Scarface"
One of the most infamous criminals in American history, Al Capone first came to Chicago at age 20 and would go on to become to head of the Chicago Mafia during the prohibition era.
Capone is buried at Mount Carmel Cemetery in Hillside, Illinois.
"Dirty" David Rudabaugh
David Rudabaugh, AKA "Dirty Dave," was an outlaw in the American Old West. His nickname comes from a rumor that Dave was scared of water.
Although his career as an outlaw began in Arkansas, he was born on July 14, 1854 in Fulton County, Illinois.
Tony Accardo
Antonio Joseph Accardo, AKA "Joe Batters" or "Big Tuna," was a notorious Chicago mobster who ultimately became the final boss of the Chicago Mafia in 1972. 
His criminal career spanned a total of eight decades.
Accardo was born, lived, and eventually died in Chicago in 1992.
Carl Shelton
Carl Shelton, along with his brothers Earl and Bernie, was a member of the Shelton Brothers Gang - an bootlegging gang based in Southern Illinois during the prohibition era. 
Bernie Shelton
Bernie Shelton, along with his brothers Carl and Earl, was a member of the Shelton Brothers Gang - an bootlegging gang based in Southern Illinois during the prohibition era. 
Charlie Birger
Charles "Charlie" Birger was a Russian-born bootlegger in Southern Illinois during the prohibition era.  
A rival of the Shelton Brothers Gang, Birger waged war with Carl, Earl, and Bernie over the Southern Illinois territory.
Joseph Patrick "Joey the Clown" Lombardo Sr.
Joseph "Joey the Clown" Lombardo is a member of the Chicago Mafia. Although currently in prison, Lombardo is suspected to still hold a key rank within the organization.
Joey the Clown was sentenced to life in prison in 2009 after being found guilty of racketeering, extortion, and loan sharking.
John Dillinger
John Herbert Dillinger was an iconic American Depression era gangster known for robbing banks along with his infamous Dillinger Gang.
Although Dillinger was able to evade police capture for nearly a year across four different states, he eventually returned to Chicago where he was killed at the Biograph Theater on Lincoln Avenue at the hands of federal agents.
Frank "The Enforcer" Nitti
Frank "The Enforcer" Nitti was one of Al Capone's top henchmen during his reign over the Chicago Mafia. Nitti, as his nickname would suggest, was in charge of the "muscle" within the Chicago family.
Eventually, Nitti went on to succeed Al Capone and became boss of the Chicago Outift.  
He died in North Riverside, Illinois. His death was ruled a suicide.
John "Papa Johnny" Torrio
John "Johnny" Torrio helped build the Chicago Mafia during the 1920s before it was inherited by none other than Al Capone.
According to the Chicago Crime Commission, Torrio's "talents as an organizational genius were widely respected by the major gang bosses in the New York City area."
Torrio died in 1957 of a heart attack.
"Diamond Joe" Esposito
Unlike most mobsters, "Diamond Joe" Esposito had success in Chicago as a politician in addition to his illustrious criminal career.
Esposito offered political protection to the bootlegging gangs of Little Italy. 
After becoming a rival of Al Capone, Esposito was killed outside of his home by a drive-by shooter.
Vincent "The Schemer" Drucci
Vincent Drucci, also known as "The Schemer", was born in Chicago in 1898. After serving in the U.S. Navy, he returned home and began his criminal career by committing small-time crimes like stealing money from pay phones.
Drucci went on to become a prominent member of the North Side Gang during the Prohibition era.  
He died in Chicago at the age of 29 after being shot by a Chicago police officer.
Louis "Two Gun" Alterie
Louis Alterie, AKA "Diamond Jack Alterie", served as a hitman for the North Side Gang in Chicago early on during the Prohibition era.
Alterie fled to Colorado at the request of one of his criminal associates, but soon attracted unwanted attention by the state authorities and had to return to Illinois.
Alterie was killed on July 18, 1935. A sniper successfully shot him as he was leaving his Chicago apartment.
Jack "Machine Gun" McGurn
In addition to being a small-time boxer, Jack "Machine Gun" McGurn was a key member of Al Capone's Chicago Mafia.
McGurn is widely suspected to have been involved in planning the infamous St. Valentine's Day Massacre, although this has never been proven.
After being abandoned by his fellow criminal associates, McGurn was killed by three men on February 15, 1936. Coincidentally, this was one day after the seventh anniversary of the St. Valentine's Day Massacre.
Frank McErlane
According to the Illinois Crime Survey, Frank McErlane was "the most brutal gunman who ever pulled a trigger in Chicago." He is even credited with introducing the now-iconic Thompson submachine gun to Chicago's underworld.
McErlane met his end on October 8, 1932 after falling ill with pneumonia.
Giacomo "Big Jim" Colosimo
James Colosimo, AKA "Big Jim" and "Diamond Jim", was an Italian-born immigrant who came to the United States in 1895 and went on to develop a criminal empire in Chicago, which was a precursor to Al Capone's Chicago Mafia.
Ultimately, Colosimo's criminal associates would betray him and gun him down in 1920. Be careful who you trust.
Hymie Weiss
Known as "the only man Al Capone feared", Hymie Weiss was the leader of the North Side Gang in Chicago during the Prohibition era.
Weiss was killed on October 11, 1926 by rival gunmen.
Paul "The Waiter" Ricca
Paul Ricca, AKA "The Waiter", served as the leader of the Chicago Mafia for four whole decades.
Ricca died of a heart attack at age 74 on October 11, 1972.