Iowa House lawmakers advanced a bill that would allow some forms of birth control to be dispensed without a prescription on Tuesday.
A similar proposal passed out of the House Health and Human Services Committee as part of Gov. Kim Reynolds' overarching maternal health care bill, but the Senate last week tacked the measure onto a bill that allowed epi pens to be dispensed without a prescription rather than including it in Reynolds' bill. A three-member House subcommittee advanced that bill, Senate File 326, on Tuesday.
Reynolds told reporters Tuesday she is working with lawmakers and leadership to get the policy passed in some form this year.
"My goal is to get it across the finish line, so we're going to continue to sit down with lawmakers and find what that compromise looks like," she said.
Rep. Devon Wood, a Republican from New Market who led the subcommittee, said she prefers the language in the House bill, which requires a patient to have a follow-up visit with a physician within 27 months of receiving the medication.
Wood didn't say whether the birth control provision would be kept in the governor's health care bill or in Senate File 326, but said there are "several paths forward" for the legislation.
REYNOLDS URGES EPA TO ISSUE EMERGENCY E15 WAIVER
Gov. Reynolds on Tuesday led a joint, bipartisan letter urging the U.S. Environmental Protection Agency to issue an emergency waiver allowing for the summer sale of higher ethanol blends.
The EPA earlier this month announced intentions to allow the sale of E15 — gasoline blended with 15 percent ethanol — year-round, starting in April 2024. The fuel is restricted in the summer because of concerns about air pollution.
The change was in response to a 2022 request from a bipartisan group of Midwest governors, including Reynolds, to allow the sale of E15 in the summer in their states. But Reynolds and other Iowa politicians have criticized the effective date of the rule, urging the agency to begin the waiver this year.
"Postponing implementation of our petition could result in higher prices at the pump during the summer 2023 driving season, as consumers would lose access to lower-cost, cleaner-burning E15," according to the letter signed by Reynolds and fellow Midwest governors Jim Pillen of Nebraska, Tim Walz of Minnesota and Kristi Noem of South Dakota.
"Continued availability of E15 throughout the summer of 2022 extended fuel supplies, helped avert potential shortages, and saved Americans at least $57 million in fuel costs," the governors' write. "Drivers choosing E15 saved $0.23 per gallon on average last summer, equating to $3-5 in savings per fill-up. … We urge the EPA to act immediately to ensure lower-cost E15 remains available in the marketplace this summer."
REYNOLD APPOINTS DEPUTY ADJUTANT GENERAL
The governor Reynolds has selected Brig. Gen. William F. McClintock as the Deputy Adjutant General of the Iowa National Guard.
McClintock will replace Brig. Gen. Stephen E. Osborn, who Reynolds picked last month to succeed Maj. Gen. Benjamin Corell as the adjutant general of the state's military reserve force.
"General McClintock's extensive experience and proven leadership, alongside General Osborn, will ensure that the Iowa National Guard is 'Always Ready,'" Reynolds said in a statement.
McClintock previously served as assistant adjutant general and as the full-time Army chief of Staff.
The adjutant general is the second highest-ranking position in the Iowa National Guard. McClintock will assist in managing more than 7,000 part-time soldiers.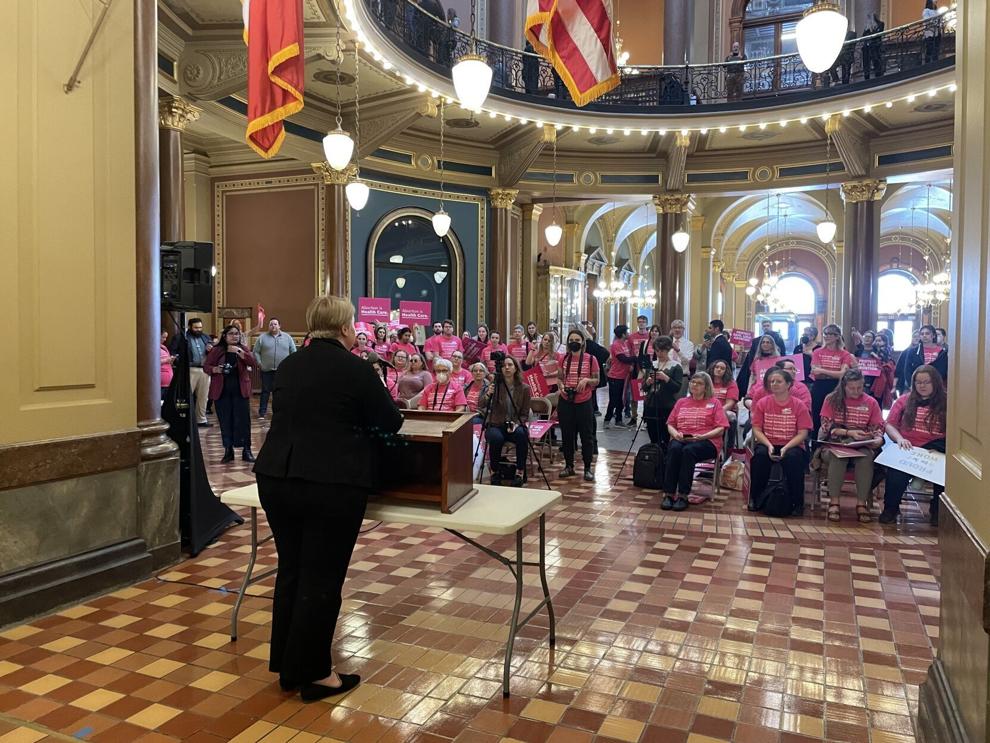 Abortion rights activists gathered at the state Capitol on Tuesday to urge state lawmakers to preserve abortion access in the state as part of a lobbying day with Planned Parenthood Advocates of Iowa.
Democratic lawmakers who spoke to the group highlighted recent bills announced by House Democrats that would enshrine abortion rights in Iowa's constitution and expand family planning services in the state.
"Despite the political realities that we see in the Legislature at this moment, this is not the time to throw up our hands and walk away," said Rep. Lindsay James, D-Dubuque. "This is the time to dig deep and continue to push."
Republican leaders have said they will not seek further abortion restrictions until the state supreme court decides on a bid from Republican Gov. Kim Reynolds to reinstate a 2018 law that banned abortion once cardiac activity is detected in a fetus, around six weeks.