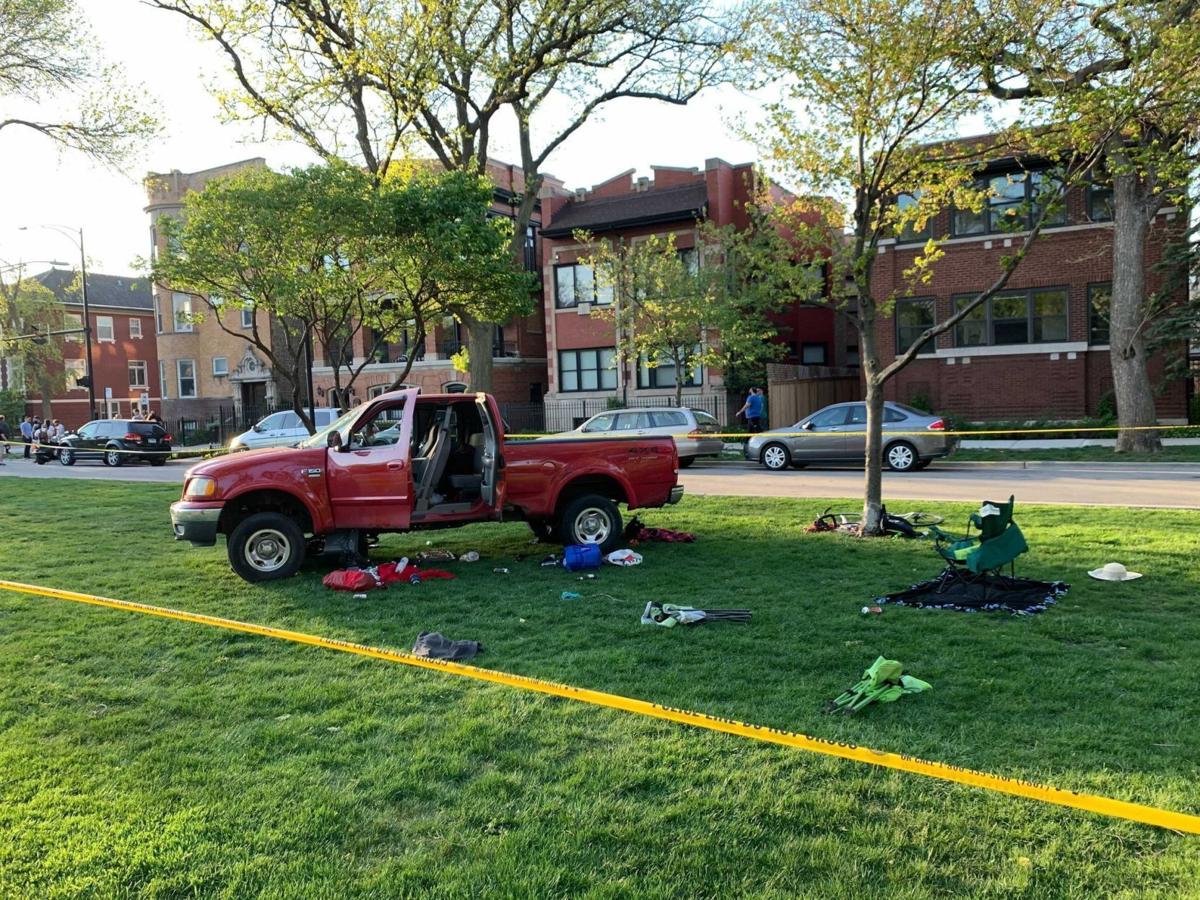 Attempted murder charges have been filed against the driver of a pickup truck who allegedly drove onto a median because he was angered by a group of "yuppies with dogs" having a picnic in Logan Square on Saturday, Chicago police said.
Tim Nielsen, 57, of the 2400 block of North Campbell Avenue, was charged with four counts of attempted first-degree murder, police announced in an emailed statement Monday morning.
Police said Nielsen was arrested soon after the attack, in which "he intentionally jumped a curb in his vehicle and drove at a group of pedestrians gathered for a picnic," according to the statement.
A 42-year-old woman had been briefly trapped under the red Ford F-150 and was seriously injured, according to police and fire officials. She was released from the hospital Sunday morning, her friend Rob Lopez — who also was a witness to the attack — told the Tribune.
The group of about 10 people had been gathered on the median in the 2900 block of West Logan Boulevard about 5:15 p.m. when, according to some in attendance, a nearby motorist began yelling at them and an argument ensued. Members of the party that was targeted said the driver had been angered by the presence of "yuppies with dogs."
Lopez said the man also shouted anti-Asian comments at a member of the party before gunning the truck toward them.
Nick Lau, 33, a Logan Square resident who used to live just feet from the crash scene, told the driver "his unsolicited comments were unwelcome" and dismissively waved his hand at him.
At that point, Lopez said, the man directed profane anti-Asian comments at Lau, who is Asian.
The comment escalated the arguing, and the man eventually hit the gas, hopped his truck over the curb and slammed into the picnic, striking and trapping the woman, witnesses said. A pregnant woman also was nearby and narrowly avoided being hit. The group said a Yeti cooler became lodged under the truck, keeping it from accelerating further and possibly helping to minimize the severity of the woman's injuries, witnesses said.
Lau said he did not hear or could not remember the alleged racial comment, but said he wasn't initially antagonistic to the man, he simply wanted him to leave.
Some community members believe hate-crime charges should be filed.
In a statement released Sunday, Josina Morita, chair of the Illinois Asian American Caucus, said: "We need leadership from Mayor (Lori) Lightfoot and immediate action from the Chicago Police Department to combat the rise in anti-Asian hate and protect Asian Americans, and all communities."
A recent study by monitoring groups has shown an increase in anti-Asian hate crimes in U.S. cities, perhaps driven by COVID-19′s origin in China, and sparking concern and protests by Asian Americans and allies, such as one held Sunday in Uptown.