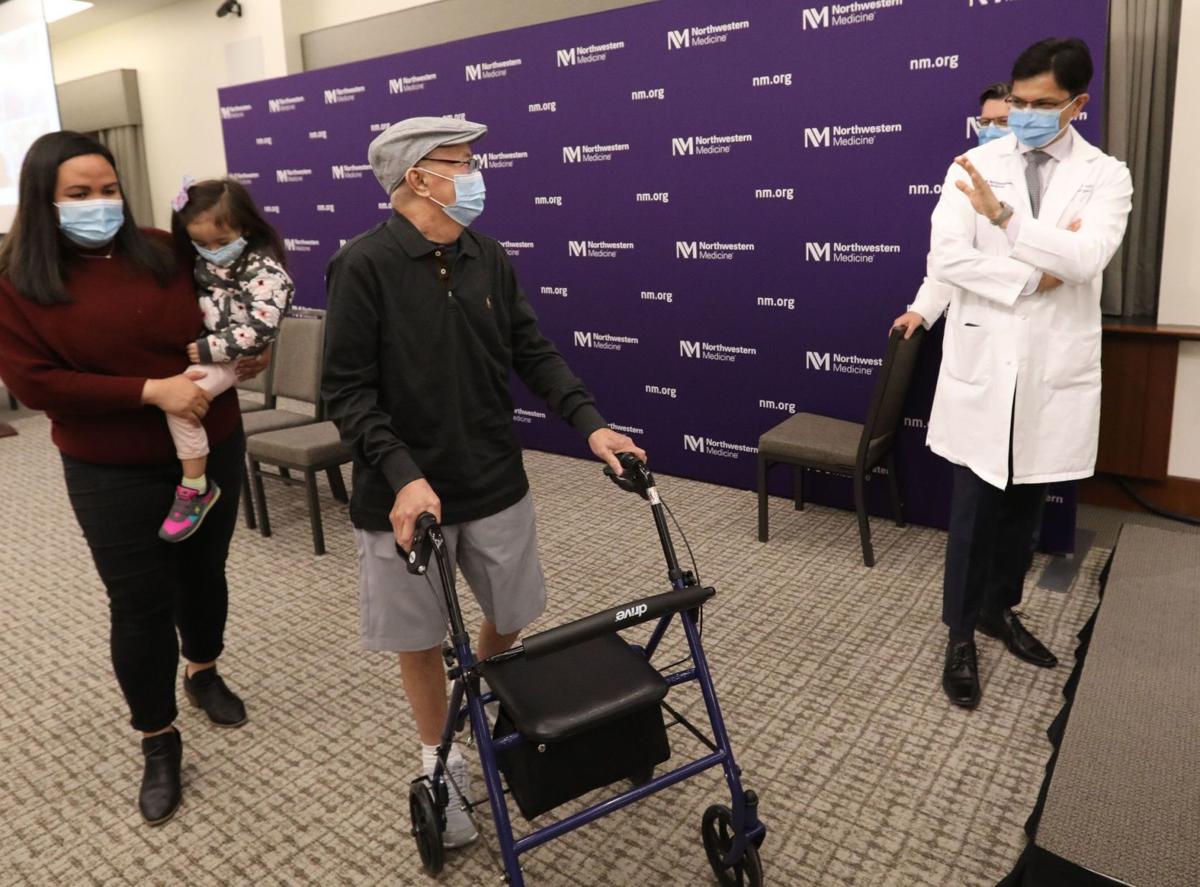 "I did all the arrangements and the next day he proved us wrong. He wanted to live," Sundstrom said.
Sundstrom asked Aquino's medical team about the transplant surgery, and he was soon transferred to Northwestern Memorial Hospital, where, in February, he became the first known "COVID to COVID" double lung transplant recipient.
Improbably, Sundstrom sat next to her uncle during a news conference Friday at Northwestern, smiling while he bantered about once again singing karaoke.
After performing the United States' first COVID-related double lung transplant last year, Northwestern surgeons have now done 20 such surgeries. In Aquino's case, the surgeons used lungs from a person who had contracted a mild case of COVID-19 and died of unrelated causes — an important milestone because the surgery's success greatly expands the number of lungs available for these procedures, the doctors said.
"If we said no to those patients from being donors, that means we are not going to have enough organs to save lives," said Dr. Ankit Bharat, chief of thoracic surgery and surgical director of the Northwestern Medicine Lung Transplant Program, who performed the procedure. He noted that there have been more than 32 million cases of COVID-19 diagnosed in the U.S.
Aquino was born and raised in the Philippines before he moved to Illinois to pursue a medical career. He worked as a phlebotomist in suburban hospitals when the pandemic took hold, and had direct contact with COVID-19 patients.
On May 14 of last year, he couldn't breathe and drove himself to the emergency room. Doctors placed Aquino on a ventilator. He also received convalescent plasma and was placed on a life-support machine for the heart and lungs called extracorporeal membrane oxygenation, or ECMO.
The disease had permanently damaged Aquino's lungs, and his prognosis was grim.
"It was so crazy, an emotional roller coaster," said Sundstrom, who is Aquino's goddaughter.
After consulting with doctors about a transplant surgery, he was transferred to Northwestern and spent a week on the transplant list. Though the general consensus among experts is that organs from donors who have recovered from COVID-19 can be used as long as they test negative, some transplant centers are still wary, doctors said.
But doctors expect that health problems due to the COVID-19 pandemic will increase the need for lung transplants in coming years, so organ supply is crucial. Before the doctors decide to use lungs from a donor who had COVID-19, they screen them to make sure the virus has cleared the body and that the lungs have no significant damage caused by the virus, Bharat said.
They use several tests to ensure the health of the lungs, including testing the lung fluid and performing a biopsy of the organ, doctors said.
Lung transplants due to damage from the COVID-19 virus are high-risk procedures that are more difficult than other lung transplants. Bharat has described the state of COVID-damaged lungs as if "a bomb blast" has gone off. The surgery lasts about 10 hours, and usually requires eight to 10 units of blood, a startling contrast to the half unit needed for other, non-COVID-19 lung transplants.
The surgery is only undertaken when patients are on the brink of death and have no other options.
At the news conference, Aquino thanked his team of surgeons for a second chance at life. His family shared a number photos of the beloved uncle — grinning broadly while barbecuing, posing at Disney World and surrounded by family members in front of a Christmas tree.
The White Sox fan and karaoke hobbyist threw his arms up and said, "I feel wonderful."
Sundstrom said her family is grateful to have him back.
"He's going to be doing karaoke soon," she said.
Illinois' most endangered historic places
Broadview Hotel, East St. Louis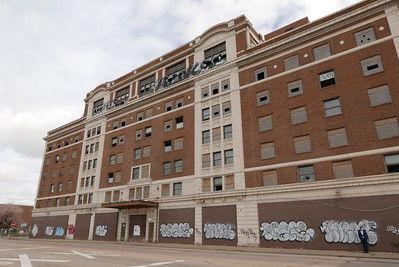 Joliet Steel Mill main office building, Joliet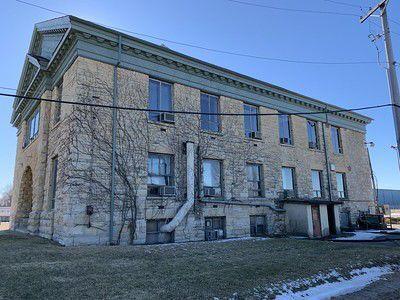 Klas Restaurant, Cicero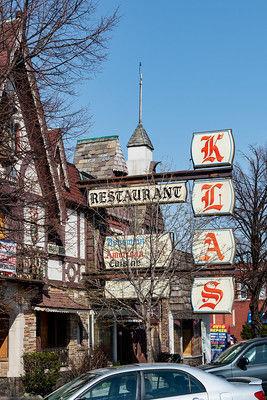 Havana Water Tower, Havan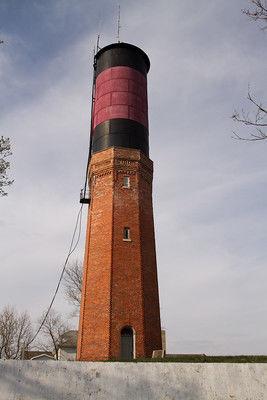 ​Illinois Terminal Interurban Station, Decatur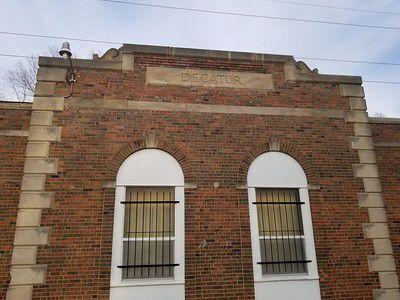 Altgeld Gardens Shop Building and school buildings C and E, Chicago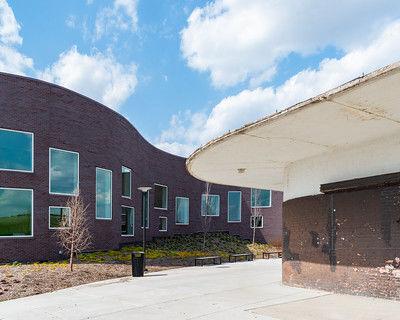 James R. Thompson Center, Chicago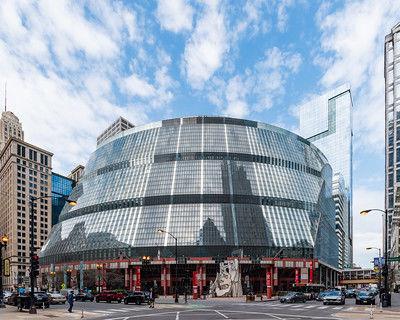 'Green Book' sites statewide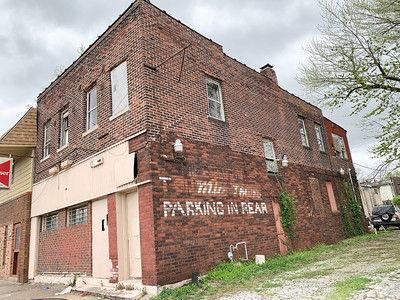 Scott Foresman headquarters, Glenview