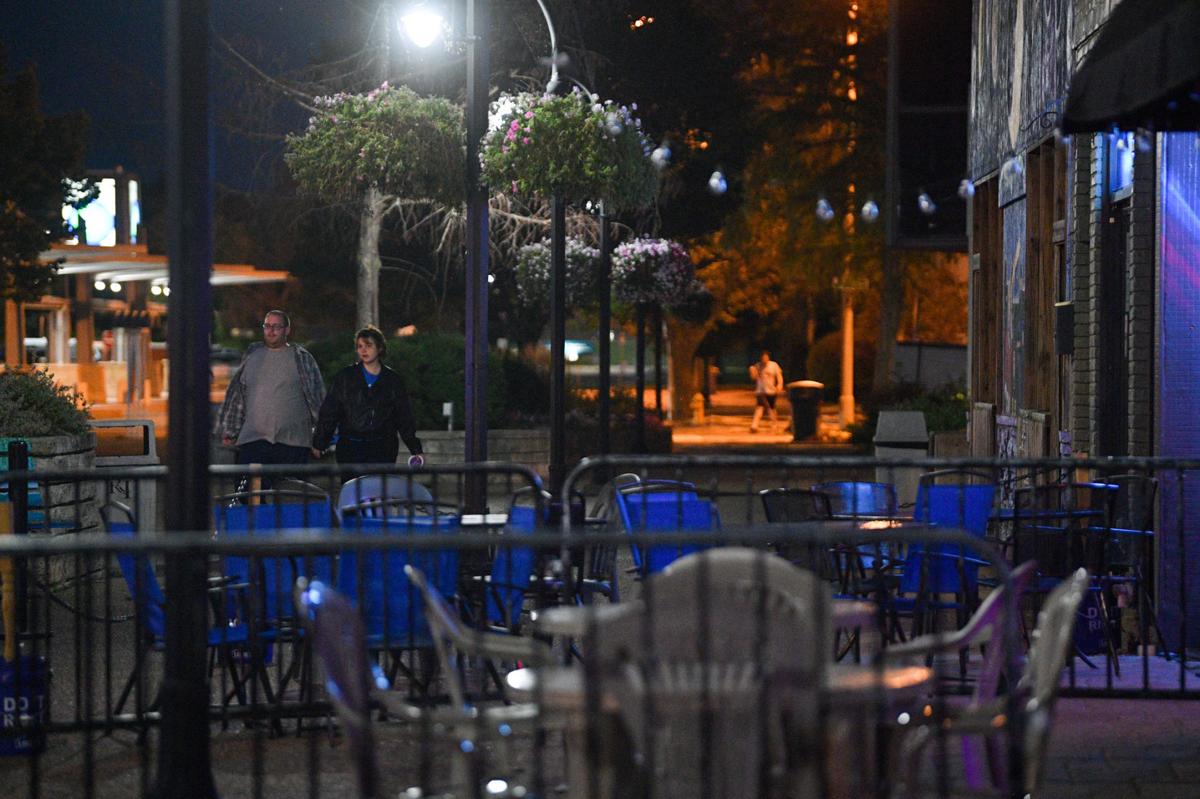 Bars in the District of Rock Island are now one step closer to an earlier closing time of 2 a.m., instead of the traditional 3 a.m. 
Citing recent violent incidents downtown, Rock Island City Council members on Monday voted to approve amending the alcoholic liquor ordinance on a first reading. Alderman Dylan Parker, Ward 5, opposed. It will be approved or rejected during a second reading at the next city council meeting Sept. 28. 
The city has struggled with a spate of violent incidences in recent months downtown. Jesse Brand Jr. of Rock Island was shot and killed and five others were wounded during a shooting in the bar District Aug. 29, prompting the city to impose a curfew the following night. 
"This is one issue I've received a lot of calls on from constituents," said Alderman Dave Geenen, Ward 7. "From what I've heard, the majority of the seventh ward is in favor of this type of change."
Alderwoman Jenni Swanson, Ward 4, said her phone "has been blowing up over this whole issue."
"Ward 4 really wants the change to be put in place. I've received multiple calls about how unfortunate it was that the majority of council wanted to make the change, but because of a technicality, a supermajority was needed," she said. "By having a first reading and second reading later, we are doing our due diligence to look at all aspects of this and to listen to all people of the city, because this affects the entire city. It is our city that is in the news all the time now."
Kyle Peters, owner of Daiquiri Factory, 1809 2nd Ave., said the 3 a.m. closing time was one of the reasons he chose to open his business in Rock Island. 
"We've been able to operate our business successfully for 16 years with a 3 a.m. license," Peters said. "We do concerts with 3,000 people and have no issues. We put the resources in place to be safe and to be successful. I've said the numbers before on how much this impacts my business. I'm at the point again, should I stay here? I'm really torn on what to do. We need the city to meet us halfway."
Alderman Mark Poulos, Ward 6, said having bars close in the District at 2 a.m. will help ease the burden on police resources. 
"How many cops do we need to put down there," Poulos said. "If we put all of our officers downtown, what are we saying to the other 37,000 people in Rock Island, saying you really don't matter because we've got to take care of this little piece of real estate so that nothing happens there."
Also on Monday, Mayor Mike Thoms, acting as liquor commissioner, passed a resolution putting a moratorium on all new liquor licenses, including bars and packaged liquor sales within the District. The moratorium area includes the south side of 1st Avenue to the South side of 5th Avenue; and the West side of 15th Street to the East side of 24th Street.
The moratorium will not apply to those businesses with existing liquor licenses. 
Peters asked if liquor licenses were transferable in case he sells his business. Thoms said it would not be transferable since a new owner would have to apply for a new license. 
"At this point we are putting a moratorium on no new licenses," Thoms said. "We are not putting a moratorium on restaurants. If you have a restaurant and you sell alcohol, this does not affect that."
Thoms said there are currently 15 businesses with liquor licenses within the outlined area that will be affected, accounting for 62% of bar licenses in the city. The moratorium will last until May 1, 2021, when licenses expire. 
Terry Tilka, owner of Rock Island Brewing Company (RIBCO), 1815 2nd Ave., objected to the moratorium, saying he is selling his business and wasn't notified of the change. 
"Nobody's been notified unless they went on the (city) website and looked, correct?" Tilka said. "It's going to be voted on before anyone else can be notified? I disagree with it."
Parker also objected to the moratorium, but voted for it. 
"I really don't understand this council's ongoing effort to try to affect businesses of my constituents," Parker said. "I appreciate the willingness to make it temporary. I don't think this is the solution for growing our downtown."
Be the first to know
Get local news delivered to your inbox!