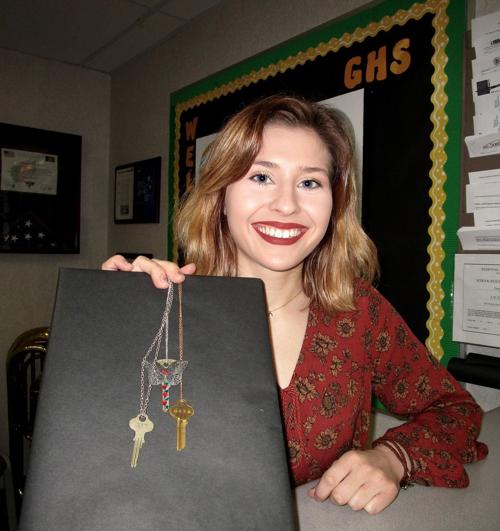 GENESEO -- "Stay Strong" is a message Geneseo High School senior Maya Esparza shares to help raise money for children hospitalized at St. Jude Research Hospital.
She was selected one of seven Illinois finalists in the Prudential Spirit of Community Awards program. As a finalist, she will receive a certificate and bronze medal.
Her work helping others began when, as a fourth-grader, she won $1,000 in a raffle at a fundraiser for St. Baldrick's. Rather than keep the money, she gave it back to St. Baldrick's, which raises funds for research into childhood cancers.
"I gave it all away, and it made me feel so good to see the impact that money would have," she said.
As a Geneseo sophomore, Ms. Esparza was airlifted to St. Francis Children's Hospital in Peoria after an allergic attack. While in the hospital, she received an antique key bearing the words, "Stay Strong," from her grandfather, Bob Southwick, of East Moline. 
"It was such a simple thing, but it helped keep me going," she said. "That's when I first thought of how I might do something similar to help others.
"I have always had a passion for St. Jude Children's Research Hospital that helps provide care for children battling serious illnesses," she said.
Last year, she founded Keys for Kids after buying old keys and a stamping kit. With her grandfather's help, she stamped the keys with Bible verses and motivational phrases, such as "Stay Strong." She sells the Keys for Kids for $15-$18 each through her Facebook page, Keys for Kids.
"In the beginning, it took me almost an hour to line everything up and do each key," she said. "But now I'm able to make them much faster."
She hoped to raise $1,000 for St. Jude's last year, but came up $200 short. Members of the Geneseo High School Key Club, a service club under the umbrella of the Geneseo Kiwanis Club, stepped up to help her reach her goal.
Ms. Esparza said, since she was 8, she has taken part in portions of the annual St. Jude's Chicago to Peoria run.
"I was never old enough to do the entire run, but I have been able to participate in the last leg of the race," she said. That leg consists of 30 to 40 miles; Miss Esparza ran 13 of them.
"We end up at the Peoria Civic Center, where there is like a telethon going on to raise money for the children and a spaghetti dinner also to help raise money," she said. "That is where I was able to meet some of the St. Jude children."
Linda VanDerLeest, Ms. Esparza's guidance counselor at Geneseo High School, encouraged her to apply for the Prudential Spirit of Community Award given to a U.S. student involved in volunteer work. Ms. Esparza said she thought there was no way she would win, "but at least I'll try."
Being named a finalist has spurred her volunteer efforts. Now 18, she is old enough to participate in the entire Chicago-to-Peoria St. Jude Run, with hopes of donating $2,000 to St. Jude's.
"You participate as part of a team and each team has a recreational vehicle and then you choose the miles you want to run, as many or as few as you want," she said. "In order to be on a team, you have to raise a certain amount of money. I am trying to raise the money with Keys for Kids."
Ms. Esparza said meeting with St. Jude children in Peoria lets her see the research work in action and reminds her of her own hospitalization, off and on since she was born.
"I struggle with severe asthma attacks and other allergic reactions," she said. "I can relate to how much it means when someone goes out of their way to help.
"Every little bit makes a huge difference. The children are going through such horrible experiences, but when they see people helping them out, their eyes light up.
"Being part of that support and care is really cool."
Ms. Esparza is the daughter of Jennifer and Daniel Erickson and Michael Esparza. After high school, she plans to attend Columbia College in Chicago and major in fashion merchandising, with a minor in fashion design.
"I hope to eventually create my own clothing line -- with the idea that I will help give back to others," she said.
Be the first to know
Get local news delivered to your inbox!