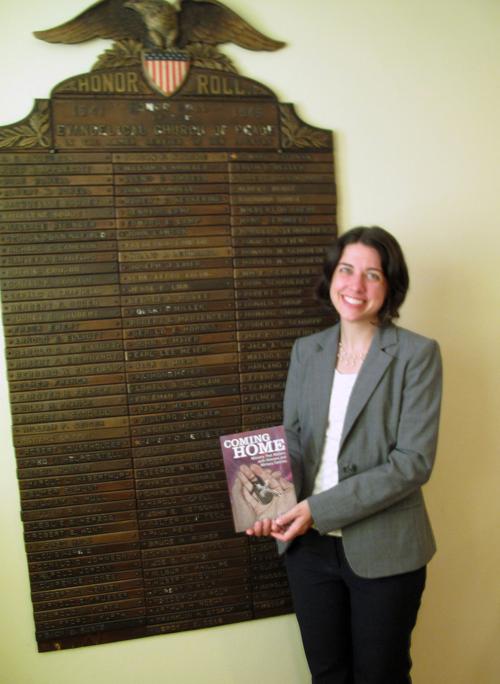 ROCK ISLAND -- A Labor Day trophy decorated on one side with a "Blessed Be the Peacemakers"  theme and "Salute to Veterans" on the other side symbolizes how the Church of Peace wants to balance honoring its veterans while continuing to espouse the need  for peace.
The Rev. Mariah Marlin-Warfield will lead a book discussion this month based on a story titled "Coming Home: Ministry that Matters with Veterans and Military Families," written by commissioned military chaplain Zachary Moon. 
Rev. Marlin-Warfield will lead the four-week discussion from 9-10 a.m. each Sunday, July 9, 16, 23 and 30, at the church, 1114 12th St., Rock Island. Military veterans, pacifists and everyone else are welcome and encouraged to attend.
The church, as its name implies, has a strong connection to peace efforts but an equally strong presence of military veterans and military lifestyles because of its closeness to the Rock Island Arsenal, she said.
"This is a community made up of military veterans, yet a congregation dedicated to peace," she said.
Plenty of anti-war thoughts are prevalent, but it's not as easy as separating people into "doves" and "hawks," she said.
It's what prompted the church's dual-sided 2015 Mayor's Cup Labor Day Parade float winner.
Instead of taking sides, church leaders always have looked at it from a "we-are-all-human" perspective, Rev. Marlin-Warfield said.
Battling an Old Testament "Thou shalt not kill" commandment and a New Testament "Judge not, lest ye be judged" requires a deeper "grappling" with faith, she said.
It also can run the risk of assuming a sense of "moral superiority" and judgment, Rev. Marlin-Warfield said.
She also is concerned that salutes to the military be sincere and not caused out of a sense of guilt in the aftermath of Vietnam, when many veterans felt an overwhelming disdain, she said.
Building a true bridge of understanding is vital, she said.
Rev. Marlin-Warfield remembers studying Leo Tolstoy's "War and Peace" in high school and its characters' spiritual stories. She also recalled her uncles, one of whom was a military veteran, while the other was a conscientious objector. And pacifism was among her concentrations she studies in seminary. She also remembers an oft-repeated story about a time during Word War I, when Church of Peace worshipers suddenly halted services and cried in memory of lost soldiers.
According to a summary of "Coming Home," there are about 20 million veterans and service members living in the U.S., including more than one million Americans deployed to Iraq or Afghanistan since 2001. 
"Post-war life can be challenging unless there are communities responding with compassion and hospitality," read the book summary. "How churches welcome and respond will be critical to the well-being of our nation's veterans, their families, our local communities and our nation."
Copies of the book will be available at the discussions or can be ordered online.
Be the first to know
Get local news delivered to your inbox!