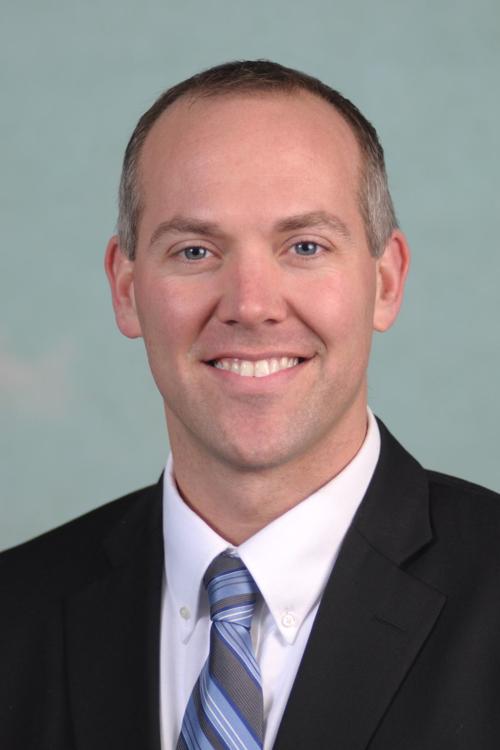 Mike Ducey is a man of many talents.A lifelong Moline resident, he is Moline High School's head volleyball coach and a talented singer, and he has worked as a mortgage lender for 19 years. He's currently employed at SENB Bank (formerly Southeast National Bank).
He's also a devoted family man. He and his wife, Stefanie, a fourth-grade teacher at Hayes Elementary School in Davenport, have four children: Collin, 13, Nolan, 10, Kathryn, 5, and Mason, 3.
This Moline High School graduate participated in basketball before switching to choir at MHS, and then went on to Graceland University in Lamoni, Iowa, on a vocal music scholarship. He majored in biology, intending to enter a medical field of some kind.
Mr. Ducey also chose Graceland in order to play volleyball. He says Graceland is one of the oldest schools offering men's volleyball. The school won the National Intramural Recreational Sports Association national championship in 1998 and came in second in 1999.
It was while he was playing volleyball at Graceland that the coaching bug bit him. Volleyball also led him to his future wife, who played on the first team he coached as a student, although he didn't start dating her until after the season ended.
When Mr. Ducey returned to the Quad-Cities, Tim Albrecht gave him a shot at coaching in the MHS program through club volleyball, and it was there he met Kathy McCaulley, a local lender who saw in him the qualities needed to be successful in finance.
Now he says he is exactly where he wants to be. SENB Bank emphasizes really knowing its customers in order to connect with their needs, he says, and "in this day and age, that quality is rare." Mr. Ducey says he loves talking to clients to discover their needs, then coming up with options they didn't know were available.
For example, he recently helped a couple with debt consolidation that will allow them to be more successful in retirement. "When I can help like that it is a humbling feeling of how lucky I am to have my job," he says. "This business is in my blood; I love it."
His humility and positive influence don't end at the bank's door.
In addition to coaching at Moline High School he coaches volleyball for Platform Elite, a local volleyball organization. He and his family were at Prospect Park in Moline when he happened upon a teenager he thought would be an asset to his team. After striking up a conversation with her, he called her parents, and she ended up playing for him.
Although she had to overcome some challenges, she currently is playing for a small school and hopes to be on track to be the first in her family to graduate from college, Mr. Ducey says.
He says her story is a "good example that it is our job to invest in kids, not just the sport," and although it's a sacrifice to take time away from his family — volleyball takes about five hours a week during the off-season and 20 to 30 hours a week in season — it allows his children to see hard-working, successful kids achieve goals.
And if all this isn't enough to keep him busy, Mr. Ducey also makes use of his vocal skills.
As a broke college student, he recorded a Christmas album to give as a Christmas gift to his family, and he ended up recording three more. He stopped because "you can only sing so many Christmas songs!" he says.
When his family joined Heritage Church in 2003, the music inspired him and opened his faith in ways he had never felt before, he says. In 2006, a homily on how blessings (talents) from God were meant to be shared, even if doing so is uncomfortable, gave him the impetus to join the worship team at Heritage.
Through his involvement, he says, he has "met so many amazing people and learned so much as a follower of Christ and about the power of worship." It also led him to record a video as part of Heritage Church's 50th anniversary celebration.
This well-rounded man seems to have it all — family, career, talent — but he remains humble and grateful.