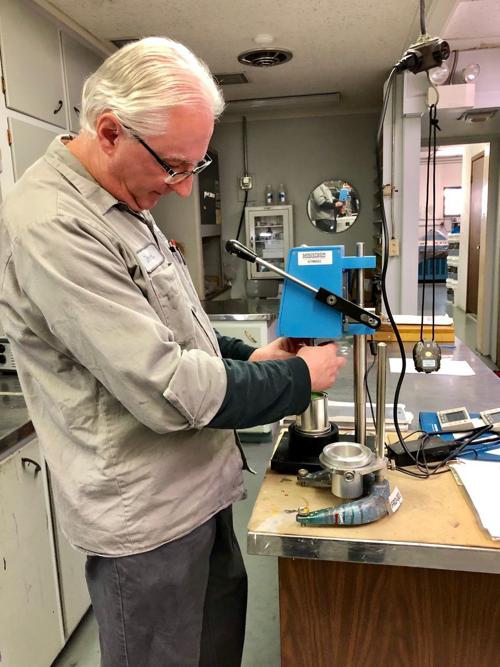 PORT BYRON — For 42 years, David Hast has been Sandstrom's senior quality control laboratory technician.
"I went from college to Sanstrom," the Port Byron native said.
A 1975 Riverdale High School graduate, Hast joked he didn't know there was a school surrounding the art room because he just hung out there. He continued his education at Black Hawk College in Moline, majoring in Drawing and Painting.
"My drawing teacher in college was Jackie Olson and what she taught me stayed with me throughout the years," Hast said. "My love of art and color brought me to Sandstrom."
Sandstrom, at 224 Main St., Port Byron, is a privately-held coatings developer and producer established in 1946 as a paint manufacturer. He said when he joined the company he first worked in the shop, running and boxing paint. He then learned how to make paint and was a "batch maker" for about eight years.
Hast said that, because of his art background, he was offered a quality control position in the mid-1980s. He grew with the company, as Sandstrom became involved in developing and manufacturing industrial coatings and new types of dry film lubricants produced to precise specifications.
"I was taught to use gauges and measure viscosity (thickness), pH (acidity), weights per gallon and solids," he said. "Color was originally done by eye and by guess. It was not easy."
In the early 1990s, Hast said, Sandstrom acquired a color computer.
"It took a lot of the guesswork out of color matching," he said. "But you still had to use your eyes.
"We now have a new color computer that helps take most of the guesswork out — but you still have to use your head," Hast said. "It is a tool. I have to know what the color and the hue of those colors will do in order to make good decisions on what to use and how much."
You have free articles remaining.
Sandstrom now develops and manufactures coatings for a diverse collection of industries, including aerospace, defense, automotive, agriculture, commercial weapons and other equipment manufacturer applications.
Its products include ultraviolet cured coatings, weapons coatings that inhibit corrosion, chemical resistant coatings, conductive coatings, marker coatings, exterior domestic coatings and automotive products such as gasket coatings, military coatings and floor coatings, including Tuf Trac and Glazon non-slip coatings.
When a batch is finished, a sample is brought to Hast's quality control lab for testing using devices such as viscometers, Zahn cups, pH meters, weight per gallon cups, scales and ovens.
"I will run a viscosity (thickness) and any other test that are required by the customer," he said. He also measures specifications based on a customer's needs.
Because viscosity varies with temperature, the sample is tested at 77 degrees. First, Hast makes drawdowns or spray outs of the coating. Then, depending on the coating, he will cure the sample by air drying it, forced hot fan drying it, or baking it.
"I will then use the color computer to determine if it is in 'spec,'" he said. "If not, I will color match it," Hast said
"I do love color matching," he said. "It can be very challenging."
Once the color and viscosity is checked, Hast goes down the list of all other specifications a customer requires.
He said that if he could change one thing about his job, it would be the early morning hours, as he is more of a mid-day man. But he said his job is the perfect one for him. He uses his love of color in his work and his job allows him to pursue art.
"I have had my art seen in all major shows in the Quad Cities," he said. "My work has been in one-man and group shows through Midcoast Fine Arts. I just finished a group show at the Artery in Rock Island.
"I also have shown in gallery competitions from Brooklyn, New York, to Los Angeles California," he said. "I have won awards, and my drawing was used for the poster and T-shirt for the Mississippi Valley Blues Fest in 2011."