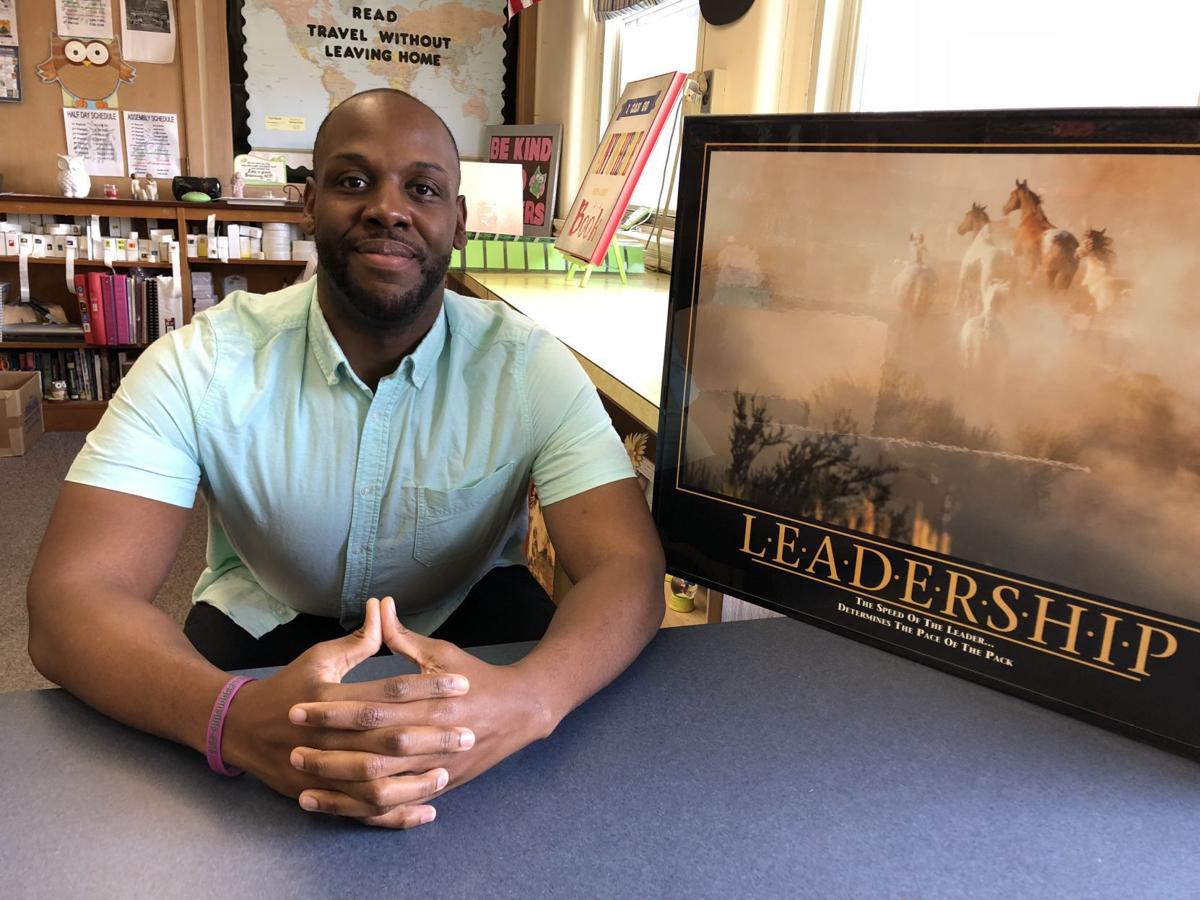 ROCK ISLAND — One of Larry Harris' favorite parts of the day rolls around when 2:30 in the afternoon arrives. Mondays through Fridays, that is when he starts arranging after-school lunches at Washington Junior High School for students who need them.
For Harris, any opportunity to do something positive for kids is right up his alley. He serves as the school's Lights on for Learning coordinator, and he is in his second year of that job.
Harris' job starts at 8 a.m. His day ends at 4:30 p.m., when the last student has left the daily study sessions in the school library.
Harris is a Rock Island High School and Western Illinois University graduate, and he was a big-time athlete at both. He played football, wrestled and competed in track-and-field events at Rocky, and he played football at WIU. He mixes parts of those experiences with his first-shift job.
He was part of the Leadership Council at WIU, and that experience helps him in his Lights on for Learning duties. "Now I am adding my own flavoring to it," he said of his second year at the helm.
Harris said he leaned heavily during his first year on Nick Camlin, who had the post before him.
"One thing I think I can do better is planning field trips and getting out into our community, and that's something we are working on this school year," he said.
Another area of improvement is getting junior-high students more involved in extracurricular clubs. The Rock Island school has eight of those, with two new ones this year — chess and journalism/photography.
"All of our clubs complement some aspect of what we have here in the curriculum," Harris said, "particularly math and ELA (English/Language Arts) being embedded in there."
The other clubs available to seventh- and eighth-graders are art, robotics, drama, intramural sports, future leaders and study boost, the latter meeting each day after school to improve students' academic standings under Harris' tutelage.
Asked which club he would steer toward if he were a junior-high student, he quickly responded, "Definitely the photo/journalism club. The feedback that I am getting from that club, it is doing great things. It is one that has a lot of kids engaged. Another one would be the art club. I went to one of those meetings, and I really liked the art sessions that Ms. (Lisa) Wells was working on with them."
Harris said the school's goal is to get every student involved in at least one of the club offerings.
"Right now we have 140 students in at least one club," he said. "Of course, not all students might be able to participate because they are involved in athletics," with practices and games occurring at the same after-school times as the club meetings.
"The ones not participating need to see the value of participating. Many of these clubs offer college and career readiness. We need those involved in the clubs to be a voice, to convince the others the purposes behind the clubs," Harris said.
He said there are opportunities to continue to improve the club landscape at Washington. "Maybe if we added an electronics club, that could involve more students," he noted. "But for some kids, it's a transportation issue, or there might be other reasons not to participate. But that is why I say that those who are involved in the clubs are very unique."
Harris also has his eye on adding an environmental club, looking into a partnership with Niabi Zoo or Habitat for Humanity.
While Harris is locked into any aspect of his job that gets hand-on experiences or positive benefits for kids, there is another that is not his cup of tea, but one he knows is very necessary. It's crunching numbers.
Lights on for Learning analyzes its data at the end of the school year, and Harris learned last year about the positive news that can yield.
"Of those who have been to 30 or more club sessions throughout the school year, we hope to see improvements in their ELA and math testing," Harris said. "That comes as a result of them being at school and not missing any days of school. The clubs give another reason (for kids) to want to be at school and build relationships at school.
"We have found that 94 percent of those students who have done so have shown improvement."
That, though, is a numbers thing. Harris would prefer helping a student in the afternoon "Boost," or checking in on what's going on with the student newspaper or what spectacular artwork has been submitted by one of the students.
Be the first to know
Get local news delivered to your inbox!