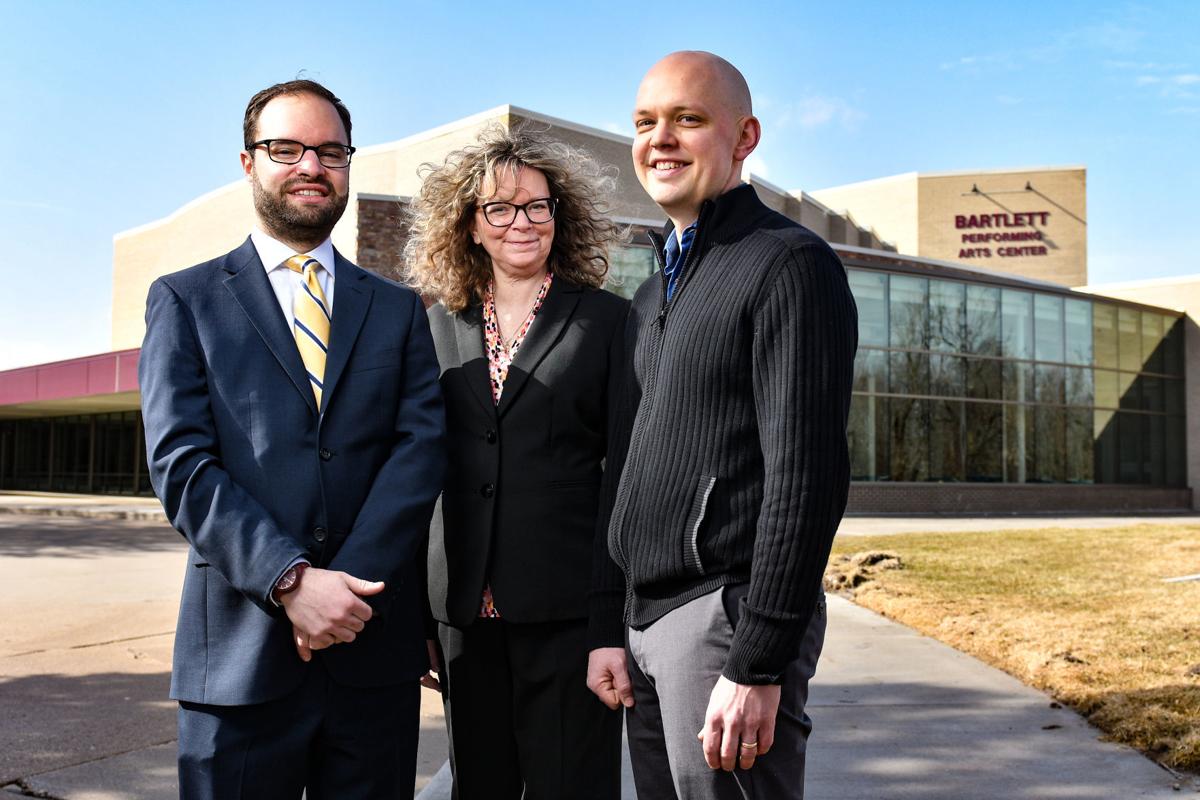 MOLINE — For the first time in its 104-season history, the Quad City Symphony Orchestra is commissioning a new opera, which will sing of the struggle, hope and triumph of local cancer survivors.
The QCSO is partnering with Living Proof Exhibit, a nonprofit organization that provides the therapeutic benefit of the arts to people affected by cancer. Titled "Karkinos," it will be written by Jacob Bancks, who's had other works premiered by the QCSO, and performed Sunday, May 10, 2020.
The title is the Greek word for crab, and "cancer" is its Latin translation.
It will be the first opera written by Bancks, who's an associate professor of composition and music theory at Augustana College.
"Opera's always been something I've wanted to do," he said recently, noting he's penned vocal pieces, including a dramatic work for six singers as his University of Chicago doctoral dissertation in 2011. "I've written song cycles, other vocal music and choral music, so I'm well prepared."
The opera tells the story of a beautiful empress (representing a cancer patient) who's forced into battle with the unseen monster Karkinos (cancer) on the night before her coronation. The monster will be symbolized by a 24-voice offstage choir, including some cancer survivors, with a chamber orchestra of 15 players.
The opera will have three soloists: the empress; the empress' maid, a cancer survivor who has battled Karkinos in the past; and a male angel who represents the medical community. Bancks is doing the libretto as well.
"In opera, there are many different ways to tell a story," Bancks said. "One of the things opera is really good at is allegory. One of the advantages of allegory is that it tells many stories at once. I chose to go with this fairy-tale allegory because I wanted to tell many stories at once."
The composer, also an Eastman School alum, wrote "Into the Wild" for the QCSO in 2017; a bassoon concerto "Dream Variations," in 2016; and "Rock Island Line" in 2014.
The Living Proof opera was born when the Living Proof Exhibit nonprofit group approached QCSO community engagement director Marc Zyla about incorporating more music in its therapy sessions with cancer survivors, who contribute to a Living Proof art exhibit every year.
You have free articles remaining.
Executive director Pamela Crouch suggested a multimedia show including stories from cancer survivors, with music and video.
She met with Brian Baxter, QCSO executive director, late last year, and he came up with the opera idea. "I was jumping for joy," Crouch said. "The opera works into the symphony's human experience theme for their season. It was serendipitous. It's just been outstanding."
In February, she and Bancks met with more than 30 local cancer survivors, oncologists, radiologists, social workers and support people — "just a wide variety of community voices, which is just amazing," Crouch said. The opera will be sponsored by Genesis and UnityPoint Health – Trinity.
"I would watch Jacob as he was listening to these stories and see him creating," Crouch said. Bancks replied, "It was no special talent of mine; I just had my ears open."
"This is a story about the human experience of cancer," said Crouch, a Moline breast-cancer survivor who co-founded LPE nine years ago. "The fact he's chosen to make 'Karkinos' the chorus — it's invasive, and always just there. You can't see it; you can't touch it; you can't deal with it like you would something tangible."
Members of the chorus also will serve as angels and townspeople, she said. For the people who deal with cancer and their families, "this is the first time they've been able to have their stories heard," she said. "What we usually do is very intimate, except for the annual exhibition, which is visual. This is the human experience."
"We listened to radiologists and social workers, and they don't usually share their stories," Crouch said.
Bancks' wife, Kara, is a survivor of thyroid cancer, and Crouch said there are 1,500 new cancer diagnoses in the Quad-Cities each year.
Mark Russell Smith, QCSO conductor and music director, has a passion for opera, Baxter said, adding, "It's part of his vision for this season." It will include a semi-staged "Die Walkure" (Act I) this December, and the Verdi Requiem in March 2020.
"We kind of have three opera shows," Baxter said. "This really melded well." While the QCSO has performed many commissioned works, this will be its first opera commission.
The plan is to present the opera in the new Bartlett Performing Arts Center at Moline High School, and there will be an exhibit of artwork by cancer survivors in the lobby.
"It's a really community-oriented piece, so doing it at a venue like this made sense, and this size venue works really well," Baxter said. "We're excited to jump into this venue," he said, noting a Signature Series holiday brass concert is scheduled at Bartlett on Dec. 15, 2019.