German truck loses 10,000 bottles of beer on the road, and more of this week's weirdest news
From stolen wood chippers to a bunch of spilled beer, here's a look at the stranger side of news from the past week.
Man reunites with $23K found in recycling sorting facility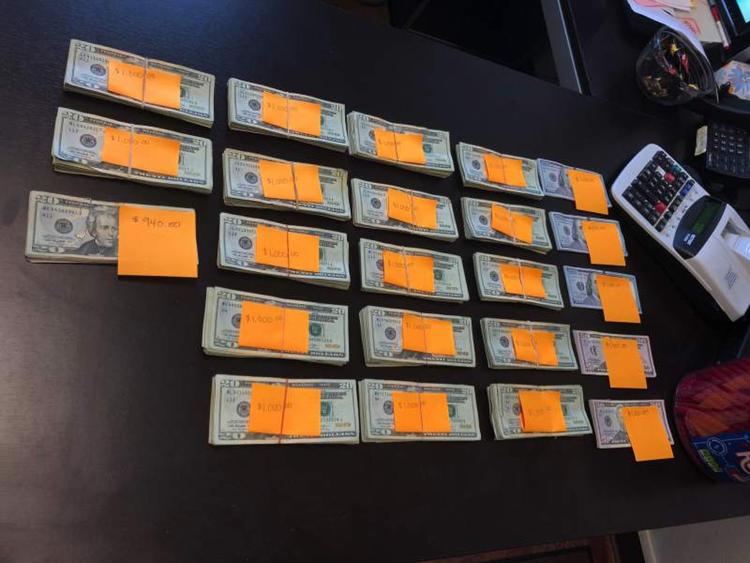 EUREKA, Calif. (AP) — A man who accidentally tossed $23,000 into the recycling bin reunited with his life savings Saturday after a worker at a recycling facility in Northern California spotted a shoebox stuffed with money.
When the man from Ashland, Oregon, realized his mistake on Thursday, the recycling bin had already been emptied into a truck bound for the Recology sorting facility in Humboldt County.
The facility's general manager told the Santa Rosa Press-Democrat most of the recyclables from the truck had been sorted by the time the man contacted Recology. Workers were nonetheless told to be on the lookout for the box.
Someone spotted the box down the sorting line Friday and recovered all but $320. The money somehow stayed in the box during the 200-mile trip to the facility.
10,000 bottles of beer on the road: German truck loses load
BERLIN (AP) — Police in Germany say a truck carrying crates of beer lost part of its load, spilling about 10,000 bottles onto a road in the southwest of the country.
Mannheim police said Saturday that volunteer firefighters from two nearby towns and a local civil defense team took part in the salvage operation, but an estimated 12,000 euros ($13,330) worth of beer was lost in the crash late Friday.
Police said the truck driver is being investigated for failing to properly secure his load.
Thief crashes stolen car into store, steals lottery tickets
MISSION VIEJO, Calif. (AP) — Southern California authorities are looking for a thief who used a stolen car to smash through the doors of a liquor store and make off with trays of lottery tickets.
The Orange County Sheriff's Department says the crimes occurred early Saturday in Mission Viejo.
Video shows the silver Mercedes crash through the store's doors and security gates, then back out and park.
A figure clad in dark clothing crawled through the mangled entryway, disappeared from view and then emerged with trays and fled.
The Sheriff's Department says the total loss and damage are unknown.
Police: Town's wood chipper stolen, old one left behind
WEST PITTSTON, Pa. (AP) — Police in Pennsylvania say someone swapped their old wood chipper for the town's wood chipper.
West Pittston police on Monday posted photos of the chipper that was left behind at the public works department. Police say someone dropped it off and stole the town's wood chipper.
Police in the Luzerne County community want to know if anyone can identify who owned the chipper that was left in the public works lot.
Chicago police find drugs, guns and another gator in raid
CHICAGO (AP) — Chicago isn't quite ready to say see you later, alligator.
The Chicago Sun Times reports that officers serving a search warrant at a northwest side house found a 3-foot alligator along with some guns and drugs. They turned the alligator over to animal control.
The discovery comes about a month after an alligator swimming around a city park lagoon captured the attention of the city for about a week before the alligator, dubbed Chance the Snapper, was captured by a gator hunter who was flown in from Florida.
And a couple weeks ago, two brothers posted a Facebook video in which they claimed to have found another alligator in the lagoon, though police suspect they put the gator in the lagoon themselves.
Florida boy calls 911 to order pizza, gets lesson and a pie
SANFORD, Fla. (AP) — A Florida boy who called 911 to report he was hungry and wanted a pizza got a lesson in proper emergency call etiquette, but he also got a pie.
The Sanford Police Department said in a Facebook post that the hungry 5-year-old called 911 last Friday.
Three officers responded to the home in suburban Orlando for a well-being check. They met with the boy and his older sister, who told them they were fine and that her brother had used the phone without her knowledge.
The officers explained that the 911 system is only for emergencies. Then they went to Pizza Hut and brought a large pizza back to the house.
Florida woman says toilet explodes after lightning strike
PORT CHARLOTTE, Fla. (AP) — A Florida woman says lightning destroyed her septic tank and caused a toilet in her house to explode.
Marylou Ward tells television station WINK News that the sole toilet in her Port Charlotte home was shattered into hundreds of pieces on Sunday.
Ward says the explosion was the loudest sound she's ever heard, and that she also smelled smoke. She says a plumber told her lightning hit the methane gas that was built up in the pipes from feces.
Ward says she'll have to get the toilet and septic system repaired, but she's thankful no one was injured.
Giant emoji painted on house roil California community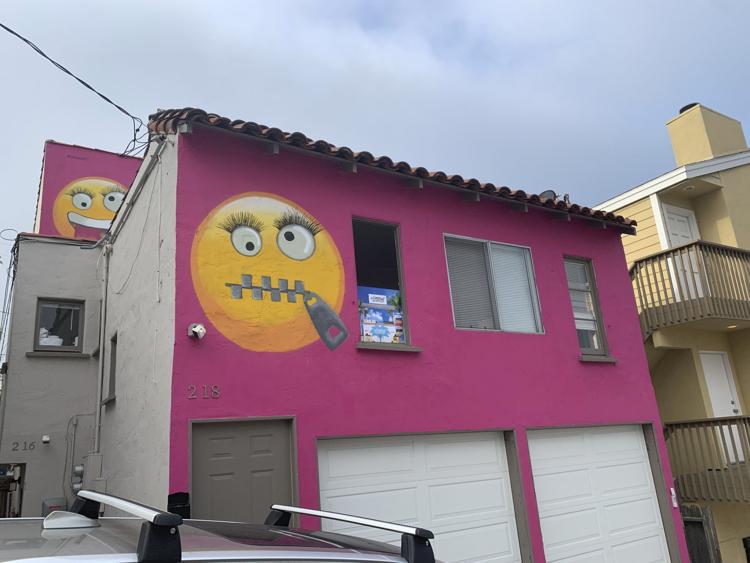 MANHATTAN BEACH, Calif. (AP) — A Southern California seaside community is in an uproar after a home was given a new paint job featuring two huge emoji on a bright pink background.
Manhattan Beach residents railed against the makeover during a City Council meeting Tuesday night, citing problems with spectators and asserting that it was done with bad intent.
One speaker called the paint job graffiti and another said it was an attack on neighbors.
The new paint job appeared after neighbors reported the home was being used for short-term rentals and the homeowner was fined $4,000.
"This all got started because a neighbor was trying to help the city enforce the rules," resident Dina Doll told the council.
The home in the city's El Porto neighborhood stands out dramatically on a steep street that descends toward a pleasant beach usually filled with surfers. Both bright yellow emoji are cross-eyed and have distinctly big eyelashes. One has a goofy expression with its tongue hanging out. The other has its mouth zippered shut.
Owner Kathryn Kidd told KABC-TV she didn't realize short-term rentals weren't allowed and she denied the redecoration is retaliation.
"Oh no, no. Never," she told the station, while acknowledging that it may not fit in the neighborhood.
"Some people may like it," she said. "Some people don't like it."
Florida woman bites intruder who forced his way into home
FORT LAUDERDALE, Fla. (AP) — A nearly toothless South Florida woman says she bit a man who forced his way into her apartment.
Alice Coleman tells WSVN she woke up early Monday morning to a fire alarm going off. The 61-year-old says that when opened the door, a man pushed his way inside.
She says he kept calling her "mama" and telling her everything would be OK. Coleman says that "with the little teeth I got, I bit him."
Coleman says she ran out of the apartment and he locked himself inside. She called police from a neighbor's house. They arrested Fitzroy Morton on three felony charges. Jail records don't list a lawyer for him.
Coleman says she'll be more careful about opening her door now, adding she will open it with her Taser.