Forget facial recognition technology — researchers say they can identify you from the veins on the backs of your hands.
Biometric recognition has become more prevalent in recent years. Facial recognition technology is used everywhere from airport check-in lines to police departments and even nightclubs, while iris, fingerprint and voice recognition is used across a variety of sectors, for security purposes.
But researchers from Australia's University of New South Wales say that some biometric methods have "well known weaknesses."
Fingerprints can be collected from a surface someone has touched and duplicated to create a dummy print, facial recognition technology could be bypassed using images garnered from social media, and contact lenses could be used to confound iris based mechanisms, said Syed Shah, a researcher at the University of New South Wales' School of Computer Science and Engineering.
"Vein patterns lie underneath the skin, thus do not leave any imprint, unlike fingerprints, are not available over social media, unlike facial photographs, and cannot be obtained surreptitiously, unlike irises," Shah said. "Therefore, we believe that a vein based approach will be much more difficult to bypass."
Using an off-the-shelf depth camera — an Intel RealSense D415 Depth Camera — researchers took some 17,500 images from 35 people, where participants made a fist, and established the vein patterns of the hand.
Using artificial intelligence, researchers extracted "discriminating features" from these patterns — these, they say, could then be used to identify an individual with more than 99% accuracy from a group of 35 participants.
"Specially, the requirement of making (a) fist for vein extraction makes it difficult for an adversary to obtain vein patterns furtively," Shah explained.
Shah said that, while the idea of using veins to identify people is not new, it usually requires specialist technology — but his team's research uses off-the-shelf 3D cameras.
The team from Australia say their study, published in IET Biometrics, shows the technique could be used for authenticating individuals on personal devices, like laptops and mobile phones.
---
Last week's weird news
Koala rescued after 5-car pileup on Australian freeway
CANBERRA, Australia (AP) — A koala has been rescued after causing a five-car pileup while trying to cross a six-lane freeway in southern Australia.
Police said the crash in heavy Monday morning traffic in the city of Adelaide caused some injuries but no one required an ambulance.
The animal's rescuer said she got out of her car to investigate what had caused the pileup. Nadia Tugwell, with her coat in hand, teamed up with a stranger clutching a blanket in a bid to capture the marsupial. A concrete highway divider had blocked the koala's crossing.
"The koala was absolutely not damaged in any way," Tugwell said. "It was very active, but very calm."
Once the koala was in her trunk, Tugwell drove to a gas station to turn the animal over to wildlife rescuers. In the interim, the koala was able to climb from the trunk into her SUV's cabin.
"It decided to come to the front toward me, so I said, 'OK, you stay here. I'll get out,'" she said.
"It started sitting for a while on the steering wheel: (as if ) saying: 'let's go for a drive,' and that's when I started taking photos," she added.
Tugwell said she had learned from past experience how to calm koalas by covering their eyes. She lives near a eucalyptus forest outside Adelaide and has twice called animal handlers to rescue koalas injured in fights with other koalas.
"I live up in the hills, and if you let them do what they want to do and you don't chase them or something, they're OK," Tugwell said.
The leather trimmings of her luxury vehicle were scratched by the animal, but Tugwell said the happy ending was well worth the damage.
The koala later was released in a forest — well away from the freeway.
Ancient shell horn can still play a tune after 18,000 years
WASHINGTON (AP) — A large conch shell overlooked in a museum for decades is now thought to be the oldest known seashell instrument — and it still works, producing a deep, plaintive bleat, like a foghorn from the distant past.
The shell was found during the 1931 excavation of a cave with prehistoric wall paintings in the French Pyrenees and assumed to be a ceremonial drinking cup. Archaeologists from the University of Toulouse recently took a fresh look and determined it had been modified thousands of years ago to serve as a wind instrument. They invited a French horn player to play it.
"Hearing it for the first time, for me it was a big emotion — and a big stress," said archaeologist Carole Fritz.
She feared that playing the 12-inch (31-centimeter) shell might damage it, but it didn't. The horn produced clear C, C sharp and D notes.
The researchers estimate it to be around 18,000 years old. Their findings were published Wednesday in the journal Science Advances.
Conch shells have been used widely in musical and ceremonial traditions, including in ancient Greece, Japan, India and Peru. The shell instrument found in the Marsoulas cave is now the oldest known example. Previously, a conch shell instrument found in Syria had been dated to about 6,000 years old, said another Toulouse archaeologist, Gilles Tosello.
The latest discovery was made after a recent inventory at the Natural History Museum of Toulouse. The researchers noticed some unusual holes in the shell. Crucially, the tip of the shell was broken off, creating a hole large enough to blow through. Microscopic inspection revealed the opening was the result of deliberate craftsmanship, not accidental wear, according to Tosello.
By inserting a tiny medical camera, they found that another hole had been carefully drilled in the shell's inner chamber. They also detected traces of red pigment on the mouth of the conch, matching a decorative pattern found on the wall of Marsoulas cave.
"This is classic, really solid archaeology," said Margaret Conkey, an archaeologist at the University of California, Berkeley, who was not involved in the research. "This discovery reminds us that their lives were much richer and more complex than just stone tools and big game."
Marsoulas cave is not located near an ocean, so the prehistoric people must have either moved around widely or used trading networks to obtain the shell, Conkey and the researchers said.
"What makes conch shells so interesting is that the spiral cavity formed by nature is perfectly adept at resonating musically," said Rasoul Morteza, a composer in Montreal who has studied conch shell acoustics, and was not involved in the paper.
Using a 3D replica, the archaeologists plan to continue studying the horn's range of notes. Tosello said he hopes to hear the ancient instrument played inside the cave where it was found.
"It's amazing when there's an object forgotten somewhere, and suddenly it comes again into the light," he said.
Follow Christina Larson on twitter: @larsonchristina
The Associated Press Health and Science Department receives support from the Howard Hughes Medical Institute's Department of Science Education. The AP is solely responsible for all content.
A rare yellow lobster, named Banana, has been caught off the coast of Maine
A rare yellow lobster has been caught off the coast of Maine and has been lovingly named Banana.
The University of New England (UNE) said in a news release that Banana was caught by lobsterman Marley Babb and donated to the university on Wednesday. The yellow color comes from a pigment in the lobster's shell and the odds of catching one are about one in 30 million, according to the Lobster Institute at the University of Maine.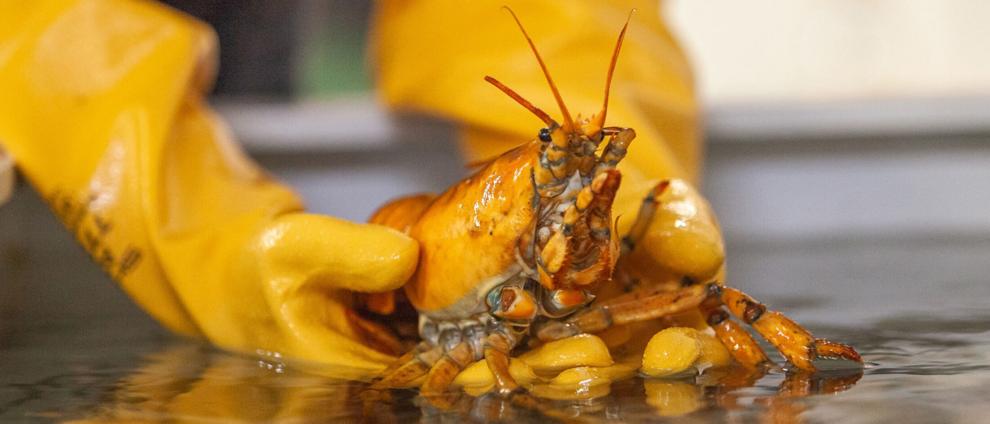 Babb contacted the Maine Department of Marine Research (DMR) after his once-in-a-lifetime catch to see if they would be interested in housing the lobster.
Lindsey Forrette, a lab coordinator and chemical hygiene officer in the School of Marine and Environmental Programs said Babb drove two hours from his location in Tenant's Harbor to drop off Banana.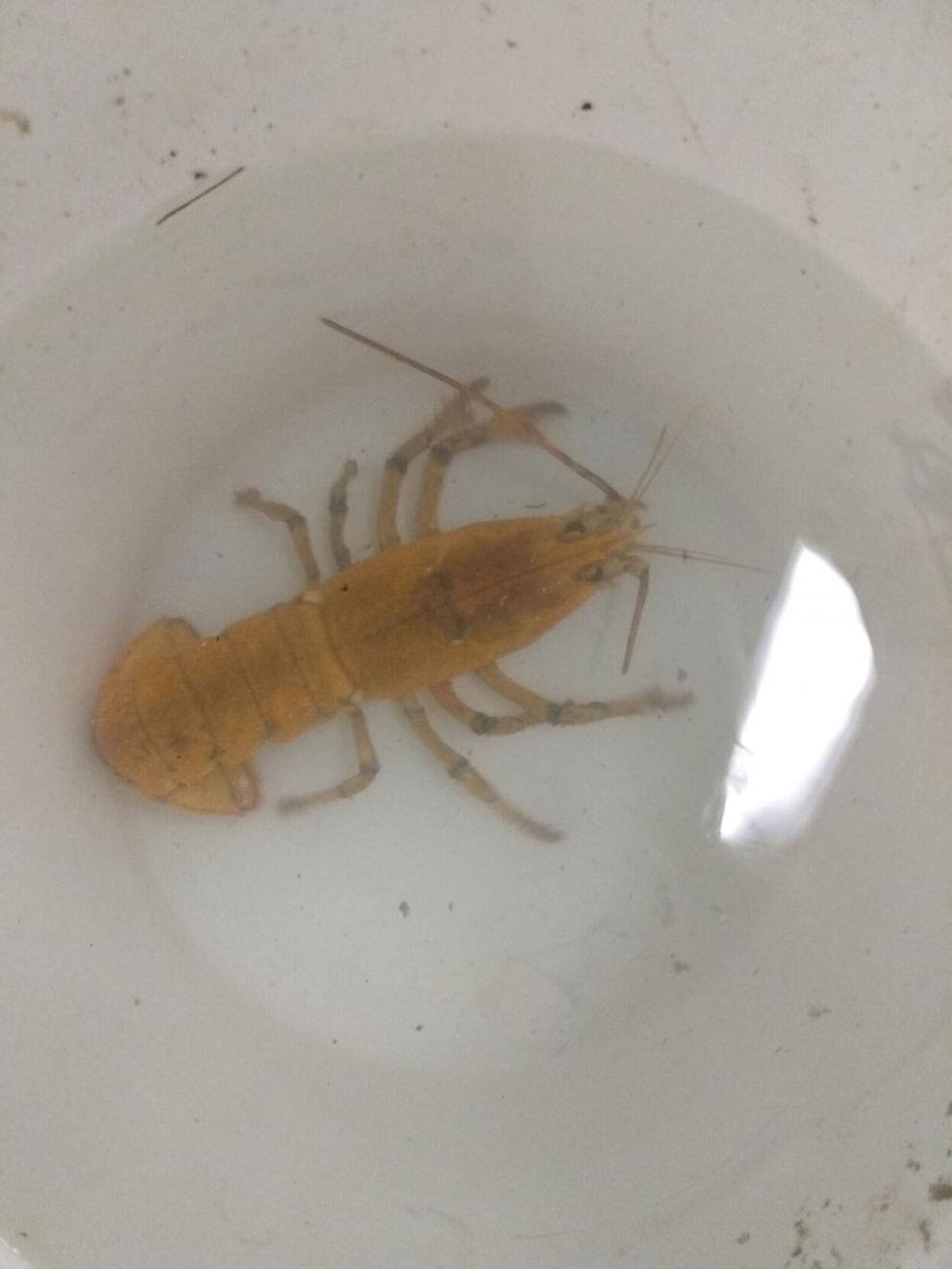 "UNE has cultivated strong connections with lobstermen and Maine DMR," Charles Tilburg, director of the School of Marine and Environmental Programs said in a statement. "It was through those connections that (researchers) learned about Banana and Lindsay was able to coordinate with Marley from there."
The University of New England is sharing an $860,000 grant from the National Science Foundation (NSF) with the Maine Department of Marine Resources, Bigelow Laboratory for Ocean Sciences, and Hood College in Maryland to study the impact that a warming Gulf of Maine is having on lobster larvae and their success in growing to adulthood.
"Banana is about a pound to a pound and a half and is settling in nicely here," Forrette said.
Herd of calves stroll Indiana highway after escaping a farm
LaPORTE, Ind. (AP) — A herd of about 75 Holstein calves barreled down an Indiana highway after escaping a nearby farm.
Capt. Derek Allen, an off-duty officer who happened to be nearby in his department police car, quickly made a U-turn Saturday when he witnessed the cows running by in LaPorte County.
"It's really important to note, these cows weren't just walking, they were at a full gallop, if you will," Allen told the South Bend Tribune.
He quickly got in front of the herd and drove ahead with his police lights flashing in order to warn oncoming traffic.
Allen, along with LaPorte County Det. Jim Fish, as well as a number of volunteer firefighters and other onlookers, began corralling the calves as they moved south.
"I've been involved in many unique situations previously, but not something with this many animals on the roadway," Allen said.
While few cows were rounded up near a fenced area between CR 600 and CR 700 South, the majority of the herd continued to move onto Range Road — a few miles north of Kingsford Heights.
Eventually, all the cows are accounted for, Allen said, and no injuries were reported to the human onlookers or the cattle.
Police declined to identify the farmer whose cows had escaped.
Allen credited the lack of injuries to county police's car take-home program, which allowed him and Fish to direct traffic quickly and effectively.
"This take-home-car program is very beneficial to serving the citizens of the county, and in this specific instance, it worked out very well because I was traveling to this event in my issued vehicle and I happened to be in the right place at the right time," Allen said.
This story has been corrected to show cows were loose Saturday.
A Navy meteorologist lost his wallet in Antarctica and got it back 53 years later
Retired Navy meteorologist Paul Grisham had long forgotten the wallet he lost while stationed in Antarctica in 1968, so he was surprised when someone returned it to him two weeks ago -- 53 years later.
He was also surprised by how young he looked at his old ID card that was tucked inside.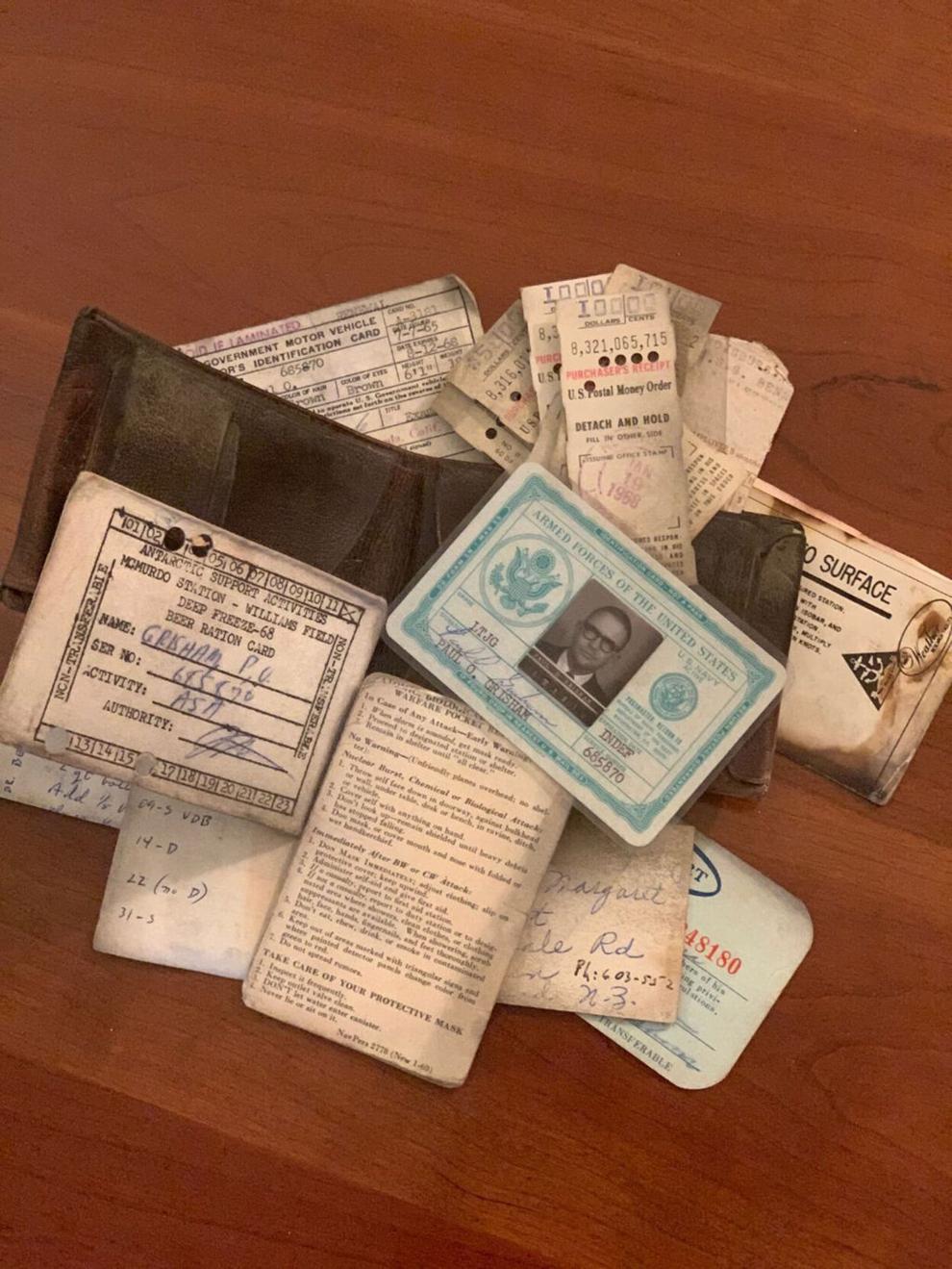 "It brought back memories, oh yeah. I had dark brown hair at the time," the 91-year-old said with a laugh.
Grisham said somebody found the wallet while demolishing some old buildings at McMurdo Station, including the building where he lived from 1967 to 1968.
The worn wallet is a time capsule of the 13 long months Grisham served in the Antarctic -- or "The Ice," as they called it. It held a beer ration card with 21 punches left, his motor vehicle operator's license, and a card with instructions for what to do in the event of a nuclear, chemical or biological attack.
"Thank God it was never used," Grisham said, adding that this was at the heart of the Cold War.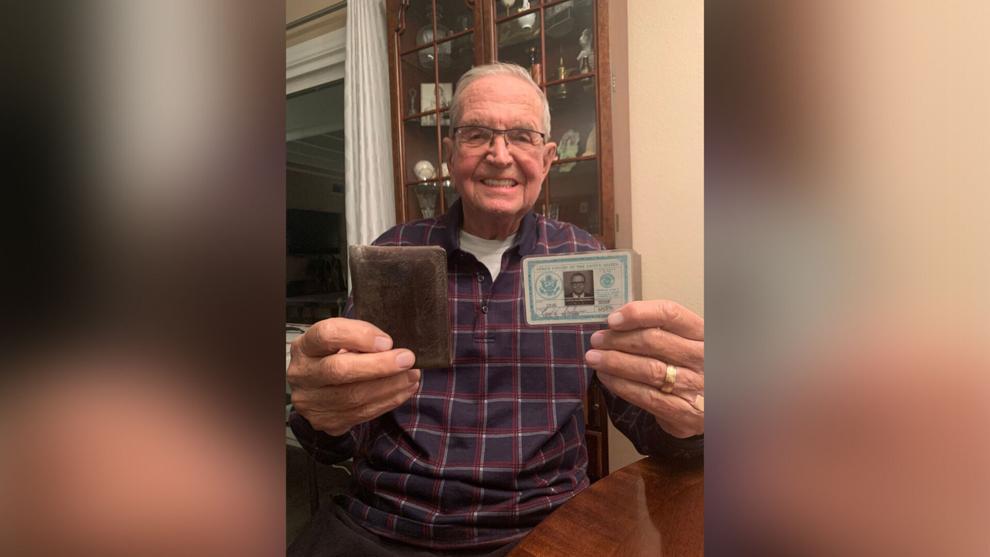 It also had a handwritten recipe for making homemade Kahlua liqueur.
Grisham never used that either (he's partial to gin martinis), but a lot of people have asked him for it after hearing his story.
Grisham was particularly busy during summer operations in Antarctica, monitoring the weather and providing reports for the airplanes and ships delivering personnel, equipment, and supplies.
"The entire station worked 12 (hours) on 12 off around the clock for a period of five months because there was so much to do" to get ready for the long, black winter, Grisham said.
There was a two-lane bowling alley, which was almost always in use, along with a small gym because it was too cold to safely exercise outside.
"McMurdo Station was in what we called the 'banana belt,' the temperature got up to about 25 degrees and I've seen it as cold as minus 65," he said. It got even colder as you went farther inland.
"It's almost inconceivable just how cold it is. It's almost impossible to describe to people who haven't been there," he said. "In fact, we spent a lot of time trying to figure out 'how do we explain this to the folks at home?' and we just never really came up with a good way to explain it."
He said it's 50 to 75 degrees colder than the North Pole and if you need a more tangible example, a soda can would freeze and burst open in 14 minutes if you left it outside.
"The one thing that really made life worth living down there was the people that were there," Grisham said. "We wintered 180 men and they were the most congenial, likable men that I ever had the pleasure to be around."
They played a lot of games during their downtime.
Grisham won a lot when they played poker and the wallet had a number of money order receipts from when he sent his winnings to his wife and young children. He was also good at chess but said there was one Russian scientist, who he just couldn't beat.
He said they didn't do much exploring outside the compound because of the extreme cold, but he did get to make the 850 mile trip to the South Pole while he was there.
Grisham also got to meet legendary explorer and mountain climber Sir Edmund Hillary, who picked his brain about the weather for about two hours before setting out on an expedition.
After his tour, he was able to get an assignment in San Diego, California, and later was assigned to an aircraft carrier in Vietnam.
He retired in 1977 after 25 years of service.
Grisham moved back to San Diego after marrying Carole Salazar, who he met in Paris in 2001 after his first wife died. They've been married for almost 18 years.
They said the family has had as much fun with this discovery as he has.
Granddaughter Christina Salazar said she was amazed when she first saw the wallet and thought it looked like he could still use it.
The 26-year-old said she's enjoyed his stories about his time in the Navy since she was a girl.
"Growing up, it was always my favorite to listen to him talk about the Emperor penguins that he would encounter," she said.
Now, she gets to hear about his adventures over one of his famous gin martinis.
"Anytime he has one nowadays, he claims it brings him back to his days on "The Ice," she said. "It's an honor to share a martini with him and listen to him talk endlessly about his time."
She said she learns something new about her grandpa every time he tells a story.
"He's still our go-to guy with any weather questions," Salazar said.
Correction: An earlier version of this story misspelled the last name of Paul Grisham.
Finns in snowshoes create temporary artwork on golf course
HELSINKI (AP) — An ephemeral artwork made with thousands of footsteps in the snow has captured attention near Finland's capital of Helsinki.
Under the guidance of local resident and amateur artist Janne Pyykko, 11 snowshoe-clad volunteers stamped a series of complex geometric patterns on a golf course. Together, the designs create a pattern with a starfish-resembling central figure surrounded by six huge snowflakes.
The artwork, which was completed over two days, measures about 160 meters (525 feet) in diameter. Finnish newspaper Helsingin Sanomat said it could be the largest snow-drawing ever made in the Nordic country.
"It was both a social challenge and a visual challenge," Pyykko, who is inspired by visual effects and has earlier created smaller snow illustrations by himself, told The Associated Press on Wednesday.
With social challenge he referred to being able to inspire and lead the group to create the artwork that was based on strict geometrical design by computer as shown on a YouTube video posted by Pyykko.
At the site, the group used measuring and assisting strings to help to construct and maneuver the roundish figures.
Pyykko said "there is something in the human brain that likes the round form" and added that the drawing is best observed from the air. He noted that mapping out the patterns for snowshoers to follow within a set area of the Lofkulla golf course required a great deal of ground planning.
The work was designed to be temporary, lasting only until the next snowfall or heavy winds erase the footprints.
Tennessee man leaves $5 million to pet border collie
NASHVILLE, Tenn. (AP) — It won't be a dog's life for a Tennessee canine whose owner recently died.
Lulu, an 8-year-old border collie, will be living the good life in Nashville after inheriting $5 million in her owner's will, WTVF-TV reported.
Martha Burton, Lulu's caretaker, told the station Lulu's owner, Bill Dorris, was a successful businessman who wasn't married and died late last year. His will states the money should be put into a trust for Lulu's care. It allows for Burton to be reimbursed for reasonable monthly expenses in the care of Lulu.
"He just really loved the dog," said Burton, who was friends with Dorris and would take care of the dog when he traveled.
She says she doesn't know if she could ever spend $5 million on Lulu.
"Well, I'd like to try," she said with a smile.
Dorris owned land along Interstate 65 where a controversial statue of Confederate Gen. Nathan Bedford Forrest is located. The fate of the statue and the rest of the estate may be determined in probate court, the news outlet reported.
The-CNN-Wire™ & © 2021 Cable News Network, Inc., a WarnerMedia Company. All rights reserved.