DAVENPORT - Spotting the K-9 police officer in a group should have been an easy task for people attending the "Dogs With Jobs" presentation Sunday at Putnam Museum and Science Center.
The dog Ryker, named after Rikers Island, not a "Star Trek" character, would have been easier to pick out of a police lineup than the collection of therapy dogs presented. Ryker was far feistier than his gentler canine pals, but enjoyed all the attention paid to him by kids and adults attending the show.
But his handler, Davenport officer Jason Gillaspie, took Ryker out shortly after his presentation because of the dog's high energy.
Most of the therapy dogs from the Quad Cities Canine Assistance Network of Carbon Cliff, Quad Cities Dog Obedience Club of Milan; and Pawsitive Hearts, from St. Ambrose University in Davenport stuck around for the two-hour presentation and never raised a fuss. The event was held to educate the public about the skilled canines and how they help people.
The idea for "Dogs With Jobs" came from the movie "Super Power Dogs 3D," which was shown throughout the day at the Putnam.
The "Dogs with Jobs" presentation will culminate with a "Barking Bazaar" scheduled for April 27, according to Michele Darland, Putnam relationship director. 
The presentation gave Ryan Brownell, Rock Island, a chance to introduce his kids to experience dogs.
He and his wife, Jill Brownell, attended the event with their son, Alex, 4, and daughter, Laura, 3, and said they had a "very good time."
"We had seen the movie already at a for-members-only presentation," he said. "That's what drew us back."
Kelsie Dorgan, 11, of Blue Grass, Iowa, also loves dogs, according to her mother, Kristi Dorgan.
Kelsie has special needs and her family's considering getting her a therapy dog.
The Quad Cities Canine Assistance Network therapy dogs offer companionship, relieve stress, boost self-esteem, encourage the love of reading and relieve anxiety and depression. They pride their organization in providing therapy dogs that are always ready to make a difference in the lives of those we meet.
The Quad Cities Dog Obedience Club is dedicated to dogs and dog sports. They educate and train dogs and owners to become good K9 citizens of the Quad City area for over 50 years.
Pawsitive Hearts focuses on training service dogs, volunteering in the community, and teaching the SAU community about different forms of assistance animals. Currently the club partners with Canine Companions for Independence to raise service dogs on campus.
Canine Network leader Angie Hall arrived in a van bearing "Howling 4" Illinois license plates. 
"We have a theme song," she said. "It's 'Who Let the Dogs Out' and it's our favorite, but we've all said we've gone to the dogs."
She was accompanied by several different breeds of dogs, including a black lab, bassett hound, golden lab, and English setter.
Linda Brown of the QC Obedience Club showed seven different breeds of dogs and their owners.
Skylar Descamp, a junior St. Ambrose, introduced Magpie, a  Lab golden retriever cross, and demonstrated skills it has learned during training that began in January.
"We were happy to have so many dogs throughout the day," Moriarty said. "We also were prepared and had a clean-up station just in case."
Photos: Dogs with Jobs
041519-qct-qca-dogs-01.jpg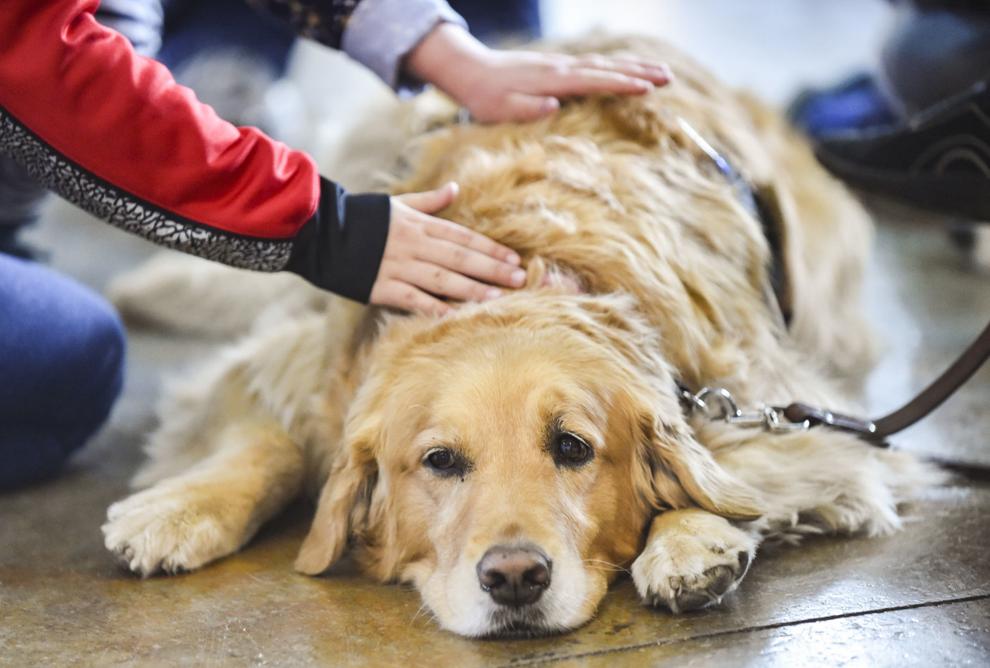 041519-qct-qca-dogs-02.jpg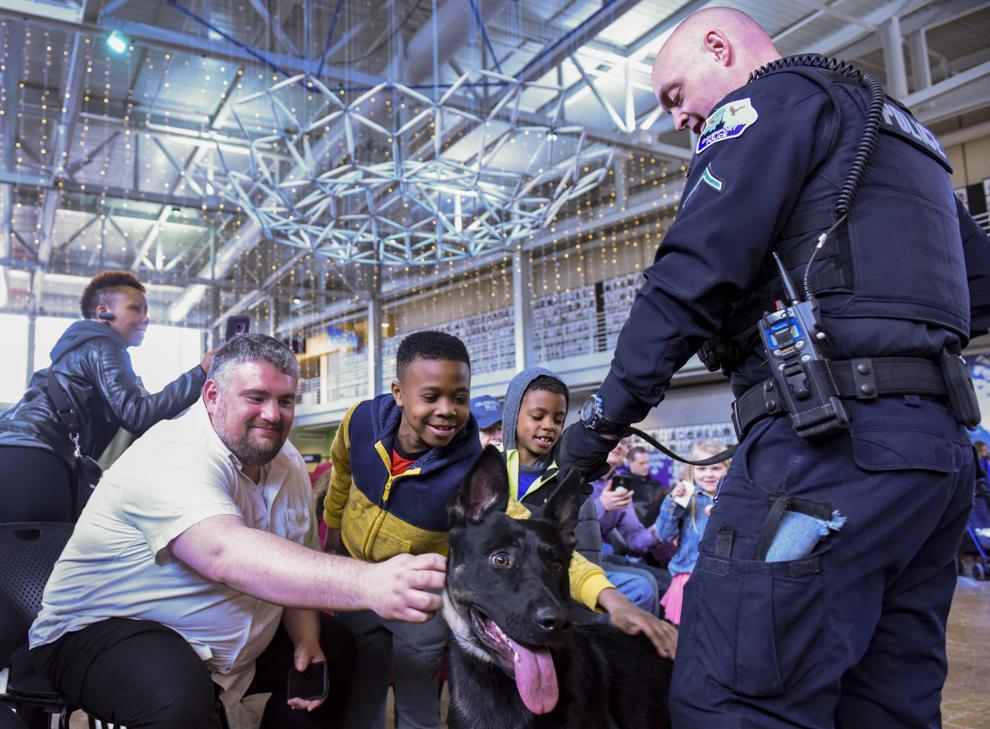 041519-qct-qca-dogs-03.jpg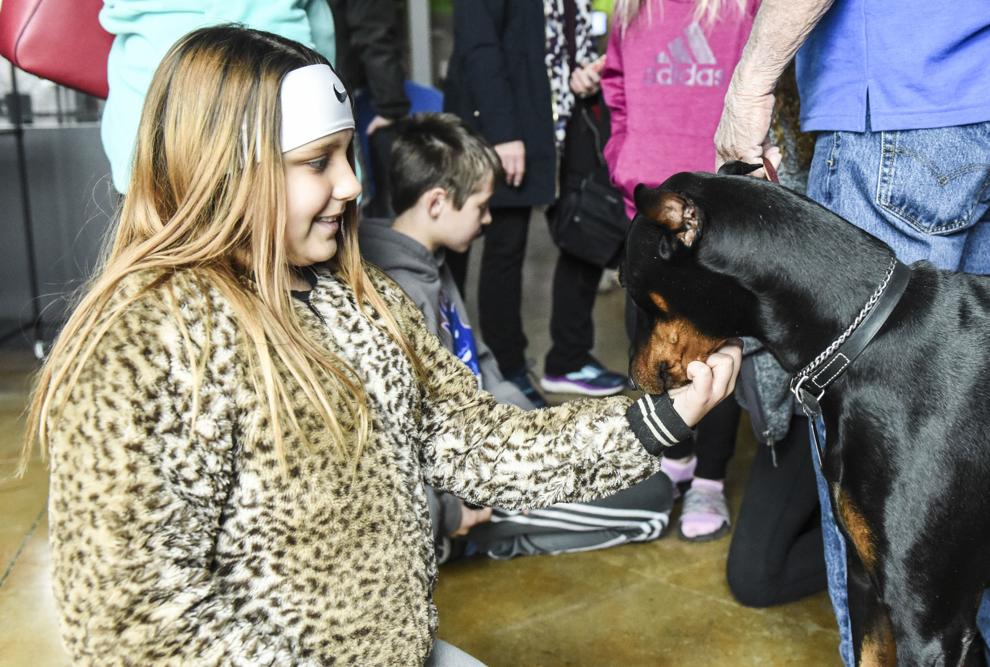 041519-qct-qca-dogs-04.jpg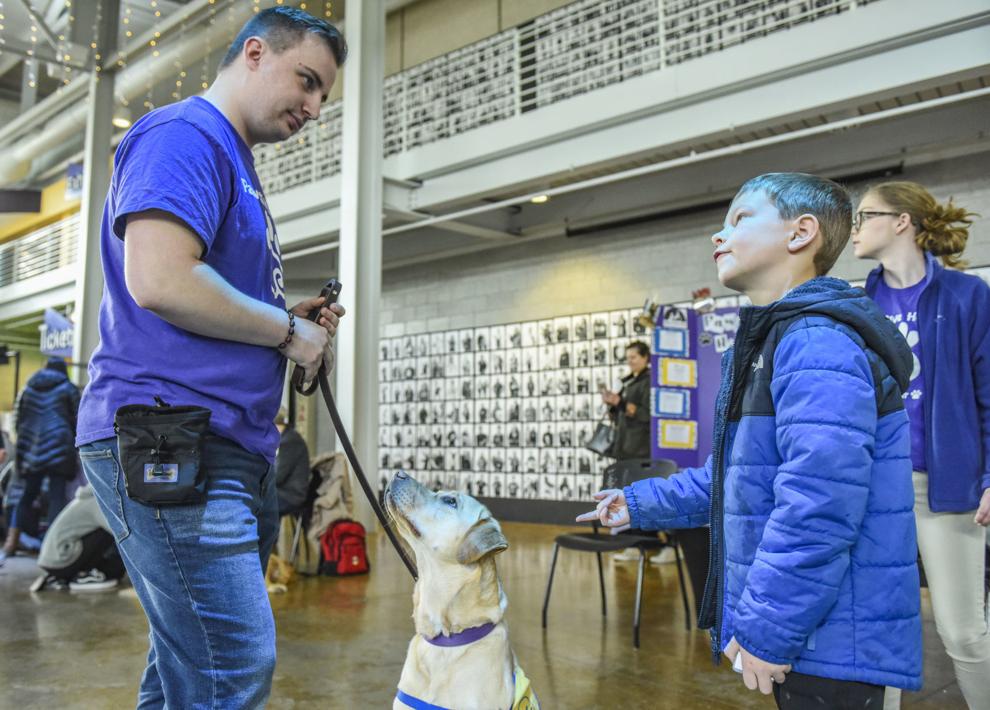 041519-qct-qca-dogs-05.jpg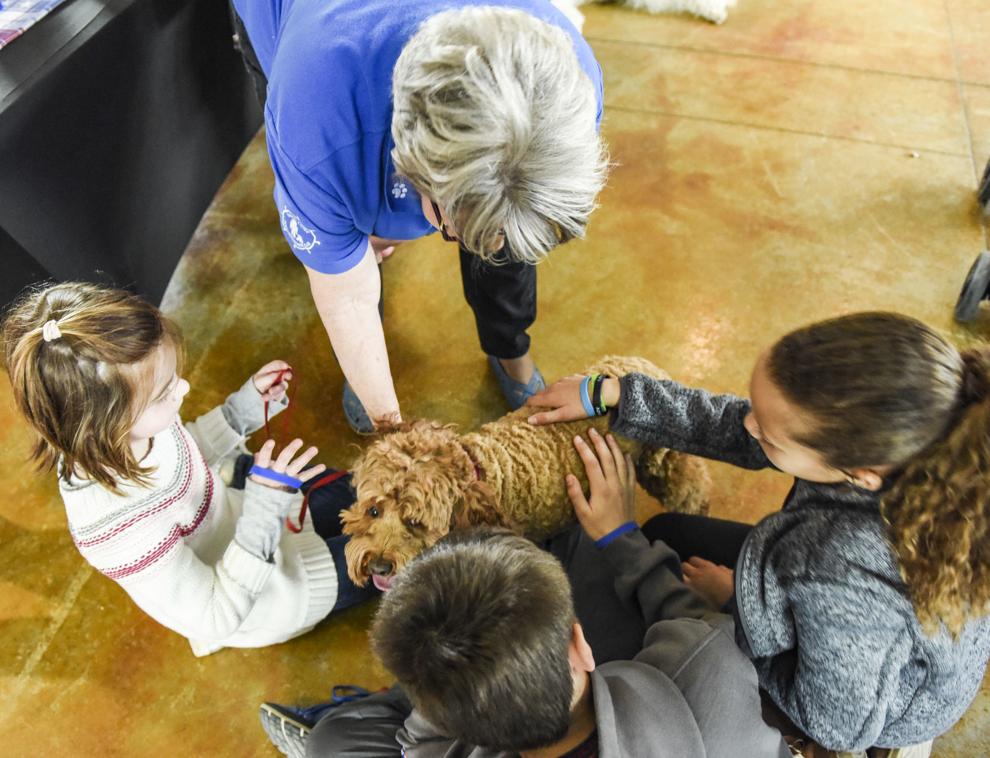 041519-qct-qca-dogs-06.jpg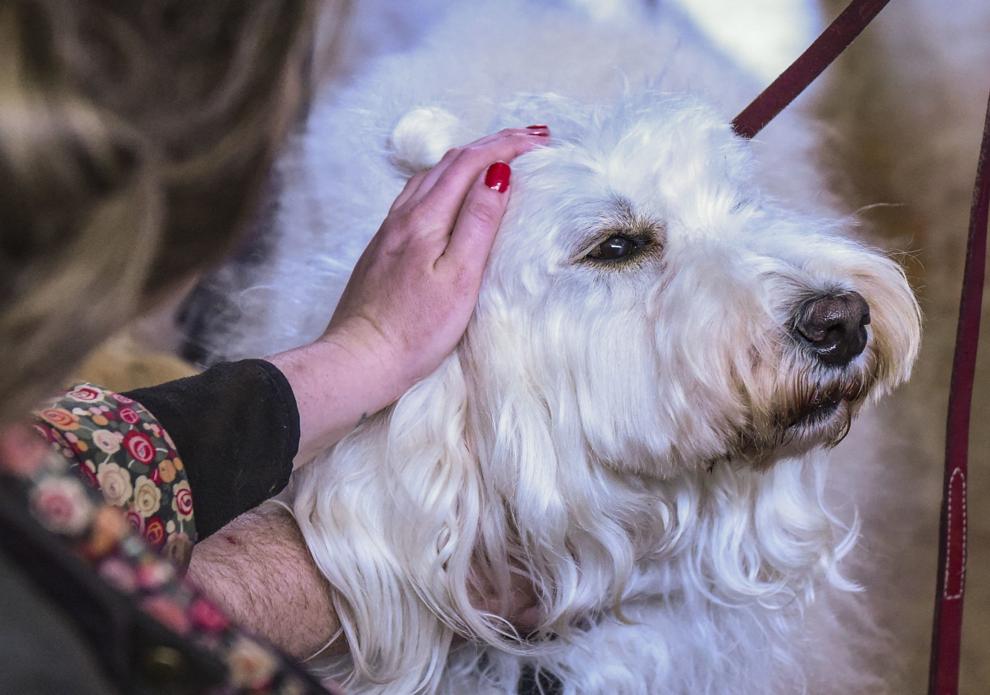 041519-qct-qca-dogs-07.jpg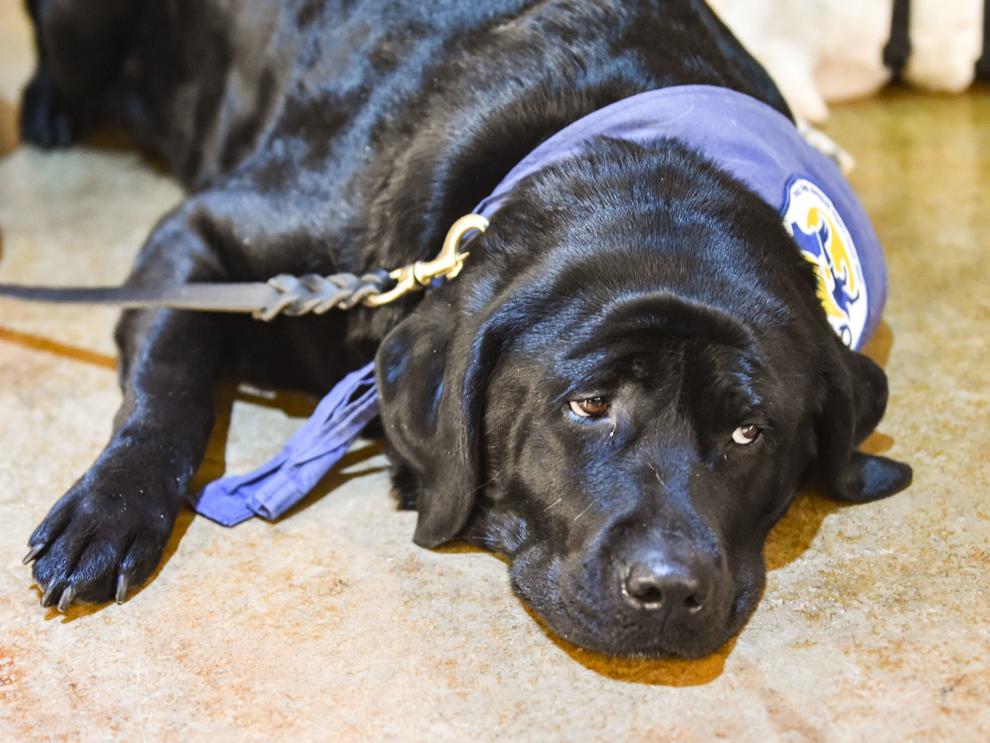 041519-qct-qca-dogs-08.jpg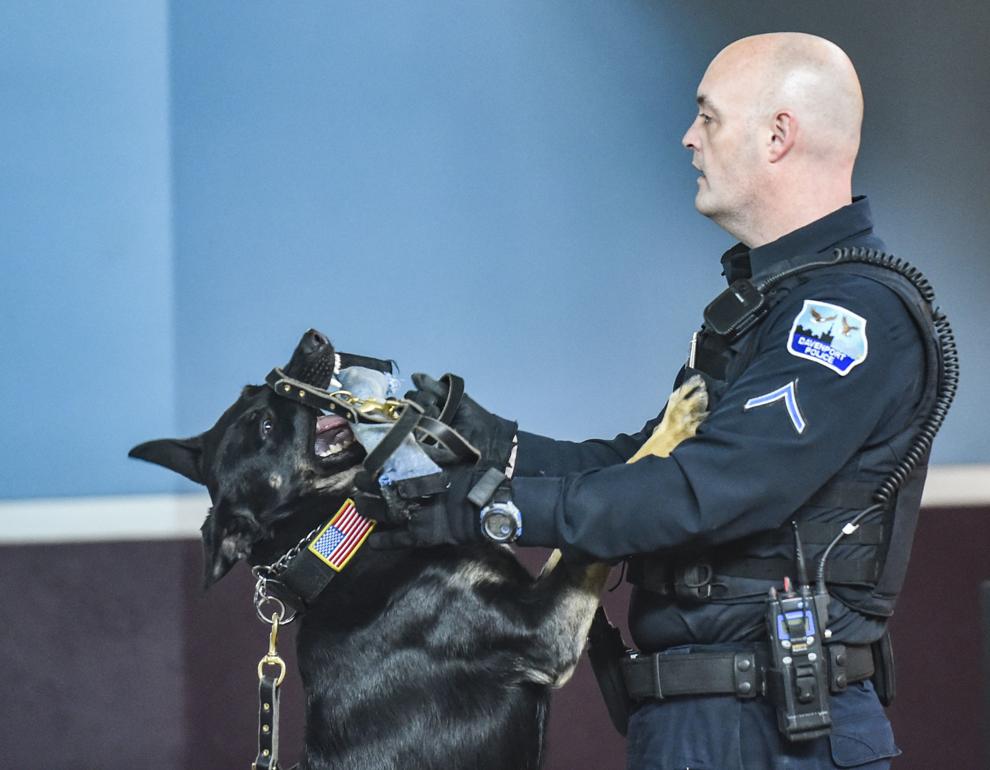 041519-qct-qca-dogs-09.jpg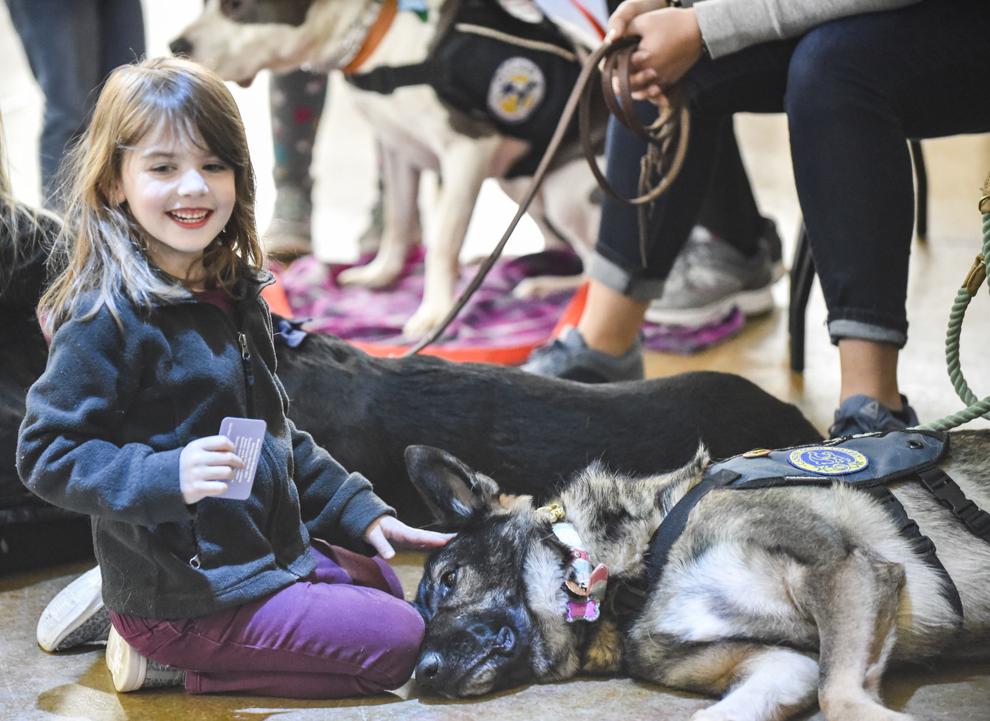 041519-qct-qca-dogs-10.jpg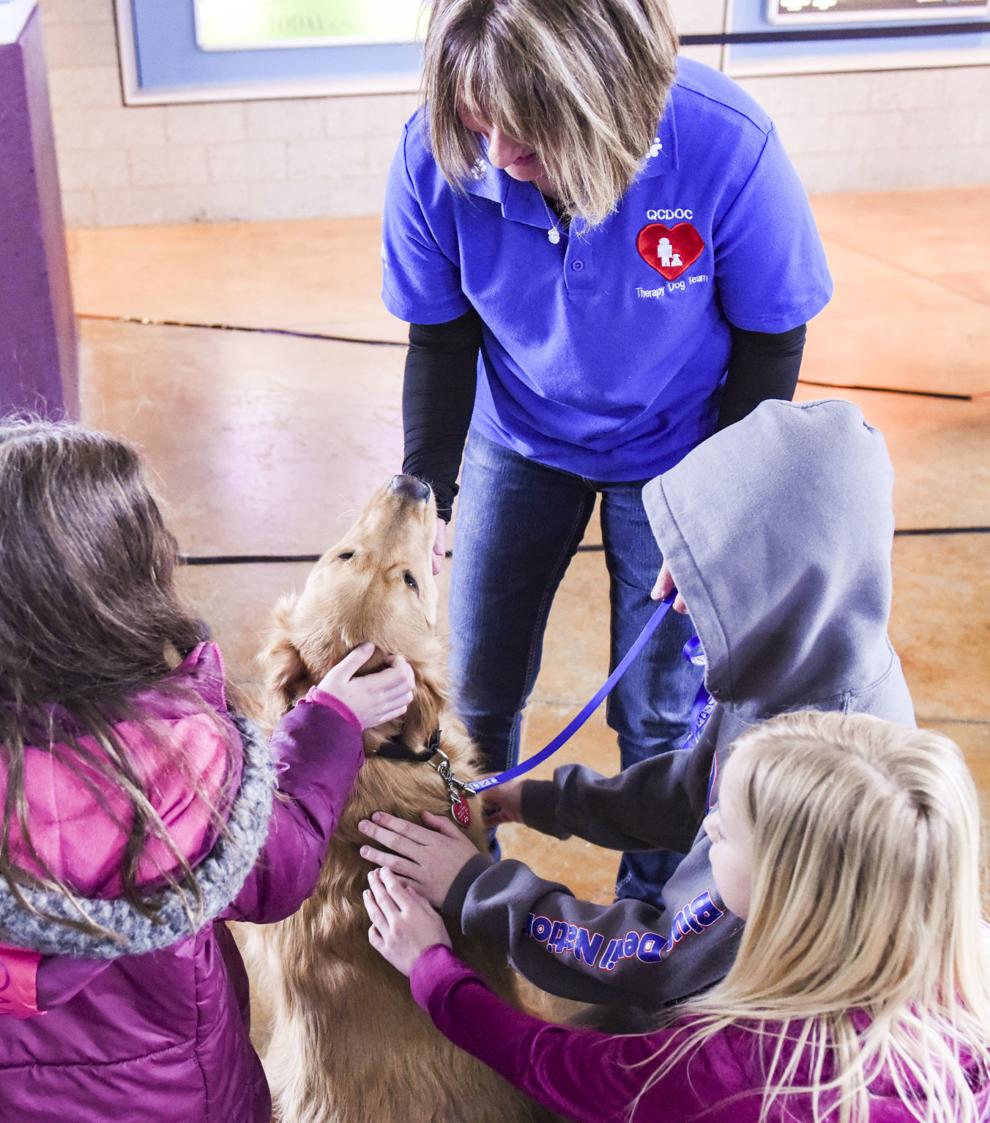 041519-qct-qca-dogs-11.jpg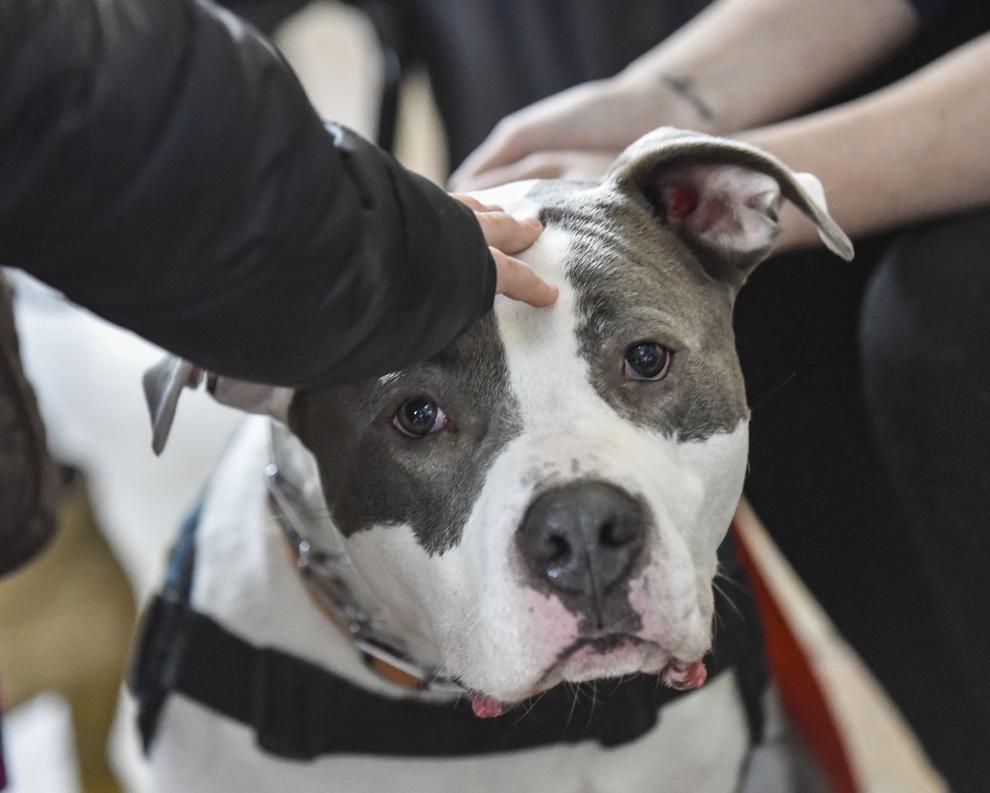 041519-qct-qca-dogs-12.jpg