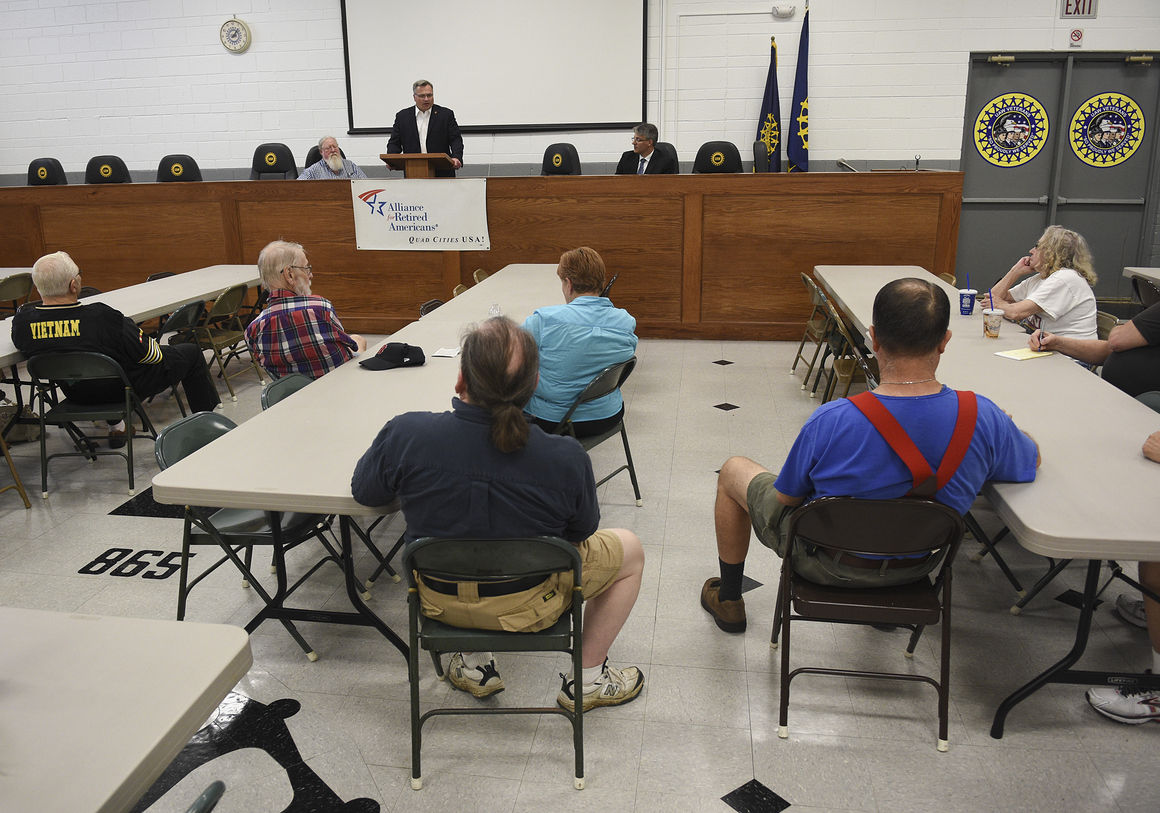 MOLINE -- Politicians attending the Quad Cities Alliance for Retired Americans' inaugural forum Wednesday found little to debate -- and no opponents to argue with.
State Rep. Mike Smiddy, D-Hillsdale, of the 71st Legislative District, and 72nd Legislative District Democratic candidate Mike Halpin, of Moline, were the only candidates at the forum attended by 15 people.
Their Republican opponents -- Savanna Mayor Tony McCombie, running against Rep. Smiddy, and Brandy McGuire, of Sherrard, running against Mr. Halpin -- didn't attend. Moderator Mike Malmstrom read a letter from Ms. McCombie apologizing for her absence. Mr. Malmstrom said the forum planners received no response from Ms. McGuire.
Mr. Malmstrom said the alliance planned the forum to help voters learn more about the General Assembly candidates. Having all four of the candidates, he said, would have made it better.
He, Rep. Smiddy, Mr. Halpin and audience members said it was "disappointing" Ms. McCombie and Ms. McGuire did not to attend.
"I think the other side loses a lot of credibility by failing to show up to talk about the issues," Rep. Smiddy said. Mr. Halpin agreed, saying he wished the other candidates had shown enough respect to attend.
Audience members provided the only counterpoints to remarks by the Democratic candidates.
Dick Benson, of East Moline, expressed disappointment in Rep. Smiddy's service, calling him a "lapdog" for Illinois House Speaker Michael Madigan. Mr. Benson said Democrats needed to stop blaming all of the state's woes on Gov. Bruce Rauner, a Republican.
Audience member Chuck Wilt, of Rock Island, exchanged a few barbs with Mr. Benson before Mr. Malmstrom restored order. After the meeting, Mr. Wilt also said he was disappointed by the Republican candidates' absence.
"We were short-changed because we didn't get to listen to the back and forth debate," he said. Mr. Wilt suggested the Republicans did not attend the event because it was held in the United Auto Workers Hall in East Moline. The union donated the space for the forum.
Rep. Smiddy and Mr. Halpin provided similar answers to four questions prepared by Alliance leaders and about a dozen more from visitors.
Both candidates blame Illinois' budget impasse on Gov. Rauner. They also favored working with MetroLink to improve transportation for the elderly in rural areas; improving the regulation and control of rising health costs; supporting a pension tax-free plan over a flat tax; improving communications with citizens to help them prepare for retirement; and increasing wages for social service and health service workers.