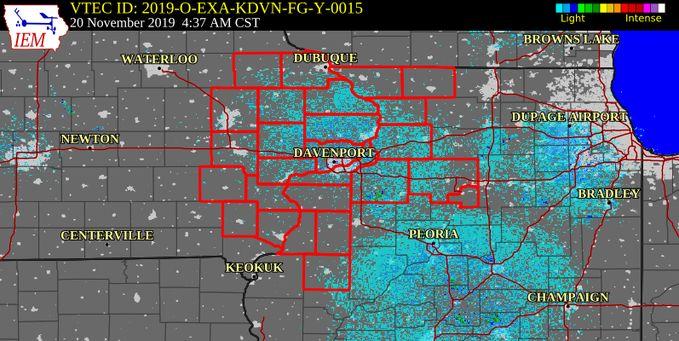 The Quad-City region is under a National Weather Service dense fog advisory until 9 a.m.
WHAT: Visibility of one quarter mile or lower at times due to dense fog.
WHERE: Portions of east central, northeast and southeast Iowa and northwest and west central Illinois.
WHEN: Until 9 a.m. this morning.
IMPACTS: Hazardous driving conditions due to low visibility.
PRECAUTIONARY/PREPAREDNESS ACTIONS: If driving, slow down, use your headlights, and leave plenty of distance ahead of you.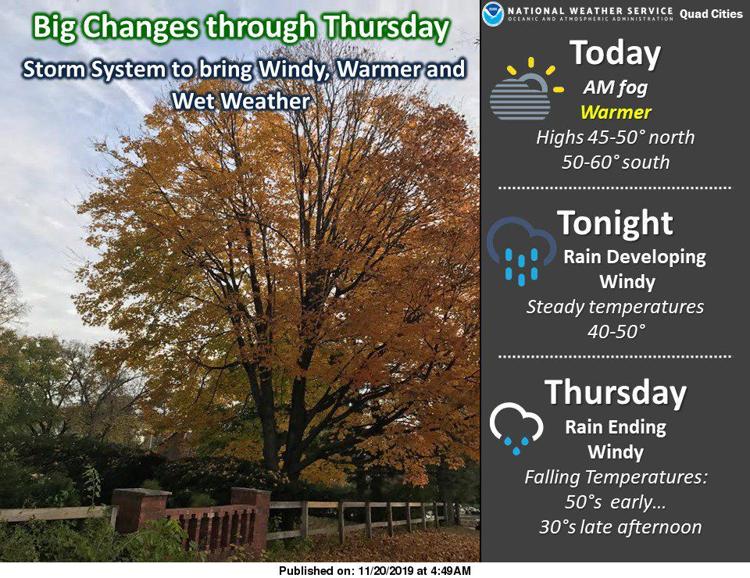 Look for areas of dense fog before 11 a.m. Otherwise, it will be mostly cloudy with a high near 51 degrees. Southeast winds between 5 to 15 mph will gust as high as 20 mph.
Tonight rain is likely after 9 p.m. Temperatures will rise to around 53 degrees by 5 a.m. It will be breezy with a south wind of 15 to 20 mph, gusting as high as 30 mph. The chance of precipitation is 100% with new precipitation amounts between a half and three quarters of an inch possible.
Thursday rain is likely before noon. Skies will be cloudy and breezy with a high near 56 degrees and a low around 27 degrees. Winds could gust as high as 30 mph. The chance of precipitation is 70% with new precipitation amounts of less than a tenth of an inch possible.
It's been 16 years since 16-year-old Sara Wyant's tragic death meant life for three organ donor recipients.
ROCK ISLAND -- County board members voted 12 to 9 Tuesday night to raise the county's portion of property taxes by 8.9 percent despite a publi…
You have free articles remaining.
SILVIS — A Silvis committee undertaking the marijuana ordinances had somewhat intended to leave the city law up in the air Tuesday with the ab…
Crime, courts, and public safety headlines
Six people associated with a Moline used auto dealership are facing numerous federal fraud charges that include the use of straw purchasers an…
A Port Byron man has been accused of having pornographic images of children.
KEWANEE — The five weeks he had to stay off the football field were perhaps the longest of Tuker Miller's gridiron life.
For the past four seasons Brea Beal and the Rock Island girls' basketball team have been unbeatable in the Western Big 6 Conference.
The boxes — 1,000 in all — filled with simple yet important art supplies  engulfed the Moline Township Activity Center.
Five Sherrard High School students will be representing the school in the 2019 Macy's Thanksgiving Day Parade in New York City.
DAVENPORT — For Harry Potter fans, it just doesn't get much better than this. The Quad City Symphony Orchestra will present "Harry Potter and …
EXTRA BRIEFING: llinois State Police Troopers' 'Miracle On Ice'
Illinois State Police have released dashcam footage of an incident last week that occurred on I-64 near mile post 101 where the heroic actions of the two on-scene troopers saved the life of a Fairfield, Ill. woman.
That dashcam video has become known as the "Miracle On Ice".
Troopers were changing her tire when a two-axle box truck driver lost control on the icy roadway and overturned, sliding off onto the shoulder where the troopers and woman stood beside the disabled vehicle. The box truck slid over the top of the woman who was alerted by the trooper and pulled to safety. She fell into the ditch line as the box truck passed over. Scary stuff.