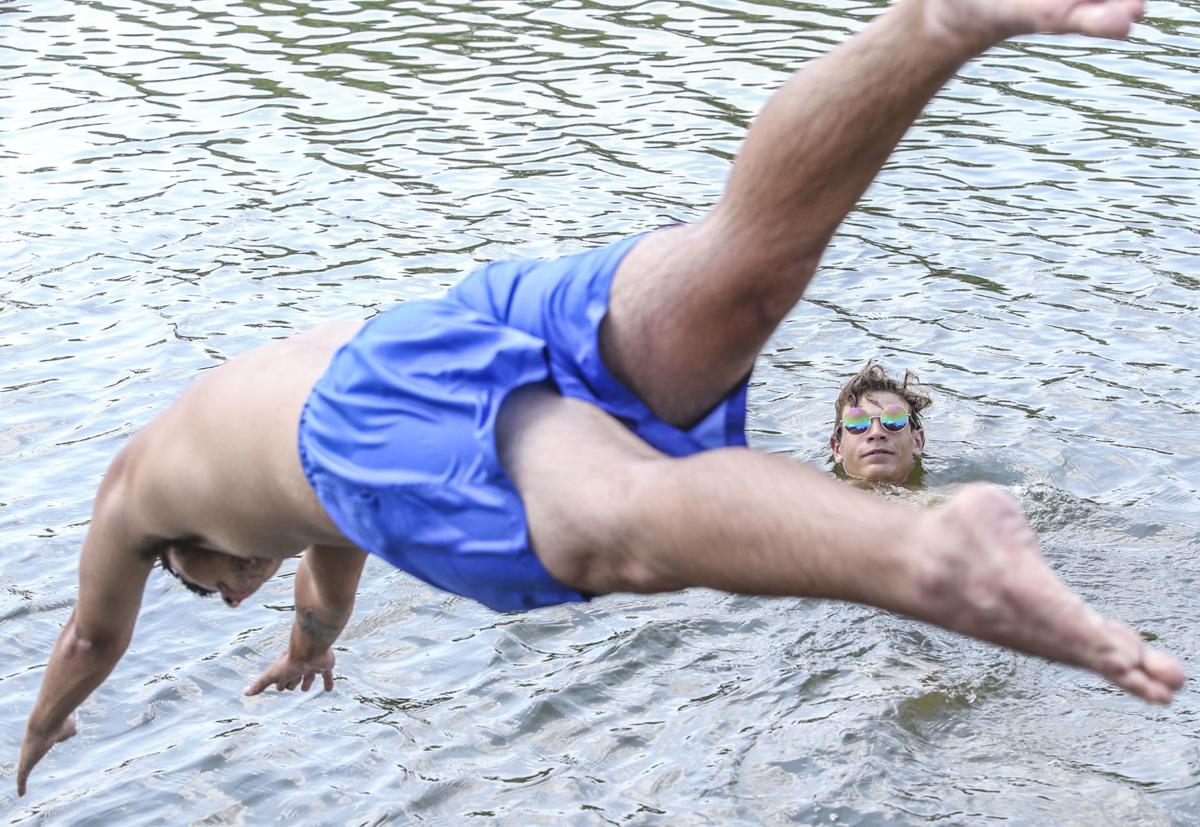 A good Wednesday to all. It's going to be another hot and sticky day with heat-index levels reaching, dangerous levels. You just might want to hold off on mowing the grass — and instead — sit back and soak up the air conditioning.
Here's the latest from the National Weather Service.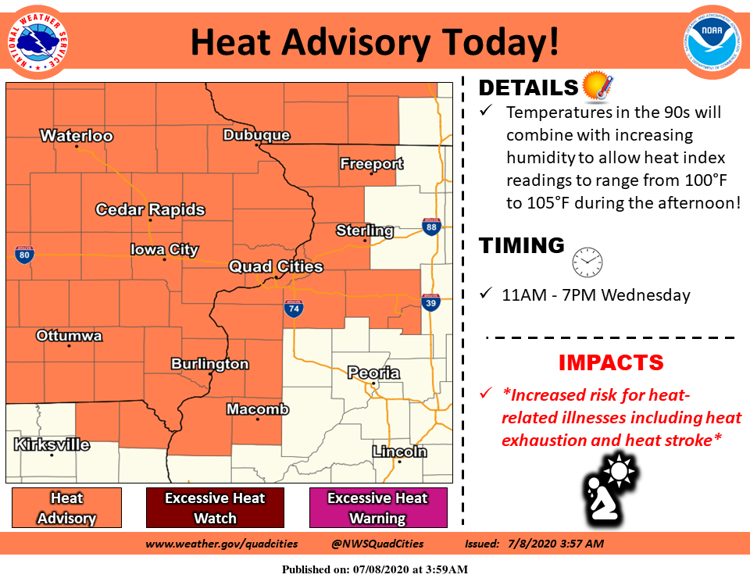 A heat advisory is in effect from 11 a.m. today until 7 p.m. tonight.
WHAT: Heat-index values up to 103 expected.
WHERE: Portions of northeast Missouri, east central, northeast and southeast Iowa and north central, northwest and west central Illinois.
WHEN: From 11 a.m. to 7 p.m., today.
IMPACTS: Hot temperatures and high humidity may cause heat illnesses to occur.
PRECAUTIONARY/PREPAREDNESS ACTIONS: Drink plenty of fluids, stay in an air-conditioned room, stay out of the sun, and check up on relatives and neighbors. Young children and pets should never be left unattended in vehicles under any circumstances.
Take extra precautions if you work or spend time outside. When possible reschedule strenuous activities to early morning or evening. Know the signs and symptoms of heat exhaustion and heat stroke. Wear lightweight and loose fitting clothing when possible.
To reduce risk during outdoor work, the Occupational Safety and Health Administration recommends scheduling frequent rest breaks in shaded or air conditioned environments. Anyone overcome by heat should be moved to a cool and shaded location.
Heat stroke is an emergency. Call 9-1-1.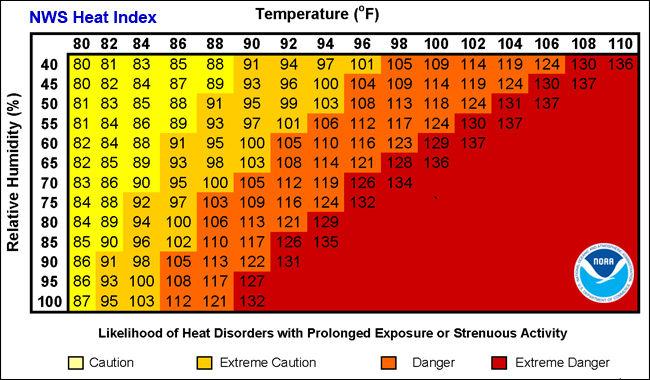 Look for isolated showers and thunderstorms after 4 p.m. Skies will be mostly sunny with a high near 94 degrees with heat-index values as high as 101 degrees. The chance of precipitation is 20%.
Tonight will be mostly clear with a low around 74 degrees.
Thursday there will be scattered showers and thunderstorms then showers likely and possibly a thunderstorm after 4 p.m. Skies will be mostly sunny with a high near 91 degrees. The chance of precipitation is 60% with new rainfall amounts between a quarter and half of an inch possible.
Showers are likely Thursday night with possibly a thunderstorm. Skies will be partly cloudy with a low around 70 degrees. The chance of precipitation is 60% with new precipitation amounts between a quarter and half of an inch possible.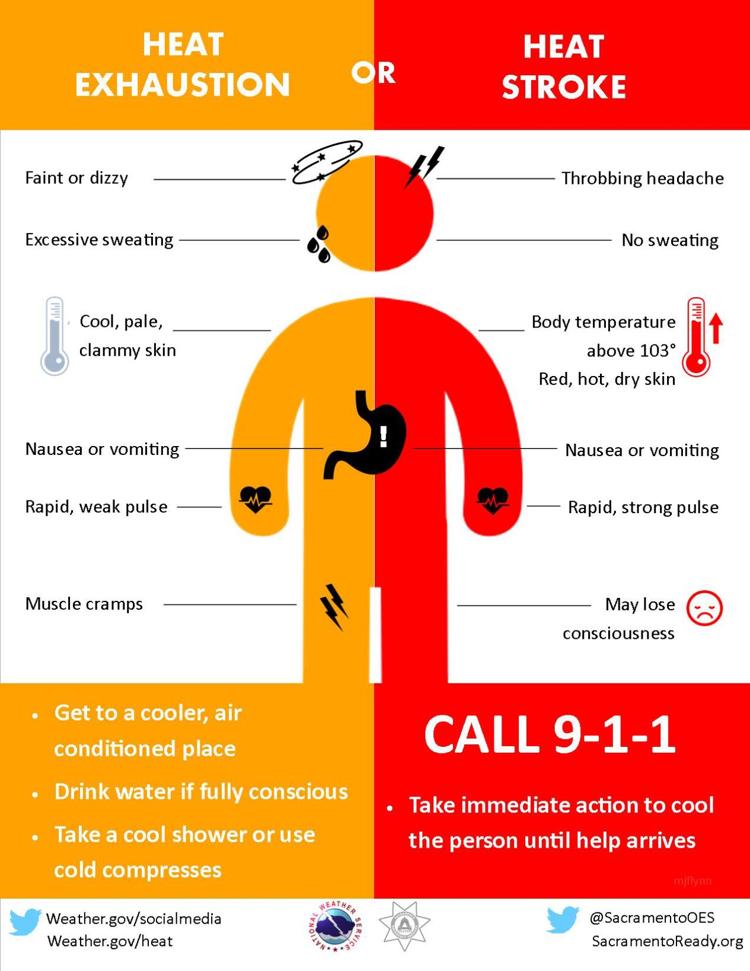 Bridge washing forces lane closures
A pair of bridges spanning the Mississippi River north of the Quad-Cities are scheduled for one-day washings, according to the Illinois Department of Transportation.
• Today, from 6 a.m. to 3 p.m., workers will be washing the U.S. 30 bridge between Clinton,Iowa and Whiteside County, Ill. One lane of the bridge will be closed with flaggers.
• On Thursday, from 6 a.m. to  4 p.m., the U.S. 52/Illinois 64 between Savanna, Ill., and Sabula, Iowa, gets a washing. One lane of that bridge will be closed. Flaggers will be positioned for a safe flow of traffic.
Drivers should expect delays and should allow extra time or take an alternate route.
Today's top news headlines
Second Chance Housing, a fledging nonprofit that is so new it doesn't even have a website, received an $8,500 grant from the Quad-Cities Community Foundation to buy the computer hardware and software it needs to do its work.
ATKINSON, Ill. — If construction goes as planned, Rebuilding Together Henry County will move into its new home early in 2021.
A former Bettendorf teacher and baseball coach is suing the Bettendorf School District, a principal, the former athletic director and the current baseball coach in connection with a "hideous assault" that occurred on a district-hired bus last year.
Crime, courts and public safety headlines
MUSCATINE — Mayor Diana Broderson confirmed Tuesday that Muscatine police are investigating allegations that a person threatened her life and …
More on the coronavirus in the Quad-Cities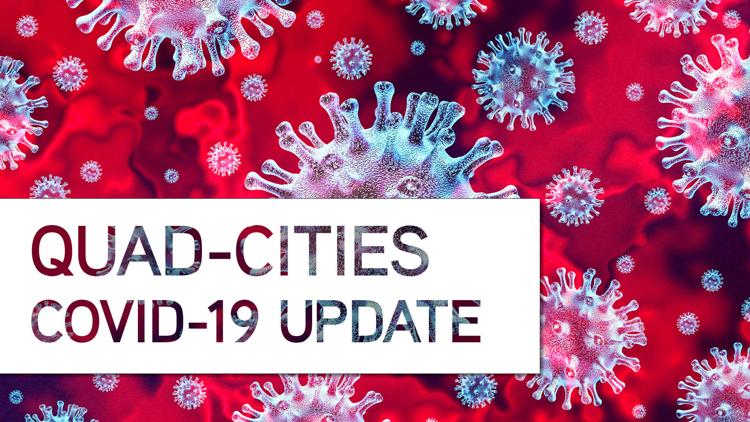 Entertainment and lifestyle news
In its debut Western Big 6 Conference season, the Sterling football team quickly made its presence felt by going 7-0 to capture the conference championship.
KEWANEE — Late last Wednesday afternoon, Kewanee athletic director Tim Atwell was talking with Boilermaker boys' basketball coach Shaune Lewis about a variety of general topics.
Evan Reifert has achieved his goal of becoming a pro baseball player. Now he's searching for a new peak to climb.
Concerned about COVID-19?
Sign up now to get the most recent coronavirus headlines and other important local and national news sent to your email inbox daily.