We're just a few short days away from the annual Bix celebration in downtown Davenport. A slight chance of showers is forecast for today, then its sunny and clear skies with temps in the upper 80s and lower 90s for the remainder of the week.
Here are the weather details from the National Weather Service.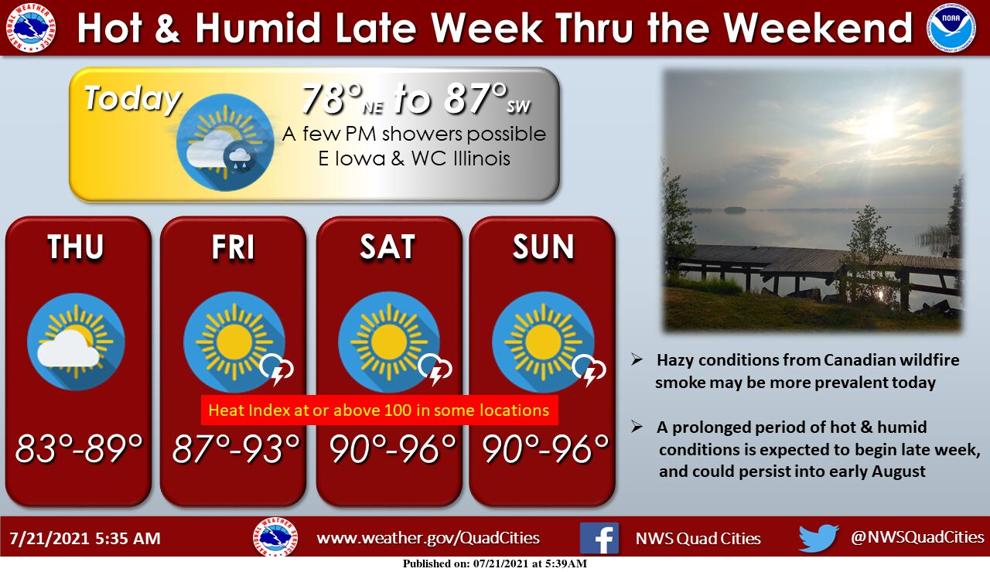 There's a slight chance of showers and thunderstorms today between 1 p.m. and 4 p.m. Skies will be partly sunny with a high near 83 degrees and a low around 67 degrees. The chance of precipitation is 20%.
Thursday brings mostly sunny skies with a high near 88 degrees and a low around 72 degrees.
Friday will be sunny with a high near 91 degrees and a low around 75 degrees.
Saturday will see mostly sunny skies with a high near 93 degrees and a low around 73 degrees.
• Road Closure on Avenue of the Cities
The city of Moline reports that the Avenue of the Cities will be closed from 18th Street A to 19th Street beginning Thursday for the installation of new sanitary sewer and water main.
The full closure is expected to last three days. Message boards are in place notifying the traveling public of any changes in traffic. Detour signage will be in place.
Drivers should plan ahead and use an alternate route. The construction on the Avenue of the Cities project is expected to take until August. Westbound traffic will remain closed for two or three more weeks.
• After a virtual 2020, Quad-City Times Bix 7 registration rates returning to form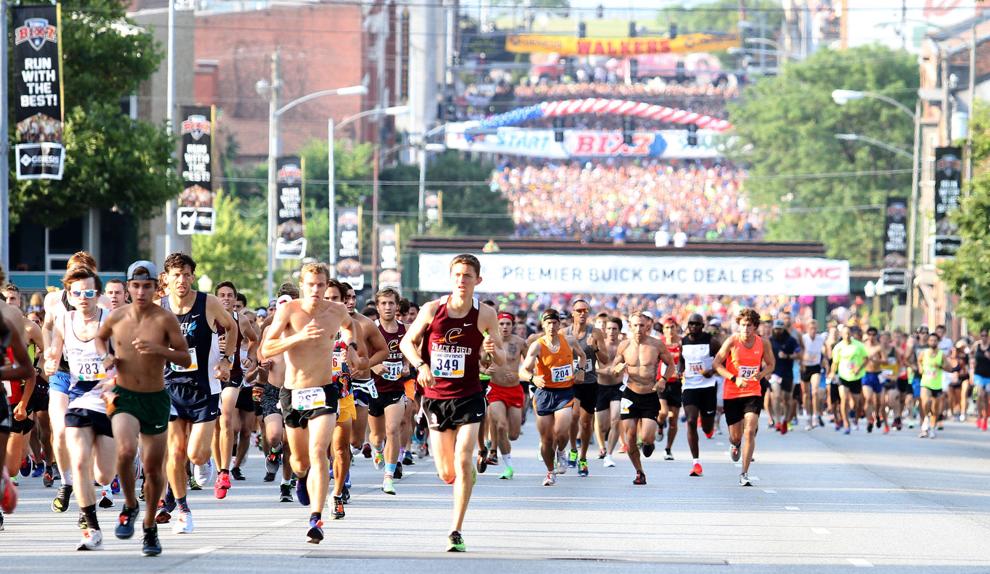 The Quad-City Times Bix 7 is roaring out of the pandemic. After the race went virtual in 2020 in the wake of COVID-19, numbers for the 47th annual road race are returning to form.
Michelle Juehring, race director, said the number of registrants as of July 16 for Saturday's race were at 96% of the number of registrants as of the same date in 2019, when 13,111 people signed up by race day. Read more.
Today's top news headlines
Rock Island County board members on Tuesday approved the appointments of three new people to fill vacancies for districts 3, 10 and 23.
The Bettendorf Community School District is asking its families for input on what a remote instruction option should look like in the fall and how the district should use federal pandemic dollars.
The city of Davenport fielded 700 fireworks complaints from May to July and issued 13 citations with the help of civilian spotters.
Crime, courts and public safety news
A Davenport man is accused of being involved in a shooting incident Sunday afternoon, police said.
Augustana College has warned people to exercise caution because shots were fired around 30th Street and 12th Avenue, Rock Island, near campus on Tuesday.
A Silvis man charged with murder for a shooting over memorial day weekend pleaded not guilty Monday. 
Lifestyle and entertainment headlines
Nearly 30 years after a portrait of a mystery woman was pulled out of a Rock Island County dumpster, more information about the painter, Ladd Yuhash, has been uncovered.
Choose from spheres to spikes (without any trips to the emergency room), and learn how to properly store the fresh fruit.
Paddlers taking over the Mississippi River at Floatzilla this year will have the chance to fish while floating. 
Today's top sports headlines
SOLON — If Tuesday night's Class 2A substate baseball final between Camanche and Beckman Catholic were written for the big screen, it might be a little too dramatic to believe.
Fort Dodge's Jalen Adams threw the 59th no-hitter in state tournament history Tuesday night with a 7-0 win over Bettendorf.
Pleasant Valley coughed up an eight-run lead Tuesday night, but it regrouped and won its state quarterfinal game in the bottom of the seventh, 11-10.