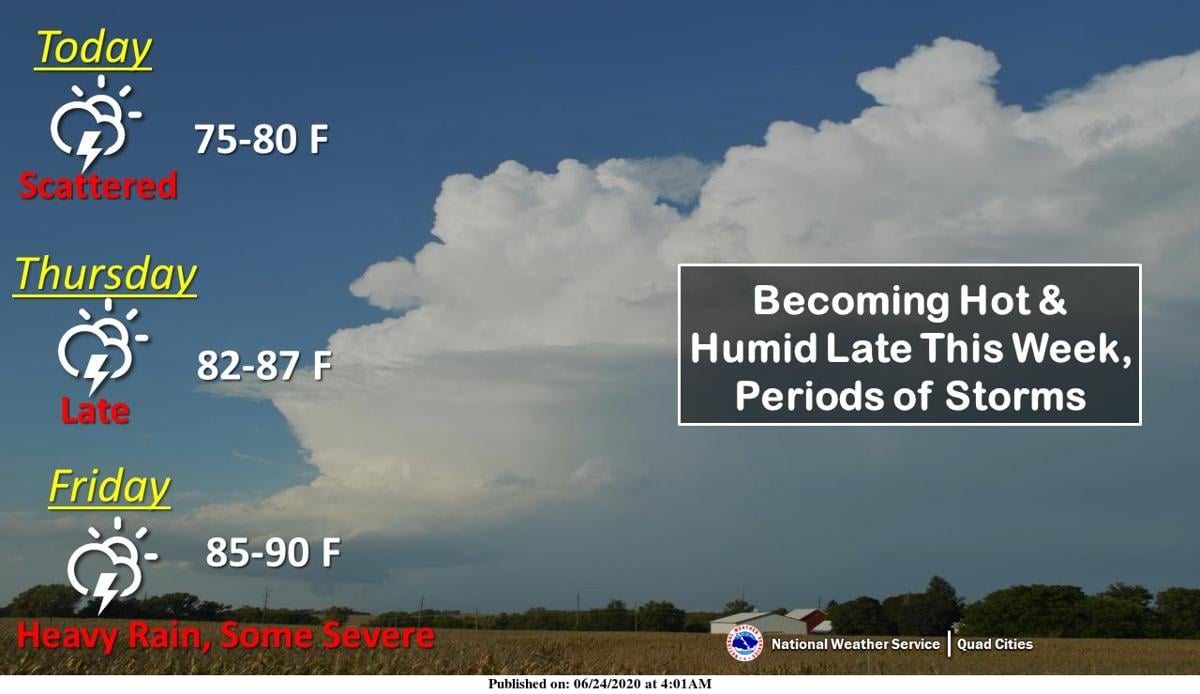 Flood warnings are in effect for some area rivers with more rain possible today. It will be another mild day with high temps in near 80 degrees.
Here are the weather details from the National Weather Service.
Today scattered showers and thunderstorms are possible after 5 p.m. There will be increasing clouds with a high near 80 degrees. West winds between 5 to 10 mph will gust as high as 20 mph. The chance of precipitation is 30%.
Tonight scattered showers and thunderstorms are possible before 11 p.m then isolated showers between 11 p.m. and midnight. Skies will be partly cloudy with a low around 60 degrees. The chance of precipitation is 30%.
Thursday will be sunny with a high near 85 degrees. 
Thursday night there's a 50% chance of showers and thunderstorms after 1 a.m. Skies will be partly cloudy with a low around 69 degrees. New rainfall amounts of less than a tenth of an inch are possible with higher amounts in thunderstorms.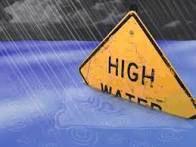 Flood Warnings continue for the Wapsipinicon, Cedar and Iowa rivers.
• Wapsipinicon River near DeWitt is at 10.9 feet and falling. Flood stage is 11 feet. The river is expected to fall to 10.8 feet, then begin rising to 13 feet Sunday. At 13 feet water affects many residences along the river.
• Cedar River near Conesville is at 12.8 feet and rising. Flood stage is 13 feet. The river is expected to rise above flood stage tonight and continue rising to 15.9 feet Saturday. At 15.5 feet water affects residences along County Road G28 and affects several gravel roads.
•  Iowa River at Wapello is at 19.2 feet and rising. Flood stage is 21 feet. The river is expected to rise above flood stage Thursday and continue rising to 24.5 feet Sunday. At 22 feet water affects residences near the U.S. 61 bridge.
Today's top news headlines
The 2020-2021 school year budget projects a $1.9 million education fund deficit, but administrators said that shortfall will likely be reduced.
Three men face charges after leading police on a chase that began in east Davenport and ended in Moline.
WHAT WE KNOW: Aldermen endorsed a six-month budget plan assuming a 40% decrease in sales taxes at a special June 12 meeting.
Crime, courts and public safety headlines
A Coal Valley man sentenced to 60 years in prison for the murder of his infant son was released Tuesday from the Illinois Department of Corrections after his conviction and sentence were vacated at the request of Rock Island County State's Attorney Dora Villarreal. Previous prosecutor allegedly withheld evidence from the defense. 
More on the coronavirus in the Quad-Cities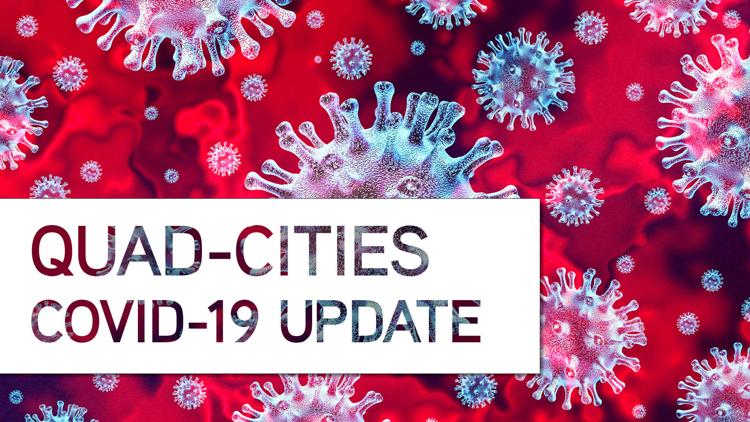 Entertainment and lifestyle news
As your dedicated wine writer, I find it my mission to keep you informed and on the inside track of all things wine.  Many businesses have been impacted by COVID-19 and in the Quad-Cities many restaurants, distributors and retailers have had to grapple with this "new normal". 
I have always forgiven Major League Baseball and all involved. Well, not the price-gouging concession companies, but...
Female wrestlers in Illinois high schools will have an official state championship to chase beginning in the 2021-22 school year.
CLINTON — The bats had had a slow start to the season for the Camanche baseball team.
Information from multiple sources indicates that Augustana's new men's basketball coach is former Viking Steve Schafer.
Concerned about COVID-19?
Sign up now to get the most recent coronavirus headlines and other important local and national news sent to your email inbox daily.