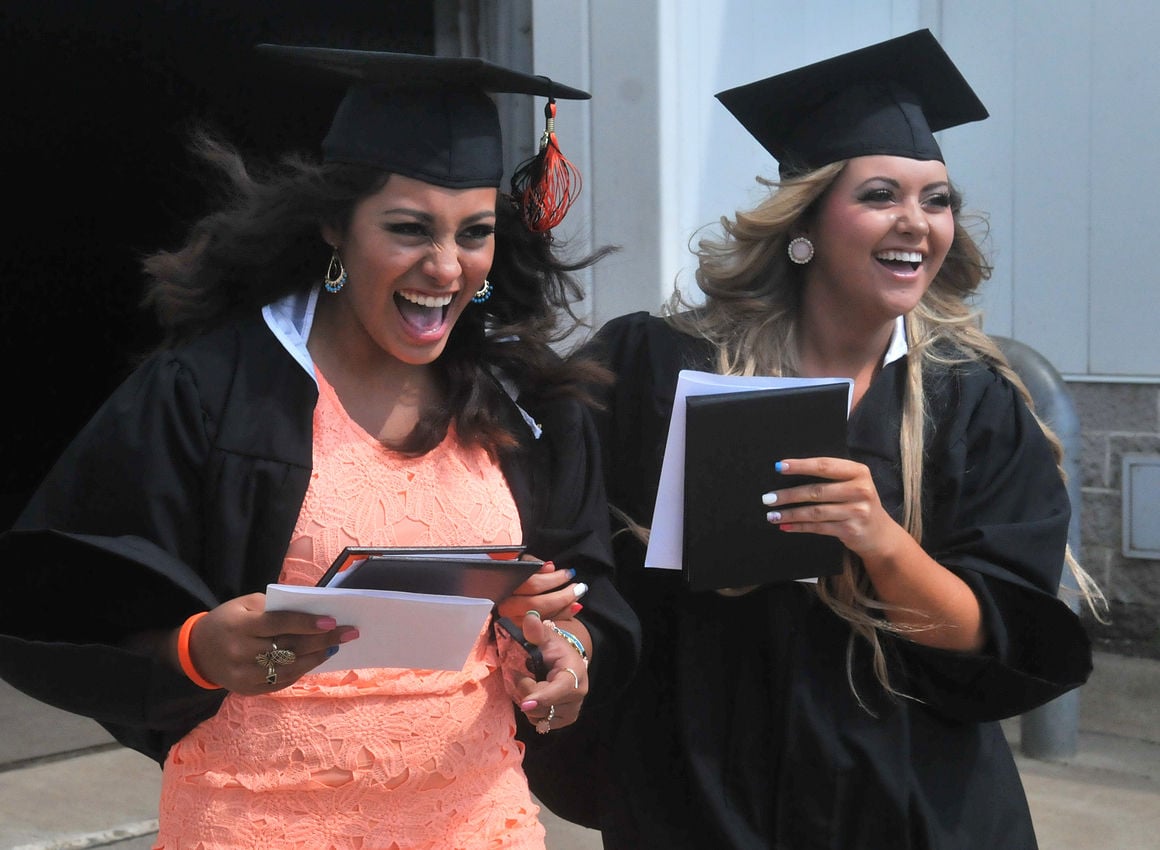 MOLINE -- The joy of United Township High School's graduation ceremony Sunday at the iWireless Center was tempered with loss.
Two members of the class didn't make it to the commencement, and two speakers paid tribute to their memory.
"As we honor you today, I challenge you to honor them by living a life that's the best you can," UT superintendent Jay Morrow said. "There's no better way to honor your loved ones than being the best you possibly can be."
Zachary Michael Phillips, 18, of Colona, was killed May 20 in Moline 18 days before his graduation. He and Erik Roberson, 19, were in a vehicle when LaMaree Wilson-Neulieb, 17, allegedly shot them, killing Mr. Phillips and seriously wounding Mr. Roberson.
Authorities have offered no motive to the shooting.
UT student Jarred Chandler Pai, 17, of East Moline, died July 27, 2014, after a car accident in Colorado as he and his stepbrother, Coalton, were coming home from a two-week trek at Philmont Scout Ranch in New Mexico.
School board president Susan Koska told the UT graduates Sunday she was sorry for their losses.
"Young folks your age are not supposed to experience the heartache of losing your friends," she said. "But you can honor them, like Dr. Morrow mentioned, by doing good in their names. Put your sorrow to work.
"Do all the good you can, in all the ways that you can, in all the places you can," she said. "Do it in the memory of your classmates. But more importantly, do it for yourself.
"You are smart, and you are resourceful; figure out ways to give of yourselves for others," she said. "So you, as the class of 2015, will be remembered not as the class that lost someone but as the giving class."
Thomas Osborne, class valedictorian said their time together went by very quickly, and the world seemed very small.
"The world is not small, however; it is very big," he said. "To put it in perspective, there are 3 million high schoolers graduating in the United States alone, and we are just shy of 400.
"Soon, we will be the ones in charge of businesses, schools and the government," he said. "We will have the ability to fix these problems or take the easy way out."
He said the students already had the power to make positive changes, noting food collected for the annual Hunger Drive.
"Now, it is our time to serve on a greater scale," he said, telling graduates they had the skills needed "to develop amazing character," and simple thanks were not enough to say to UTHS teachers, staff and administration.
"I imagine a world free of poverty, disease and violence," he said. "I can imagine walking down a street and see everyone smile because of the differences we have made. Together, we will make it happen."
Salutatorian Kathryn Read said UT provided her classmates with opportunities to take chances.
"Regardless of the result, just taking a chance is succeeding," she said, noting she played in the UT symphonic band that this year won the Illinois Super State Class AAA competition.
"Just because I don't succeed doesn't mean I stop trying," she said. Symphonic band is an example, noting it experienced years of rejection, before winning this year. "Being here today at graduation shows you've all taken chances and succeeded."
Student council president Iame Rea told classmates the first step into the unknown was always the hardest. Challenges and decisions can seem scary and keep people from taking those first steps, she said.
"I learned that high school is about making mistakes and learning from them," Ms. Rea said. "And that's why I am who I am today.
You have free articles remaining.
"With mistakes come lessons learned," she said. "Know that life is not fair, and you will fail often. But most importantly, do not give up."
"I am confident our class will overcome the obstacles that stand in our way in the next chapter of our lives," she said. "We will be the future doctors, the future teachers, lawyers and maybe even a future president of the United States.
"No matter where these next few years take us, we will have an impact on the future because we are the future."
United Township High School graduation list
The United Township High School 2015 graduates are:
Samir Abdelkarim, Issak Abdi, Annalena Able-Paschal, Christiano Able-Paschal, Komla Adedze, Andrew Adkins, Yayra Agbadja, Nicolas Aguilera, Adriana Aguilera-Perez, Jann Alcantara, Jack Allen, Daniel Alvarez, Riki Anderson, Sarah Anderson, Trevor Anderson, Jessica Andrews, Scott Appel, Emma Atwood, Christopher Austin, Adjo Awoudi.
Randi Bailey, Ilia Bakhriev, Alondra Barajas, Brian Barnard, Cody Barnes, Carlos Barreto, Christopher Baxter, Alexandra Beeks, Kristina Behrens, Ryland Bell, Esmeralda Bernal, Amy Berry, Austin Blair, Brianna Bobb, Lucas Boley, Alexandra Bolin, Elizabeth Booth, Autumn Borkhart, Brooke Boyette-Foltz, Nathan Brackevelt, Ginger Bradley, Zachary Briggs, Jennifer Britton, Callen Brown, David Brown, Jaydon Brown, Samantha Brown, Kaylee Bruno, Jamie Bull, Tate Buller, Jasmine Burch, Antwanique Burgin, Katelyn Burkert, Charles Burkett, Baylee Burklund, Amanda Burrill.
Chloe Caldwell, Roberto Camacho, Tyler Cameron, Megan Canterbury, Collin Cantrell, Kylie Cantrell, Karen Cardenas, Martin Carothers, Zachary Carr, Justin Carra, Juan Carranza, Patrick Carrigan, Gali Castillo, Abraham Castro, Alexis Cedeno, Kayla Cervantes, Laura Cervantes, Terrie Chance, Eve Clark, Nireque Clayburne, James Cline III, Alexandra Cole, Noelle Cole, Ryan Colgan, Aubreona Conner, Jack Copeland, Cody Corbin, Alexis Cortez, Kayla Crawford.
Alexis David, Jared Davis, Faith DeBlieck, Skylar DeBrouwer, Graciela Decker, Andrew De La Cruz, Celia DeLeon, Dalton Desourouez, Daniel DeVilder, Madison DeVoss, Alicia Diaz, Alyssa Diaz, Eric Diaz, Marisela Diaz, Kayveon Dickerson, Hannah Dillman, Paul Dixon, Joey Dorsey, Madison Doyle-Krause, Courtney Durbin, Chelsey Dusenberry.
Dickson Egla, SarahJane Ensey, Julia Enstrom, Tanner Esmoil, Daniel Esterlein, Shemontiel Evans, Mya Fallon, William Feurt, Patricia Flores, Brandon Fox, Christopher Frazer, TreVaughn Freeman, Brea Fry, Karl Frye.
Alyssa Garcia, Ashlee Garcia, Brian Garcia, Victor Garcia, Maria Gardner, Lejla Garic, Michael George, Garett Gordon, Crystal Graham, Zachary Gramling, Lacy Grammer, Jacqueline Gray, Matthew Gray, David Green, Jennifer Guerrero, Collin Gunneman, Janet Gutierrez.
Philip Hahn, Cassandra Hall, Aaron Halligan, Bradley Hamerly-Lohse, John Hammons, Brennan Hamstra, Brady Hansen, Brandy Hardy, Elijah Harris, Grace Hart, Jordan Hart, Starr Haskins, Taylor Hawkes, Drasen Hearn, Ontariez Henderson, Velma Henderson, Elizabeth Hernandez, Jazmyn Hernandez, Sergio Hernandez, Louis Hill, Macy Hintze, Logan Hoepfner, Edward Hostetter, Alex Hubbard.
Janette Jaquez, Francisco Jaramillo Jr., Isabel Jaramillo, Savhanna Jenkins, Amber Johnson, Austyn Johnson, Charlotte Johnson, Dakota Johnson, Donte Johnson, Heather Johnson, Jayvonda Johnson, Monique Johnson, Nykeila Johnson, Zaviour Johnston.
Evan Kahle, Brianna Kastner, Aurora Keag, Moe Neisha Kent, Christina Kibling, Comlan Kolevi, Prathoumvanh Kongkousonh, Madison Krause, Kodjo Kwakoudzi, Dylan Kyser, Reaven Lairmore, Genevieve Lance, Abraham Lara, Cody Laud, Jennifer LeMaster, Hailey Lenth, Ngun Liang, Allison Linville, Paige Lofquist, Alejandra Lopez, Anthony Lopez, Javier Lopez, Jorge Lopez, ShaTavia Lowery, Christian Luquin, Kitana Luten, Kaylen Lyord.
Connor Maccabee, Dylan MacLaughlin, Steven MacLennan, Esteban Maldonado, Natalia Maldonado, Samantha Manley, Joel Manso, Ciarra Martin, Carlos Martinez, Maria Martinez, Fernando Martinez Jasso, Jeremiah Martinez-Brown, Sydney Masengarb, Tori Mason, Rachel Massa, Aldair Mayren, Kyle McCaw, Holly McCracken, Logan McDanel, Tyler McDanel, Faith McGuire, Race McIntosh, Samantha McKay, Kevin McKee, Taylor McLaughlin, Mariah McLean, Kayla McNabb, Devone McPherson, Chance McWade, Jose Medina, Roberto Medina, Chelsey Meier, Mia Mejia, Dustin Meldrum, Ryan Merideth, Chaimaa Mhalli, Adam Mickelson, Kyle Milefchik, Chelci Miles, Christian Miller, Kaitlyn Miller, Alexandrea Mitchell, Logan Mitchell, Micaela Mitchell, LaMont Mitchell-Payne, Christy Montoya, Sillay Moo, Kyle Moody, Ariel Moore, Javonta Moore, Fernanda Morales, Sergio Morales, Cassity Morgan, Angel Morse, Rashel Mote, Cole Mueting, Gage Mueting, Fatima Munos, Cynthia Munoz, Paola Munoz, Abdikadir Muridi, Austin Murphy, Connor Murphy, Ronald Murphy, Victoire Mushimata, Chase Myers, Merriyah Myers.
Lamiaa Nadif, Dustin Nicewanner, Courtney Nieves, Frederic Niyongabo, Fransine Niyonizeye, Colton O'Brien, Evan O'Donnell, Gasper Ochoa, Andrea Ochoa-Raya, Luis Ortega, Thomas Osborne, Chandler Osburn, Raven Overton-Price.
Letilia Pantoja, Tybrecha Patrick, Chance Patterson, Carter Pease, Nicholas Pedulla, Mario Pena, Yesenia Pena-Trevino, Van Peng, Anaysha Penson, Jose Perez, Kiara Pernell-Hines, Akaia Peters, Hayley Peters, Brian Peterson, Michael Peterson, Jeannine Petiot, Michael Peyton, Zachary Phillips, Brittany Picaso, Brandon Pizano, Jaelin Porter, Ashton Potter, Katelyn Powell, Taylor Price, Breeonna Quick, Bryce Quillin.
Martin Ramirez, Michael Ramos, Angelique Ramos-Freeman, Juan-Diego Rangel, Caitlyn Rasso, Arturo Raygoza, Iame Rea, Kathryn Reed, Deeago Reichenberg, Adela Reyes, Yaalexis Reyna, Charles Reynolds, Cheyenne Reynolds, Juan Rivera-Olguin, Deijah Rivera-Watts, Jamie Robb, Sadie Roberts, Marissa Robertson, Larry Roe, Molly Rogers, Martin Rojo, Yesenia Rosas, Dalton Roselle, Devin Rowe, Mason Ruge, Josey Rumburg.
Stephanie Salazar, Luis Salinas, Cynthia Sanchez Hernandez, Kyle Sanders, Brandon Sandholm, Marcos Sandoval, Shelbi Sappington, Elijah Saucedo-Hartman, Samuel Saucedo, Aleece Sawyer, Rachael Scace, Annalise Schneider, Jared Schneider, Brandt Schultz, Kevin Scott, Morgan Scott, Dakota Sellers, Evan Sellers, Lorenzo Sepeda, Meagan Serra, Jacob Sevier, Caitlyn Short, Kayla Sierra-Lee, Jasmine Singleton, Ronald Skiles, Cody Smith, Cole Smith, Alexis Snider, Jenna Sotelo, Lilian Soukvilay, James Spencer Jr., Kinzy Stanley, Ryan Stanton, Clay Stephenson, Joshua Stinocher, Preston Swanson, Tyler Sward, Shelby Swiatkiewicz-Campbell.
Lauren Tague, Joshua Tanner, Cecilia Tapia, Christian Taylor, Tyler Thomas, Alex Thompson, Jacob Tidwell, Justin Toland, Jordan Traynham, Luis Trevino, Liza Trinidad, Marissa Troche, Andrew Tynes.
Ashtyn Vandersnick, Lindsey VandeWalle, Joshua VanDyke, Jayce VanHerzeele, Catalina Varela, Ricardo Vazquez, Natalia Velez, Oscar Velez, Eric Villagomez, Courtney Vols, Annie Vozikis.
Tayler Walker, Allison Ward, Rachel Ward, Danielle Weaver, Grant Webb, Justice West, Caleb Westerman, Cody Wheeler, Dakota Whipple, Jordan Williams, LaCaela Williams, Cody Wilson, Amber Winters, Diana Wixom, Timothy Wixom, McKenzie Womack, Mercy Wrotoe.
Channa Young, Mason Zambrano, Teresa Zavala, Wendi Zhang and Nathaniel Zinke.