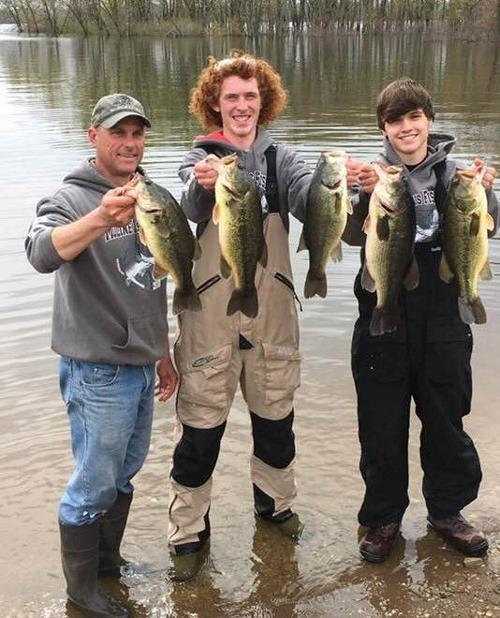 But thanks to several students' efforts, the Panthers could soon be adding one.
Pending board approval Monday, United Township likely will be adding another activity. Some would call it an outright sport.
Call it what you may, but a bass fishing team is expected to get board approval with the Panthers at least participating in the state qualifying sectional in Thomson sometime in late April this school year, and should the team advance, the state finals May 15-16 at Carlyle Lake.
The cost is minimal, Morrow advised the board, Dec. 9. "It's just proposed," Morrow said in a recent interview on the activity's current status. "And if there is no major hiccups after the time it was presented, we approve it at the January board meeting."
"We are not foreseeing any," he added. " I think it will be fine."
What does adding a bass fishing team entail?
Moline bass fishing coach Tim Albrecht, who also teaches business and technology at Moline, and coaches the bass fishing team, which won the state title in 2014 and took second in 2010, stresses one thing: School's can put as much as they want into it or as little as they want.
Moline, Riverdale, Geneseo and Rock Island all have teams, he said. And he is very happy to have UT add one.
"Absolutely," he said. "We've been trying to facilitate helping other schools get this since the beginning. It's great. Now we have Rock Island, Sherrard, Geneseo, UT and Riverdale (besides Moline) and the list kinda goes on. It's great; what it means is more local teams. We will end up having more local events."
A couple of local prep tournaments have been held in the past few years, Albrecht said. That means savings on travel expenses, which is very important for a team that raises almost all of its own funds.
Moline has anywhere from 15-25 kids out annually, depending on if one particular class gets into it, he said. They participate in about 15 events per year.
Moline has taken spring break trips to southern Illinois for some practice and meets. It also has its students participate in local bass fishing tournaments.
Practice is held two to three days a week usually beginning indoors in February, Albrecht said.
And it stays there until the ice age ends on local rivers, lakes and ponds. "As soon as the ice thaws, we are fishing," he said. " We get the kids out and we start trying to catch fish."
Mostly they can be found on the Mississippi River.
Practices include casting, including in difficult areas for bass, such as under a log, a tree limb or weeds.
The team works on casting skills and a lot of different techniques to catch fish, Albrecht said. "Bass fishing is a little bit more than throwing your bobber out in the water and sitting out on a lawn chair," he said. "That is not really what bass fishing is about.
"It's a highly technical sport, where experience plays a big part of it. But you can learn those things if somebody is teaching you; that (can) let the kids be more successful.
"The more skilled those kids are the better off they're going to perform in the competition."
In tournament play, there are two students per boat at a given time, accompanied by a coach. But two more kids per boat can rotate in, too, which coaches and captains decide.
Generally meets begin at 7 a.m. and last for eight hours.
Teams take their five heaviest catches per boat to be weighed in to determine the winning school. Each boat has its own fish weight total, meaning a school can theoretically have two of the three teams that quality for state from a sectional and two of the top three teams at state. Throughout the day teams will naturally release lighter bass as heavier bass are caught.
Though Moline and Riverdale host tournaments, Moline also has its fishermen and women get in local tournaments sponsored by local bass fishing clubs in the Quad-Cities. Most let the students join for about $1 each, Albrecht said.
Should a Maroon catch an ineligible catfish, they simply throw it back in, as only bass fish count in bass fishing.
As for other equipment like fishing poles and lures, it's a lot like golf or tennis, Albrecht said. Most students are into it enough already where they have their own equipment and will upgrade if they want to, as a golfer might.
Albrecht implies a real key to success is the volunteer coaches.
"The real trick is to find enough volunteers who want to give up Friday, Saturday and Sunday with a bass boat and are willing to do that," he said.
Morrow is confident he has the sponsor but won't say who until bass fishing is approved by the board.
He expects fundraising to take place at a booth at the Quad-Cities outdoors show this winter, which Moline does.
Insurance, boat registration is covered by the boat owner, he said. "You have to go through all the safety protocols as far as wearing life vests, safety glasses or goggles," Morrow said. "Boats have to be certified and licensed. There's a set of protocols."
Among them are uniforms with many team using a typical uniform jersey, Albrecht said.
Albrecht has been with bass fishing club at Moline since its inception back in 2008-09. The first five years he co-coached with Brian Prybil.
Back in 2009 there were 199 school in the state participating, Albrecht said and by 2010 when Moline took second, about 235. When they won the state title in 2014, there were about 300, and now there is 330.
"It exploded those first few years," Albrecht said.
Now, UT appears ready to join the fray.
An informational meeting will take place sometime in January, Morrow said, assuming the board approves the activity.
"I think it will be an opportunity for some of our kids," he said. "We are excited to see where it takes us."
Get local news delivered to your inbox!
Subscribe to our Daily Headlines newsletter.