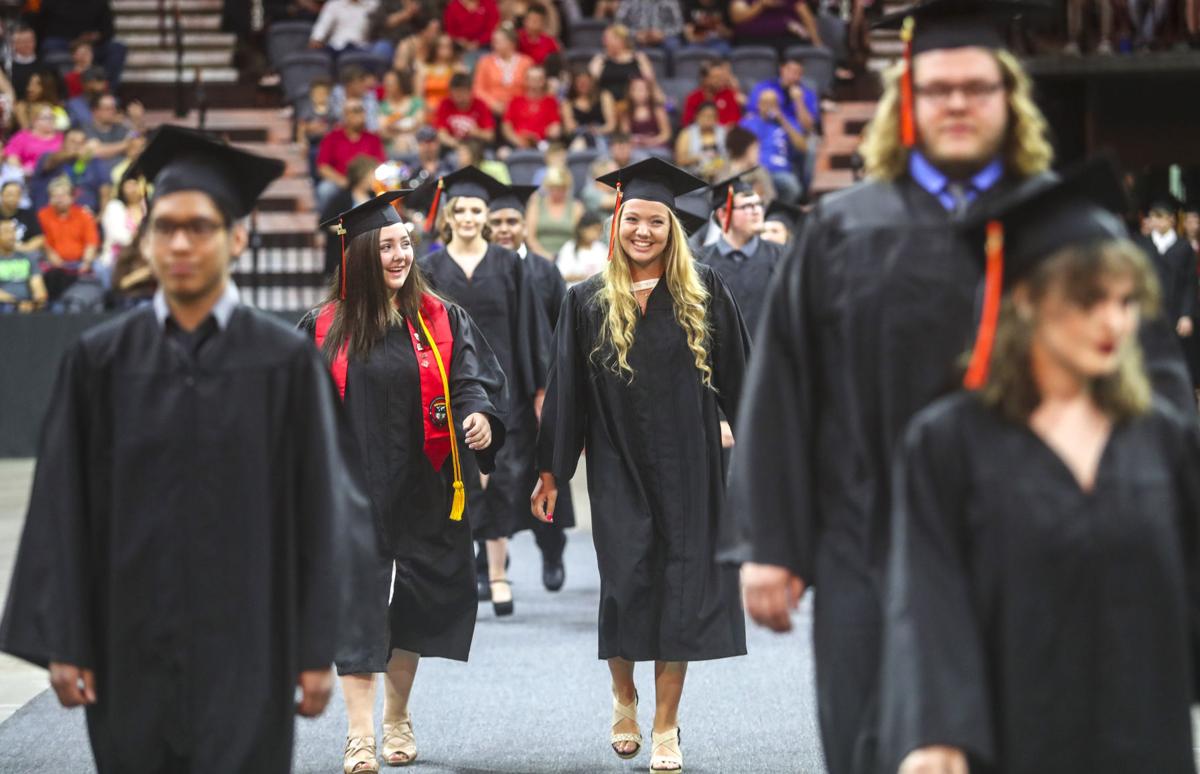 United Township High School won't have a formal in-person graduation at the TaxSlayer Center, Aug. 2. Its school calendar — which UTHS District 30 Superintendent Jay Morrow says often is subject to change — will, however, for the most part, remain intact, especially in terms of semester and quarter breaks.
That much was determined at a remote board meeting held Monday at noon at United Township High School's board room.
"Graduation is off, unfortunately," Morrow said after the meeting. "I hate to say that as a dad of a senior. But we did it pretty nice online virtual ceremony (Saturday), so that was pretty good."
During the meeting he explained to the board that it would be hard to follow social distancing guidelines at such a ceremony. The school calendar will be officially decided by the July 20 regularly scheduled board meeting or five or less days earlier. "It stays the same date-wise, but we will just be adding planning days for the first week and a half or so." Morrow said. Students won't be in school those days, which officially begin Monday, Aug. 3 with teachers reporting. "The second week of August is when (all) the (students) will start coming back," Morrow said. It had been Aug. 5.
The first day of in-person school for all students will be around Aug. 11-12, Morrow said. "But that's subject to change," depending on what the governor or the Rock Island County Health Department says, after UT gives it its plan.
Freshmen only will report Aug. 6 and Aug. 7, Morrow said, stressing all dates are tentative. It had been Aug. 4.
And when the rest come back, "it's not going to be every kid in session," Morrow said. "It's going to be kind of split up. We have to figure out how it's going to be split up."
Social distancing concerns in the classroom, hallways and cafeteria were among considerations, he told the board.
District 30 has about two weeks to decide its dates and procedures and give it to the state board of education for approval as well as the health department. "Once we get that plan all together, we've got to get that to the public health department for their approval," Morrow said. "If they say, OK, this meets the requirements set forth by (Illinois Department of Public Health), then we are able to move forward."
Morrow told the board school will be set up in a hybrid learning situation featuring in-person classroom learning and online as well. He told the board he thinks it's important for students and teachers to meet, especially at the outset. In addition, there will be a complete online option for students whose parents don't feel comfortable with their child in school due to the coronavirus. "What that looks like, we are unsure of yet. It will probably be some type of Google Classroom," he said. "There's some online platforms that we use already… That's something we have to figure out in the next two weeks."
District 30 received $471,000 CARES (Coronavirus Aid, Relief and Economic Security Act) money with about $350,000 going to the purchase of Google Chromebooks. The rest, Morrow expects to be used on things like personal protective equipment for items such as face shields, temperature-taking devices, cleaning supplies and masks.
The tentative budget has $22.6 million in revenues with $24.1 million in expenditures for a deficit of a little more than $1,466,000.
Flexibility will be the key in the coming weeks as United Township School District 30 works with its feeder schools, which it has already consulted on things like dates to reopen, and the state as it returns to school for the coming year.
The next school board meeting is July 20. "But if we get a plan ready to go, we may have the board approve it earlier so we are able to communicate that with parents as soon as possible," Morrow said.
Concerned about COVID-19?
Sign up now to get the most recent coronavirus headlines and other important local and national news sent to your email inbox daily.