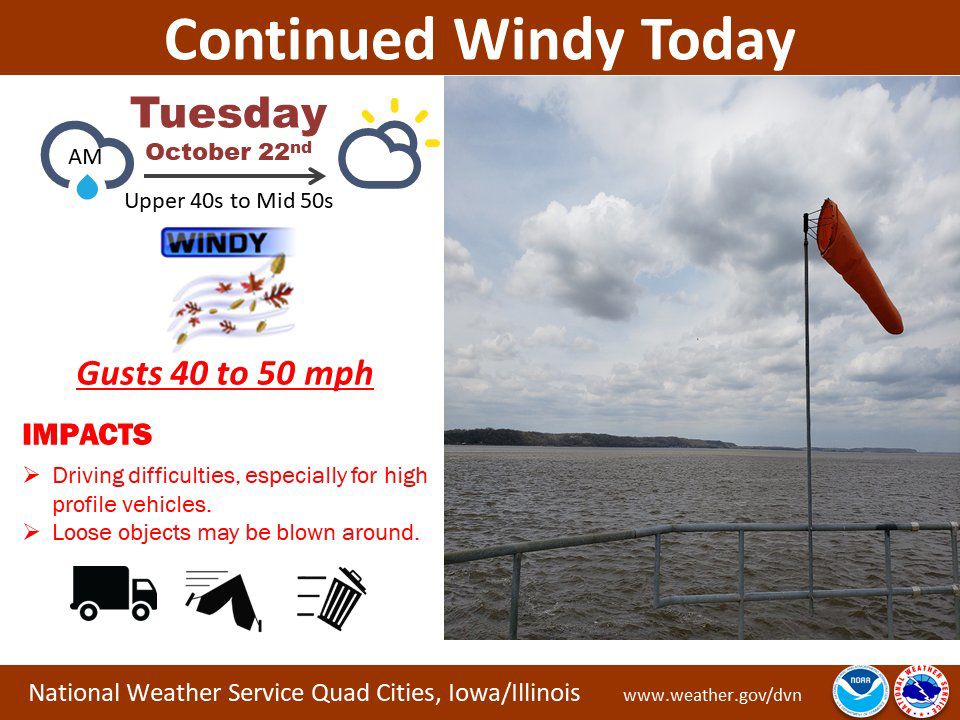 Hang on to your hats! Its a windy one out there today. Here are the weather details from the National Weather Service.
A National Weather Service wind advisory remains in effect until  3 p.m. for the Quad-City region.
WHAT: West winds 20 to 30 mph with frequent gusts to 45 mph expected.
WHERE: Portions of east central, northeast and southeast Iowa and northwest and west central Illinois.
WHEN: Until 3 p.m. Tuesday.
IMPACTS: Gusty winds could blow around unsecured objects and create travel difficulties for high profile vehicles on north south roads. Small tree limbs could be blown down.
ADDITIONAL DETAILS: Winds will gradually reduce in strength through the late morning and into the afternoon.
PRECAUTIONARY/PREPAREDNESS ACTIONS: Use extra caution when driving, especially if operating a high profile vehicle. Secure outdoor objects.
There's  a 30% chance of rain today before 10 a.m. Skies will be cloudy then gradually becoming mostly sunny with a high near 52 degrees and a low around 37 degrees. West winds between 20 to 25 mph will gust as high as 45 mph.
Wednesday will see increasing clouds with a high near 58 degrees and a low around 38 degrees.
Although a Flood Warning for the Mississippi River in the Quad-Cities continues to be in effect the river level continues to fall. The Mississippi is currently at 15.9 feet and falling. Flood stage is 15 feet. The river is expected to fall to 15.6 feet Wednesday.
SPRINGFIELD — Funding for the first steps to replace the Interstate 80 bridge over the Mississippi River in Rock Island County is included in …
You have free articles remaining.
EAST MOLINE — As was somewhat expected, the East Moline City Council voted unanimously Monday night to allow legal adult-use cannabis business…
A plan by the nonprofit Christian organization One Eighty to build a "tiny home" in central Davenport is gathering support from many people wa…
Crime/courts and public safety headlines
A second man is in custody, accused of robbing a Moline convenience store.
CAMBRIDGE – A Geneseo man charged with two counts of attempted murder and two counts of conspiracy to commit murder waived his preliminary hea…
CAMBRIDGE – An 18-year-old Peoria man will see a burglary charge move forward in Henry County Circuit Court following a court hearing Monday.
Today's entertainment headlines
Quad-Cities native and reigning WWE Universal Champion wrestler Seth Rollins will hold a fan meet-and-greet on Wednesday from 4 p.m. to 6 p.m.…
MOLINE — "Baby Shark" is a big deal. If you need some proof just Google it.
Lyle Lidholm, an 87-year-old veteran of the Korean War, hiked into Moline on Monday, 51 days since he began walking the Rock River Trail at Ho…
PORT BYRON — At this point, it may be time to use the "D" word — as in dynasty — when talking about the Riverdale boys' golf program.
ROCK ISLAND — Throughout an impressive regular season, first-year head Rock Island boys' soccer coach Rudy Almanza has welcomed how his team h…
BETTENDORF — The Quad City Steamwheelers capped their first week of off-season signings by inking their top priority.