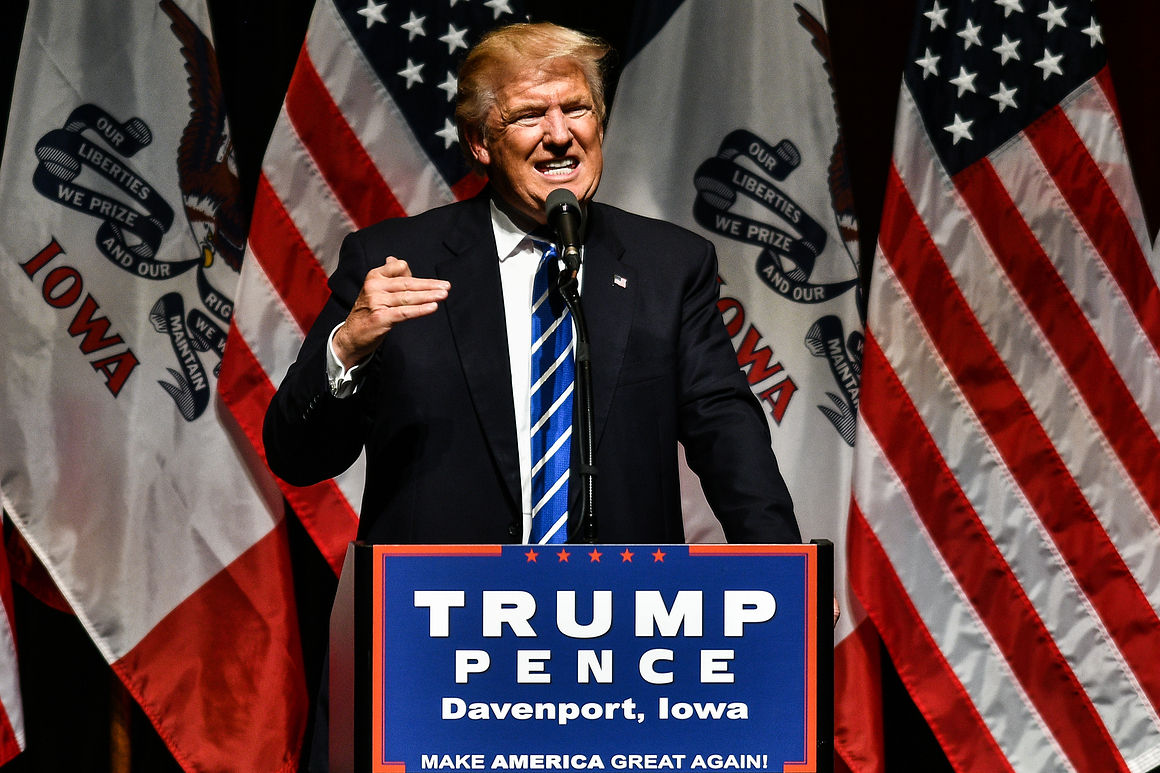 DAVENPORT — Donald Trump repeated well-worn themes Thursday during his first visit to Iowa as the official Republican presidential candidate.
Speaking at a standing-room-only Adler Theatre (capacity 2,400), Mr. Trump said the debt-ridden United States will continue facing problems with national security, border control, unfair trade agreements and a dwindling middle class if Democratic candidate Hillary Clinton wins in November.
Joined by Gov. Terry Branstad, U.S. Sen. Joni Ernst and Iowa Republican state chairman Jeff Kauffman, Mr. Trump spoke for a little over an hour on themes he has repeated throughout his campaign.
Mr. Trump said America is losing the fight against ISIS and "radical Islamic terrorism."
He called the North American Free Trade Agreement signed by former President Bill Clinton a failure and a potential Trans-Pacific Partnership trade deal a looming disaster.
"I love this country," Mr. Trump said. "You see factories, buildings ... you could envision them 25 years ago — they're crumbling. Thousands of businesses."
He said the proposed TPP agreement is similar to ObamaCare, long and complicated and unworkable.
"NAFTA is probably the worst economic trade deal in the history of the world," he said.
He said China is salivating over the proposed TPP deal. "They're going to come in through the back door," he said.
Mr. Trump said Ms. Clinton is bought and paid for by political action committees and lobbyists. He also called her character into question, referring to the recent investigation into her use of a private email domain while serving as secretary of state.
James Comey Jr., FBI director, testified earlier this month there was nothing illegal in her use of the email server, though he criticized her judgement in using it. Ms. Clinton deleted thousands of what she described as personal emails before turning over the servers.
Mr. Trump said, "It's a rigged system. Thirty-three thousand emails were deleted, and that's okay?"
He said Vermont Sen. Bernie Sanders, who unsuccessfully challenged Ms. Clinton for the nomination, should have held firm instead of lending his support to Mrs. Clinton.
"Bernie got tired, and he made a deal," Mr. Trump said. "And, I was so surprised he made a deal. His legacy would have been much stronger. What Bernie should have done, instead of selling out to the devil, he should have quietly let everything happen, have his protest, go home, and he would have gone home a hero."
Mr. Trump said Mr. Sanders, a longtime opponent to the TPP, was right on trade.
"He is the only one that gets it on trade," Mr. Trump said. "The difference is I can make phenomenal deals. He can't do that. He said our country is getting ripped off, our jobs are being taken away."
Mr. Trump criticized U.S. policy in the Middle East, saying America made a poor deal with Iran, dropping economic sanctions in exchange for nuclear agreements. He criticized Secretary of State John Kerry on the deal, saying Mr. Kerry walked into the negotiations after breaking his leg in a bicycle accident.
"He walks in with crutches," Mr. Trump said. "They're (Iranians) looking up and saying, 'Do you believe this man?' "They're even saying, 'What the hell happened to the United States.'"
He said America never should have invaded Iraq in 2003.
"We fight politically correct wars," Mr. Trump said. "How many times have I said, 'Keep the oil. Keep the oil.'
"We shouldn't of been in Iraq in the first place. I was totally against it right from the beginning. I said it's going to totally destabilize the Middle East. Did it ever. But, we shouldn't have got out the way we got out. ISIS formed.
"We have a lot of things we can do. They can be done."
Mr. Trump also said the election is critical to the makeup of the U.S. Supreme Court.
"If Hillary Clinton gets in, she's going to put super liberal judges on the court that's going to make our country Venezuela," he said. "We can't have it."
Other Iowa luminaries spoke before Mr. Trump went on stage.
Gov. Branstad said Iowa is a leader in wind energy, ethanol and bio diesel and bringing, "more good jobs," to the state.
"I would really like to have a president on my side instead of working against me raising taxes," Gov. Branstad said. "The Democratic Party used to claim to be the party of the working people, but they've abandoned the working people.
"They've abandoned middle America. They are now the party of the establishment, the elite in Washington, D.C."
Iowa Sen. Ernst said Ms. Clinton failed the country on national security.
"With Hillary Clinton, it is all about her," Sen. Ernst said. "It is all about her. This election should be about you."
Mr. Kaufmann said Iowa Republicans are going to support Mr. Trump, "10,000 percent." Mr. Kaufmann said to every Democrat and independent in the crowd, "Welcome."