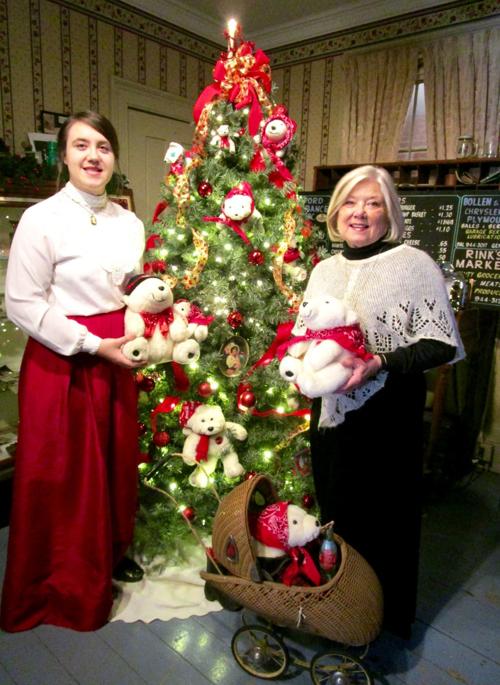 GENESEO — Visitors to the Geneseo Historical Museum on Christmas Walk night will be treated to the "unique and unusual."
The museum is housed in an Italianate mansion at 205 S. State St. Angie Snook, museum curator, said nearly 2,000 visitors stop at the Geneseo landmark each year during the Christmas Walk.
The living scenes may change from year to year inside the house, but the charm remains abundant throughout the museum.
Keeping with the 2019 Walk theme of North Pole Christmas, the museum staff has created a Coca-Cola Polar Bear Christmas Tree.
Snook said, "The tree is decorated from top to bottom with plush Coca-Cola polar bears, which were donated from a Cambridge lady who was terminally ill. She wanted her much-loved bears to have a good home, so she offered them to the museum."
Snook said the museum staff is "thrilled to have received the bears and decided to dedicate a memorial Christmas tree to the lady and her bears. Joyce Bauwens Parker of Geneseo, a relative of the donor of the bears, has taken photos of the memorial tree to send to other family members."
"In addition to the Christmas tree, the scene includes toys, decorations and the original menu sign from the Orsi & Green Ice Cream Parlor that many Geneseo residents fondly remember," Snook said. "We also have an ice cream table with four chairs by the Polar Bear Christmas Tree."
You have free articles remaining.
"We believe visitors to the museum on Christmas Walk night will love the unusual and unique Polar Bear Christmas Tree display," she said.
The museum opened its doors to visitors on the very first Christmas Walk night, and the stately mansion continues to be one of the most popular stops during the annual event.
Snook and Melanie Trout, a museum staff member, have been working for weeks to prepare for this year's walk.
Visitors are welcome to tour the museum and the carriage house from 5:30 to 8 p.m. on Saturday, Dec. 14.
There will be a variety of music at the museum, as well as many other activities. A butler will greet visitors at the door.
Snook said another scene will be the Victorian Tea Party in the Red Library, "where the ladies taking tea will be wearing mink stoles from prominent ladies of the past, and we think visitors will recognize their names."
At the Country Store, treats will be available for one penny. "We will have a variety of penny candies similar to what was available in the past, and we will share our pennies with our visiting children so they can purchase treats in the Country Store," Snook said.
Luminarias will line the walk leading to the Carriage House, where visitors will find a carriage and sleigh all prepared for a ride on a snowy Christmas Eve.
Snook said, "The night of the walk is a time when this beautiful old home and carriage house come alive with the many decorations, trees and treasures of the past. In the glow of Christmas spirit, our Christmas Walk guests can indulge themselves in the heartfelt message of family and friends from Christmases past."