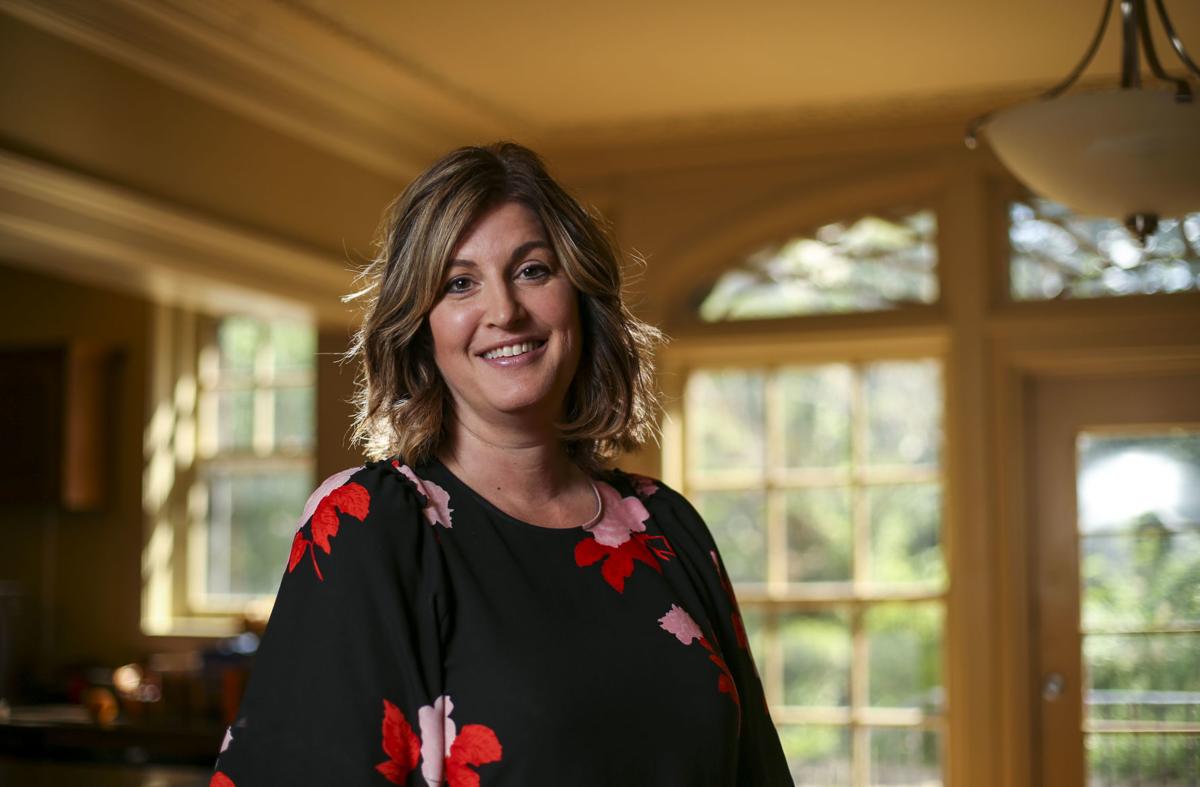 DAVENPORT — Joy McMeekan has turned her own personal tragedies into a career of helping others.
As the executive director of Gilda's Club Quad Cities, it is McKeekan's job to help bring joy and comfort to those impacted by cancer.
She said people ask if it is a depressing place.
"It's really not," McMeekan said Thursday. "I'm not gonna say there aren't terrible moments, but there's a lot of laughter you hear, too, in support groups. We want to provide hope to families and help them learn to live with their diagnosis and live beyond that."
McMeekan has grieved many losses in the last eight years.
McMeekan's husband, Scott, died from appendix cancer at age 45 in April 2014. He was diagnosed in October 2013.
Her mother — a retired public-health nurse near Mason City, Iowa — died at 71 in early 2015, nine weeks after diagnosed with an inoperable brain tumor.
McMeekan's sister-in-law passed away from lung cancer in spring 2015.
"Not having that support system, I really needed to make a career change," McMeekan said. "I wanted to give back but I didn't really know what that was gonna look like."
A friend who works for Genesis suggested Gilda's.
She became Gilda's Club development director in February 2016.
"Knowing what I know now of Gilda's Club, I wish I knew about it when my family was going through it because it would have been such a blessing to us," McMeekan said.
"After I had been here a year, I found an old notebook of (her husband), with his appointments, and there was one line in there that said Gilda's Club," she said. "When you get that diagnosis, you're so overwhelmed. So that's what drives me; I want to make sure we get out in the community and people know the services we provide."
At the time of Scott's death, her daughters were 15 (Kelsi), 11 (Sydney), and 3 (Bella).
"The hardest thing for me is seeing your children hurt in those moments, and there's nothing you can do but being that support system for them," McMeekan said.
"I've tried to be an example to (my three daughters), and what I told them is, our faith is really what's got us through," the Taylor Ridge resident said. "We have to trust God's plan, so that's helped them through a lot. They have a great support system of family and friends that's helped them."
"I was fortunate — my church was amazing (Edgewood Baptist, Rock Island), they did a lot," she said. "They brought in meals, made financial donations. The first Christmas, somebody dressed as Santa Claus and brought gifts to my girls."
McMeekan said her oldest is now in college and plans to become a radiology tech, working with cancer patients.
"We're looking ahead at how we can reach more people and the thing our members tell us a lot is, they wish we offered more things in Illinois."
They plan to expand to Moline in 2020. "We're excited about that. We're still in the early planning stages."
McMeekan said 60% of those served by Gilda's Club live in Iowa, and 40% in Illinois. "We do have people that, that bridge is a barrier."
Gilda's hosts weekly support groups for breast cancer, gynecological cancers, grief, families, and wellness, as well as children's activities, educational programs and healthy lifestyle activities like nutrition, meditation, yoga and laughter yoga.
There's a series "Frankly Speaking About Cancer," on a variety of topics, featuring area doctors, nurses, and other experts, which are open to the general public.
"It's so neat to see her legacy live on," McMeekan said of Radner. "When she was going through her cancer diagnosis, it was a time when celebrities and people didn't talk about their cancer. It was kind of a taboo topic. She went to the Wellness Community, at the urging of her psychologist, and she said, 'I could afford the best treatment possible,' but the thing that helped her the most were free services she got from the Wellness Community, a place she could just go and be Gilda Radner — she could laugh and cry and be herself."
McMeekan enjoys "knowing we're having an impact and I can relate to what families are going through...To be able to provide that hope and place they can retreat to, have that support system. They can learn to laugh again and get their life back."
Their $500,000 budget is supported by many private and corporate donations and sponsorships, grants, and proceeds from fundraising events, such as the annual Wine Walk Saturday in the Village of East Davenport, which has raised $55,000 since 2011.
Their most successful single fundraiser was this spring, "Intimate Conversations," which featured "American Idol" winner and Iowa native Maddie Poppe, raised $60,000.
"The goal with our events isn't just to raise money, but raise awareness, too."
Get local news delivered to your inbox!
Subscribe to our Daily Headlines newsletter.