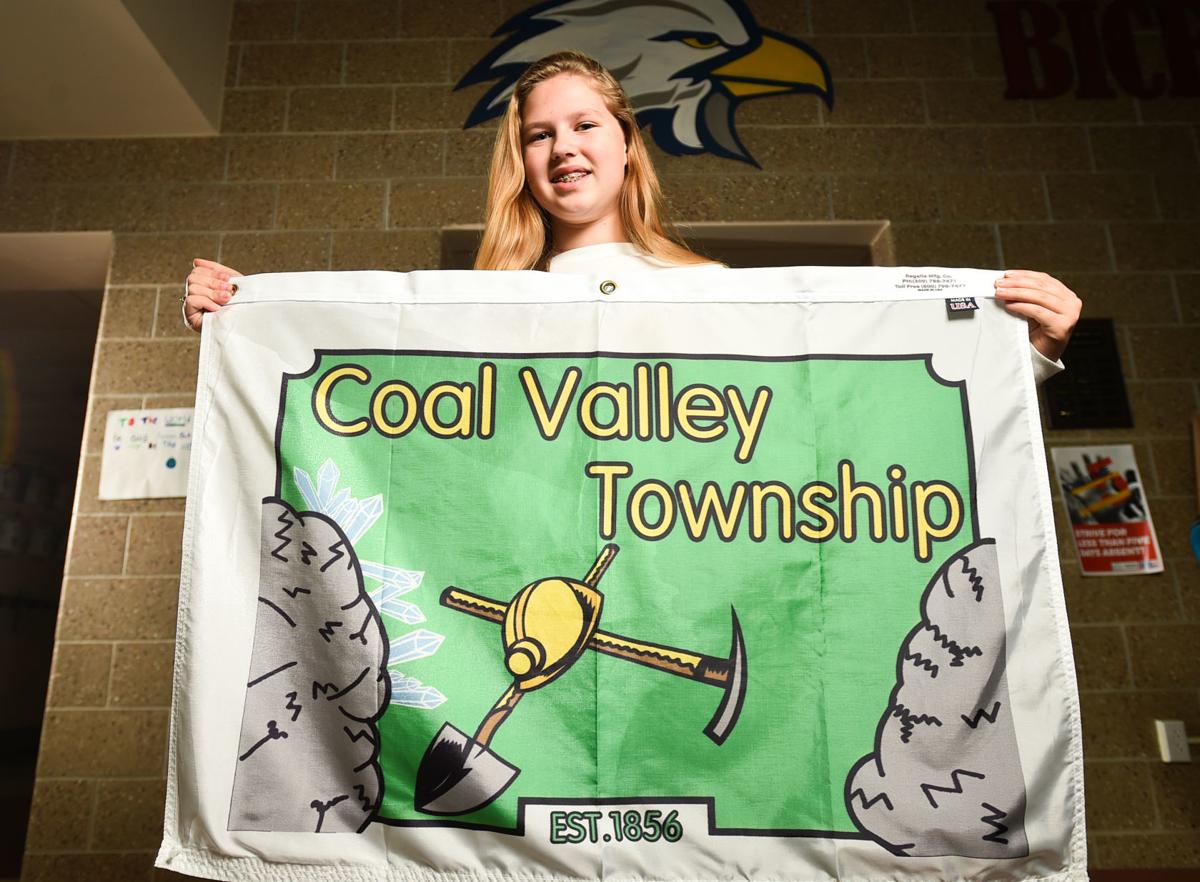 Dick Wiles wanted a flag designed for Coal Valley Township, but he wasn't sure he knew anyone up for the job. Fifth-grader Megan Fixen answered the call.
Fixen, now a 12-year-old sixth-grade student at John Deere Middle School in Moline, said she was one of 15 fifth-grade students at Coal Valley's Bicentennial Elementary School selected to participate in the flag design contest last spring. Her winning design features mining tools and rocks with crystals on a bright green background.
Wiles, president of Coal Valley Township, said he was thrilled how the contest turned out.
"We didn't know who would design it. I didn't think we had anyone on the board qualified enough," he said. "This was something for the young people to get involved with."
Fixen said she researched the coal mines that were dug many years ago in her hometown. She said she considered another idea featuring people of the community, but eventually scrapped that plan. She began with a sketch, went over it again to define all the lines, and then colored it in with markers, crayons and pencils.
Fixen said she was thrilled to have won the contest.
"I was very surprised. I knew there was a lot of competition from a lot of people in my class," she said. "They said it was a close one. I was surprised, but really happy."
Fixen was honored in August with a ceremony at the township office. Wiles said the township took Fixen's design to Regalia Manufacturing Company in Rock Island and had two flags produced. One is on display inside the township office at 104 W. 1st Ave., and one is displayed at Bicentennial Elementary, 1004 1st St.
Fixen said it was very rewarding to have her hard work recognized. She said she has many interests, and art is just one of them.
"I'm not quite sure if it's a passion yet," she said. "But I do love art. And I think of myself as creative, and I love to do it. It makes me feel good when I do art, and I think doing this with all my classmates was really fun."
Her mom, Jane Fixen, said it was "kind of a big deal" to see Megan recognized by township officials and to have Rachel Savage, superintendent of the Moline-Coal Valley School District, there as well.
"I'm just very proud," she said. "She works very hard, and she's very creative. Once she gets a vision, it doesn't take her long to get that down on paper."
Bicentennial art teacher Sarah Dembosky, who coordinated the flag design contest, said Fixen was a joy to have in class. She said she is a hard worker who also lends a hand to her peers.
"Megan was available to help other students and provide feedback to her classmates while they worked on their designs for the contest," she said.
Bicentennial Principal Steven Etheridge said the opportunity to have students participate in the design contest was a sign of the strong relationship the school has with the township.
"They help our school in many different ways and over the years have funded additional books for our school library as well as STEM materials for our students to use throughout the day," he said.
Etheridge said the completed work is something Fixen can be proud of for years to come.
"Now, when you walk into our building, students and community members will see the flag hanging in our display case," he said.
In addition to supporting Bicentennial Elementary, Coal Valley Township provides general assistance to Coal Valley residents and maintains rural roads in the area.