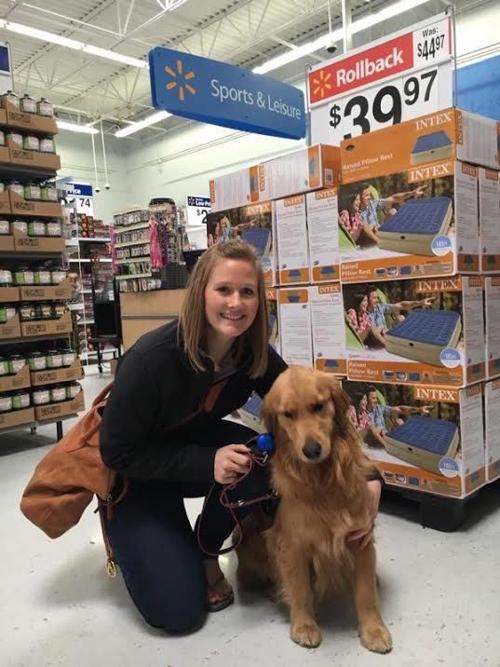 EAST MOLINE — District 37 Superintendent Kristin Humphries has been waiting about six years to get a therapy dog for one of his five schools.
Sometime before Thanksgiving, he will get his wish.
Counselor Shannon Harmon is the dog's owner and will be bringing it to Glenview in this her first year there.
There is no cost to the school district, Humphries said.
Harmon already has the dog trained, certified and insured as a therapy dog.
"We didn't know how to cross some of those hurdles," Humphries said. "We had a new staff member come from another district and she asked us, and we are like, 'you know what, it's something we have been interested in in the past.'
So some policies were tweaked last month and the board approved the dog Monday night.
"We are really excited about it," Humphries said.
So is Harmon and principal Tracy Anderson.
"We have a fantastic counseling department at Glenview," Anderson said. "And Tinker is going to be a great addition to the team."
"In my past work with therapy dogs, I've seen the positive impact they can have on students dealing with stress, anxiety, and strong emotions," Harmon said. "I've witnessed students calm down quicker, open up more, and really come out of their shell when Tinker is around.
"Tinker has a calming and positive presence about her and it becomes contagious to those around her. Tinker also models tolerance, acceptance, kindness and compassion."
Final details will be worked out in a meeting soon. Notes will be sent home to parents and staff, to inform all "and make sure we are being cognizant of any students that can't be around Golden Retrievers," Humphries said. "We want to make sure we are being mindful of our students, and if there are any allergies or what not."
Why add a dog to a student population in middle school? There are several good reasons, Humphries said.
"They can be used for different things, but one of the main things is it really can be a calming issue for kids," Humphries said. "Some kids have emotional issues, or some other issues where they might not find it easy to talk and a school counselor has a dog like that and the kids just open up much more.
"It just brightens their day," he added. "They might feel more comfortable in that setting talking because it just changes their whole outlook. Also I've seen it where it seems to almost calm an entire building down. "
The dog sometimes becomes in Humphries words, "a rock star."
"It does," he said. "In many ways it becomes, 'where's Tinker?' (the name of the dog). The kids get really excited about it. And it just changes the atmosphere in many ways for a school as well."
Humphries is not sure how other districts have had therapy dogs other than have a staff member with a trained dog.
"That's what really opened the door for us is we had somebody come to our school district this summer as a new counselor and she brought it to my attention that she did have a certified therapy dog and she would love to see if East Moline would look at their policy and see if they would welcome a therapy dog.
"That got me excited. I knew the challenges we were dealing with in the past, and now we had a staff member with a certified therapy dog."
There could be more good news — especially if things go well with Tinker at Glenview.
Another counseling staffer at Bowlesburg Elementary has a therapy dog and is expected to put in an application to the district for their dog, Humphries said.
Regardless of if that counselor applies, Humphries thinks Tinker is a big step forward for the district.
"We are just really excited about it," he said. "One of our counselors having this passion, we are excited about what it will do for our students, some that might be reluctant to interact with the school counselor, that might need some extra help or support.
"And what it might do for kids that their day is a little tougher than most kids, and how a therapy dog can help them get through the day and look forward to coming to school.
"We are just excited to see what it does for the general atmosphere of Glenville Middle School."