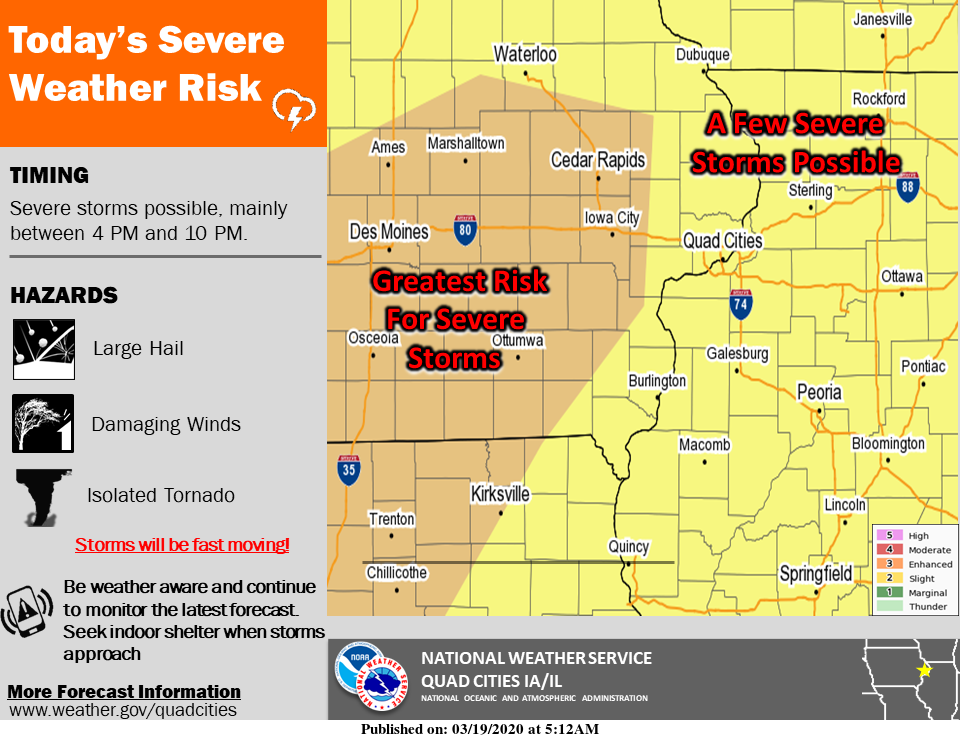 We start off this last day of "winter"  in a fog, and in a world of uncertainty.
Here are the weather details and the latest on the coronavirus.
Areas of fog, some of which could be locally dense with visibility reduced down to under one half mile at times, will continue over the Quad-City area this morning. Drivers should use caution and should expect pockets of sharply reduced visibility. Slow down, allow for extra stopping distance, and use your low beam headlights if encountering areas of fog this morning. The fog should diminish by mid-morning as southeast winds increase.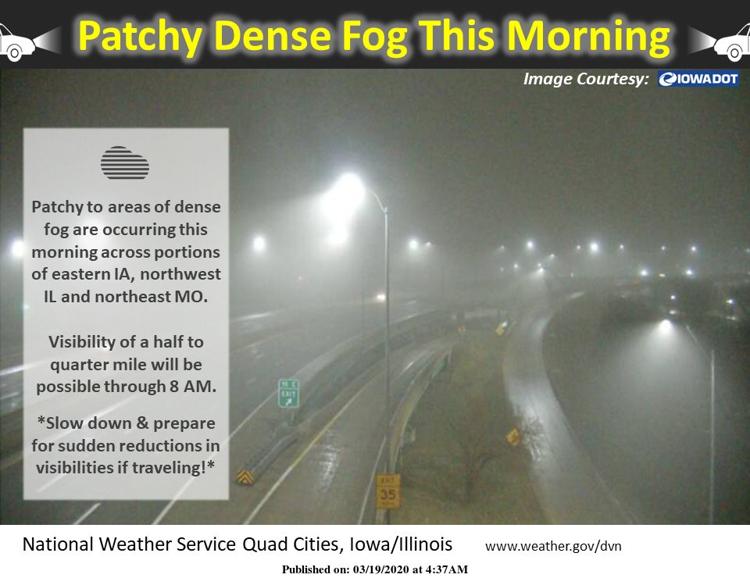 Showers and possibly a thunderstorm are possible before 4 p.m., then a chance of showers and thunderstorms after 4 p.m.  The high will be near 61 degrees. Southeast winds around 10 mph will gust as high as 20 mph. The chance of precipitation is 90% with new rainfall amounts between a quarter and half of an inch possible.
Tonight rain and thunderstorms is likely before 3 a.m. then a slight chance of rain between 3 a.m. and 4 a.m. Skies will be mostly cloudy with a low around 33 degrees. Winds could gust as high as 25 mph. The chance of precipitation is 70% with new rainfall amounts between a quarter and half of an inch possible.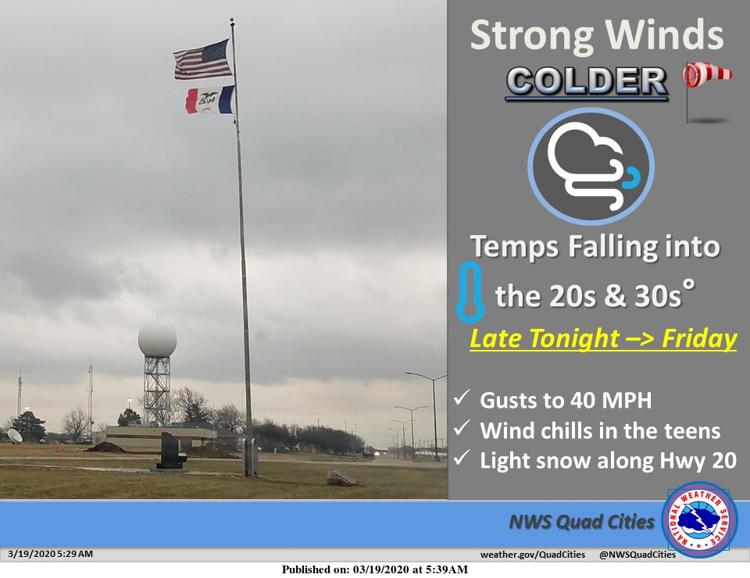 Friday will be cloudy then gradually becoming mostly sunny with a high near 36 degrees and a low around 22 degrees. It will be breezy with a northwest wind between 20 to 25 mph gusting as high as 40 mph.
• Mississippi River expected to rise above flood stage
The National Weather Service in the Quad Cities has issued a Flood Warning until further notice for the Mississippi River at Rock Island and downriver.
Flood stage is 15 feet with moderate flooding possible. The Mississippi is forecasted to rise above flood stage Sunday night and continue rising to 16.3 feet Wednesday.
At 16 feet water affects sidewalks along the river at LeClaire Park. Water also affects Credit Island Lane and Moline's River Drive in the 4700 block.
The National Weather Service also has issued a Flood Watch for the Wapsipinicon River near DeWitt until further notice.
Flood stage is 11 feet with minor flooding possible. The Wapsi is forecasted to rise above flood stage Friday night and continue rising to 11.4 feet Saturday morning.
The forecast for the Wapsi is based on routed flow from upstream in combination with forecast rainfall. Consequently there is limited confidence in the river reaching flood stage.
•  Spring arrives tonight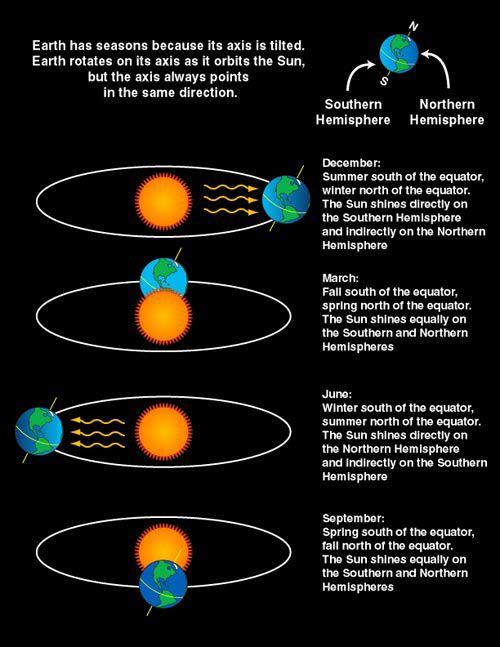 Spring officially arrives tonight at 10:50 p.m.
From the National Weather Service: There are only two times of the year when the Earth's axis is tilted neither toward nor away from the sun, resulting in a "nearly" equal amount of daylight and darkness at all latitudes. These events are referred to as Equinoxes.
The word equinox is derived from two Latin words — aequus (equal) and nox (night). At the equator, the sun is directly overhead at noon on these two equinoxes.
The "nearly" equal hours of day and night is due to refraction of sunlight or a bending of the light's rays that causes the sun to appear above the horizon when the actual position of the sun is below the horizon.
Additionally, the days become a little longer at the higher latitudes (those at a distance from the equator) because it takes the sun longer to rise and set.
Therefore, on the equinox and for several days before and after the equinox, the length of day will range from about 12 hours and six and one-half minutes at the equator, to 12 hours and 8 minutes at 30 degrees latitude, to 12 hours and 16 minutes at 60 degrees latitude.
Today's crime, courts and public safety news
East Moline Police are searching for a parolee out of the Illinois Department of Corrections in connection with the Monday slaying of Demetrius Tucker.
The Rev. Robert "Bud" Grant, a St. Ambrose University professor known for his activism on environmental issues, is being investigated for sexual misconduct alleged to have occurred in the early 1990s when he was serving at St. Albert's High School in Council Bluffs, part of the Des Moines Diocese.
The Central District of Illinois is seeking a new location for its federal courthouse in Rock Island County, and some people want the historic county courthouse, which is still slated for demolition, to be considered. 
Today's coronavirus headlines
"We're trying to do everything we can to take care of the needs of our patients."
When Ethan Happ arrived home from Italy last Thursday night, his parents' initial urge was to grab him and hug him.
Both Iowa and Illinois finished in the Top 25 in the Associated Press' final men's college basketball poll of the season Wednesday.
Photo gallery: Skating in the parking garage to avoid the rain
Concerned about COVID-19?
Sign up now to get the most recent coronavirus headlines and other important local and national news sent to your email inbox daily.