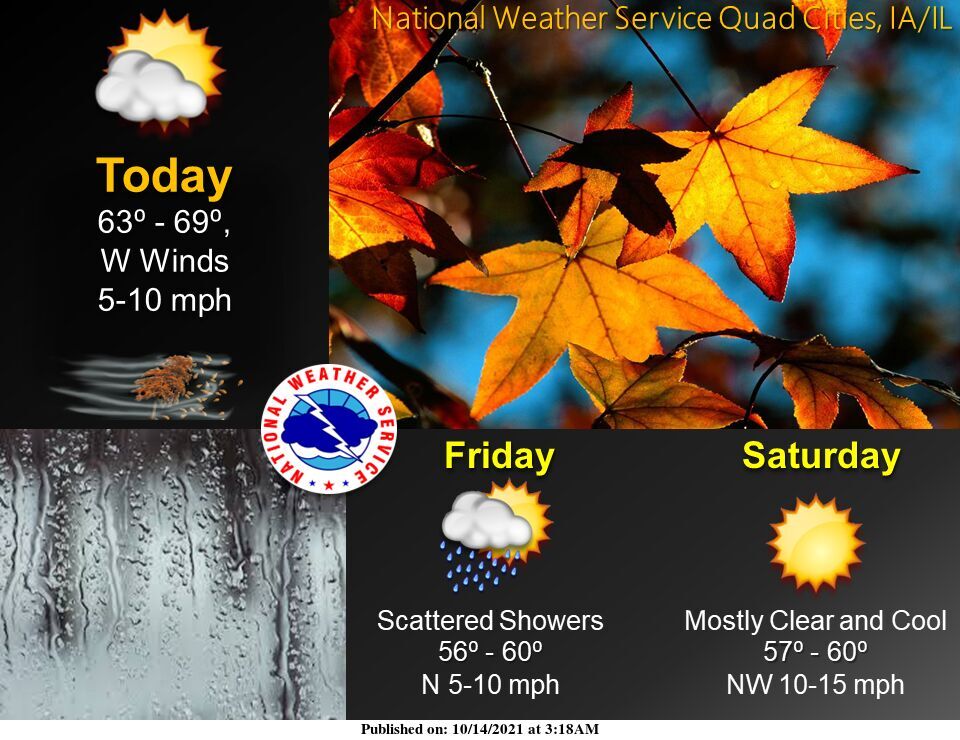 Scattered showers are possible this morning. Here are the weather details from the National Weather Service.
There's a 20% chance of showers before 8 a.m., today. It will be cloudy through mid-morning then gradually clear with a high near 69 degrees.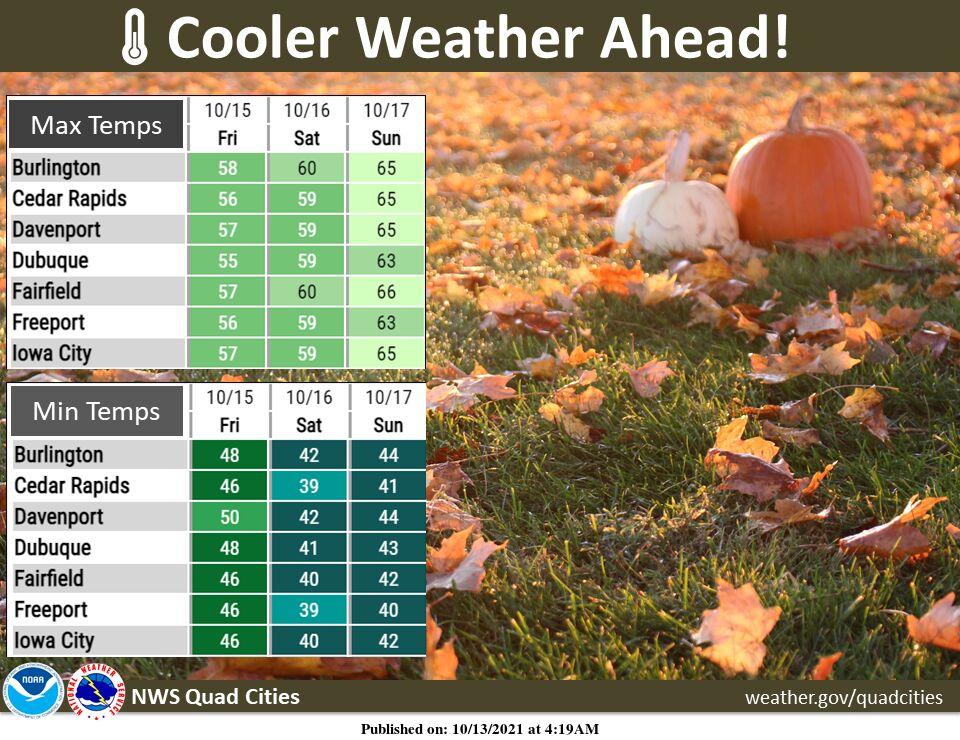 Tonight there's a 20% chance of showers after 4 a.m. Skies will be mostly clear with a low around 47 degrees.
Friday there's a 40% chance of showers after 10 a.m. Skies will be mostly cloudy with a high near 59 degrees and a low around 42 degrees.
Another traffic pattern switch on I-74, other road work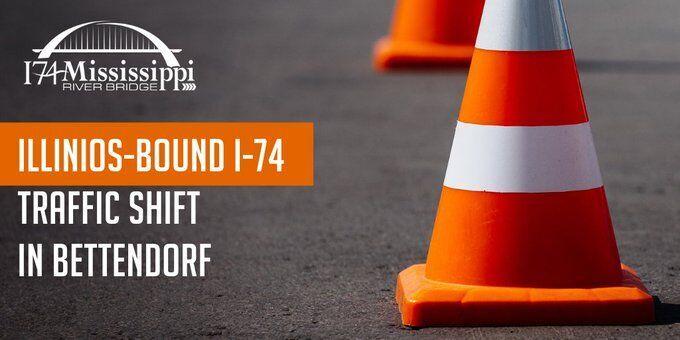 Tonight, weather permitting, a new traffic pattern will be installed on Illinois-bound I-74 in Bettendorf.
Traffic will be shifted to the completed lanes near the last Iowa exit (Exit 4). The off-ramp will remain open.
In early November, the plan is to open the new off-ramp to Grant Street in Bettendorf. The new Grant Street ramp will replace the old ramp at Kimberly Road.
• Government Bridge closure on Saturday
The Government Bridge across the Mississippi River will be closed to vehicular and pedestrian traffic from 6 a.m. to 6 p.m., Saturday, for bridge washing and sealing.
• Lane closure in Scott County
Northbound Y48 (110th Avenue) in Scott County will be closed from 7 a.m. to 7 p.m., Sunday, and Monday from 7 a.m. to 7 p.m. The closure will be between U.S. 61 and Chapel Hill Road. A detour route will be signed on Chapel Hill and Utah Avenue.
The southbound lane of Y48 will remain open to traffic.
Today's top news headlines
UAW and Deere and Co. could not come to an agreement before a midnight deadline. It's the Quad-Cities' largest strike in a generation. 
Davenport aldermen on Wednesday approved two construction contracts totaling more than $409,000 for improvements to Veterans Memorial Park.
The Pleasant Valley School Board met Monday and quickly became a forum on the issue of masking students in the effort to mitigate the spread of COVID-19. There appeared to be little common ground.
Crime, courts and public safety news
A Davenport Police officer shot an armed man who was wanted on an outstanding Scott County Warrant on Wednesday after the man refused to put down his weapon. 
A former Eldridge police officer, arrested in September for sexual abuse of a minor, resigned the night before he was arrested. He wasn't asked to resign, but did so of his own accord, according to the police chief.
A Davenport woman who was hit by a pickup truck Thursday has passed away, according to a Wednesday news release from the Davenport Police Department.
Lifestyle and entertainment headlines
World Relief Quad Cities, the non-profit refugee settlement agency at 1852 16th St., in Moline, will help the Afghan man get settled, make sure he has food, clothing and a place to stay.
VAN HORN, Texas (AP) — Hollywood's Captain Kirk, 90-year-old William Shatner, blasted into space Wednesday in a convergence of science fiction and science reality, reaching the final frontier aboard a ship built by Jeff Bezos' Blue Origin company.
Today's top sports headlines
With only two games remaining in the regular season schedule, the playoff race is heating up.
Read to see where each team in the Western Big 6 stands with two games remaining.
From the basketball court to the classroom to the dugout, Don Grensing always encouraged those around him to think.
EDGINGTON — Most times, it is the older child that turns his or her younger sibling on to a particular sport.
Gallery: The Project of the Quad Cities "A Spooky, Queer Mixer" at Rozz-Tox