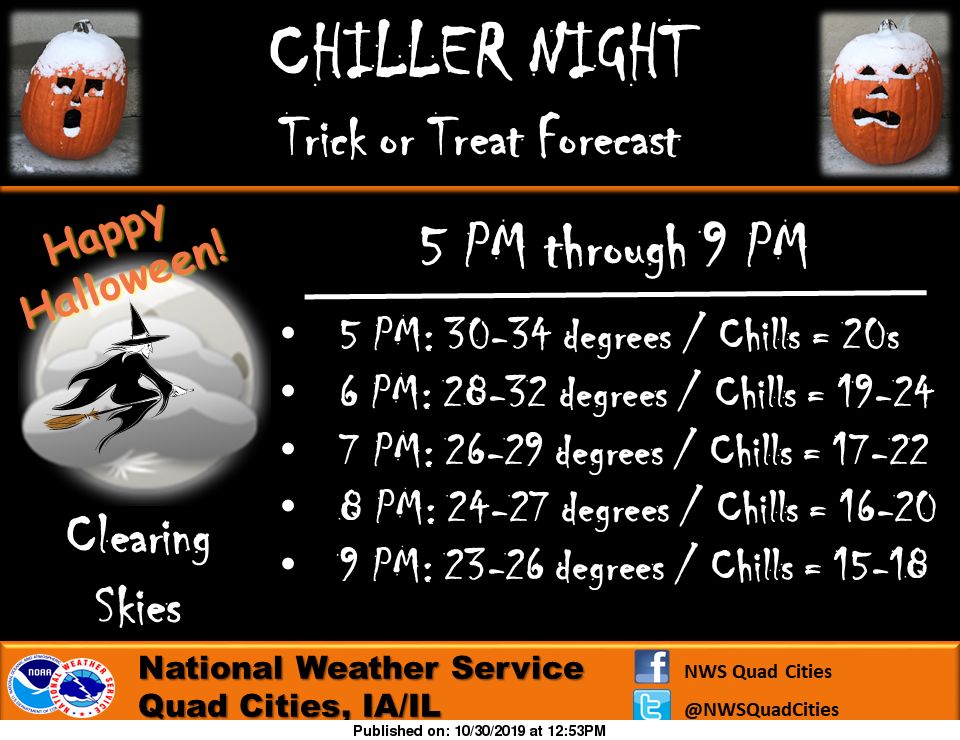 Mother Nature certainly delivered a dastardly trick in the form of snow, wind and cold. It's certainly a trick that will send chills down the spines of those venturing out tonight to trick-or-treat. It is also one that Quad-Citians will remember for years to come.
For those venturing out on the morning commute, slow down and take it easy. Also don't leave an unlocked car warming up in the driveway as the trick may be on you.
Here's the forecast from the National Weather Service.
The Q-C region is under a Winter Weather Advisory until 1 p.m.
Light to moderate snow will continue through daybreak, then gradually begin to end from west to east this morning through early afternoon. Visibilities will be reduced to around a mile at times during the periods of moderate snow. Storm total accumulations of 2 to 5 inches can be expected across the advisory area. Northwest winds may also gust up to 30 mph at times, especially along and east of the Mississippi River.
Plan on slippery road conditions. The hazardous conditions could impact the morning commute. Be alert for slick spots on roads, especially on bridges and overpasses.
Heavy wet snow on leaf laden trees may cause branches to break and fall, possibly causing isolated power outages.
Snow is likely before 11 a.m. with a high near 33 degrees and a low of 22 degrees. It will be breezy with a northwest wind 15 to 20 mph with gusts as high as 30 mph. The chance of precipitation is 100% with new snow accumulation of around an inch possible.
Friday: There's a slight chance of snow after 1 p.m., mixing with rain after 2 p.m. The high will be near 38 degrees. The chance of precipitation is 20%. There's a 30% chance of overnight rain and snow.
• A snow emergency is in effect for Davenport until from 7 p.m., tonight. Vehicles parked on posted snow routes during the snow emergency may be ticketed and towed. As an alternative to on-street parking in the downtown, residents and visitors to the area may park for free in any the city's parking ramps beginning at 5 p.m. today through 7 a.m. on Friday.
• Rock Island has a snow emergency in effect. Once snow depth has reached 2 inches, parking is not allowed on any marked snow routes until the snow has stopped and has been cleared. Vehicles parked on marked snow routes could receive a $35 parking ticket and may be towed, too. 
To facilitate snow removal, Rock Island city crews ask residents not park on residential streets until snow removal is completed. For more information, call the Public Works Department at 309-732-2200 or pubworksmail@rigov.org.