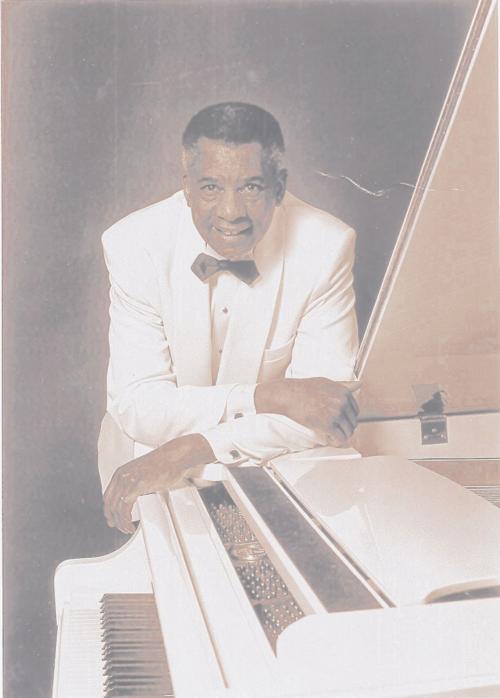 William Bell Jr. — a renowned jazz pianist, arranger, composer and educator from East Moline widely known as "The Jazz Professor" — died Saturday evening at the age of 80 at his home in Oakland, Calif.
Mr. Bell mentored many professional musicians as a college professor and jazz band director, recorded several jazz albums and worked with the likes of Benny Carter, Roy Eldridge, Clark Terry, Lou Rawls, Louie Bellson, the Supremes and Carmen McRae.
He never forgot the Watertown section of East Moline where he grew up being called "Little Bill." Those who knew him are mourning his loss and treasuring their memories.
"We grew up together, right there on 11th Street in Watertown," his lifelong close friend, Alma Warden, of East Moline, said Monday. "My mom was like his second mom. He called her 'Miss Dorothy.'
"I think he had a lot of moms," she said. "That's the kind of kid he was: very respectful."
Watertown was an extraordinarily close-knit African American community, she said. "When they talk about 'it takes a village,' that's what it was," Ms. Warden said.
Born July 12, 1936, the son of William Sr. and Lottie Bell, Mr. Bell's training as a musician began in Watertown, where he played piano for services and classes at Mt. Zion Baptist Church. He took piano lessons at home and learned to read music and score musical arrangements from his cousin, longtime United Township High School music teacher and band director Mallie Williams.
After graduating from UTHS, Mr. Bell earned a bachelor's degree in music education from Augustana College in 1958 before obtaining a master's degree in music education from the University of Iowa.
He taught in Iowa for a few years and then headed to the west coast in the 1960s. In 1966, he appeared on a recording called "The Nifty Cat Strikes West" as a member of the Roy Eldridge Sextet along with Mr. Eldridge, a legendary trumpeter, and Mr. Bellson, a Moline native hailed as one of the all-time great jazz drummers.
Mr. Bell went on to make other recordings and composed a work for the San Francisco Symphony. He also began a long career as an esteemed educator that included being chairman of the College of Alameda Music Department, jazz improvisation teacher at the University of California, Berkeley, and director of the Stanford University Jazz Band.
Prominent students included Sheila Escoveda, better known as Prince collaborator Sheila E.; pianists Benny Green and Michael Wolfe; and trumpeter Jon Faddis.
You have free articles remaining.
He often came back to Watertown to visit.
"He never forgot," Ms. Warden said. "He just had a lot of respect for the people who lived there, when he was coming up and when he came back.
"I just think he was a great guy," said Ms. Warden, adding she called him Little Bill throughout his life. "He was a great musician. He played with the best, and he was one of the best. He loved his music. He was gifted and blessed.
"Little Bill had an infectious laugh," she said. "When he laughed, everybody laughed.
"No matter how big he got, how much he accomplished, Little Bill had a humbleness about him, Ms. Warden said. "He wasn't patting himself on the back. If you patted him on the back, he'd say, 'I just have to give it to Him above.'"
Ms. Warden's late husband, Richard "Bo" Warden, was a prominent tenor sax player who played in a local band with the late Mo Payton, as Mr. Bell had before him. When Mr. Bell visited the Quad-Cities, she said the two men often "jammed."
Mr. Bell also was a composer. His commissioned works include "East Meets West" for the Oakland Youth Symphony and ''Right On'' for the San Francisco Symphony. He released his first CD under his own name, "The Jazz Professor," in 1995. His later recordings included "Just Swing Baby" in 2005 and "The Feeling of Jazz" in 2009.
Fellow Watertown native Nate Lawrence, director of the monthly Polyrhythms Third Sunday Jazz series at the River Music Experience, said Mr. Bell was a role model for kids. Mr. Lawrence said Mr. Bell returned to perform for the Third Sunday Jazz series four or five times over the past 10 years.
"Bill was like a hero in the Watertown neighborhood," Mr. Lawrence said. "He was accomplishing things. He was going to Augustana -- it's like, 'Going to college?' Things of that nature.
"So Bill was one of those people who made us understand that that was available to us," Mr. Lawrence said. "He was a great role model."
Mr. Bell is survived by his wife, Gail; a daughter, Deborah Bell, Los Angeles; a son, Thomas Bell, San Francisco. He was preceded in death by a son, David Bell.
Fouche's Hudson Funeral Home, Oakland, is in charge of arrangements. A funeral in Oakland is planned for March 28. For more information, see fouchesfuneralhome.com.