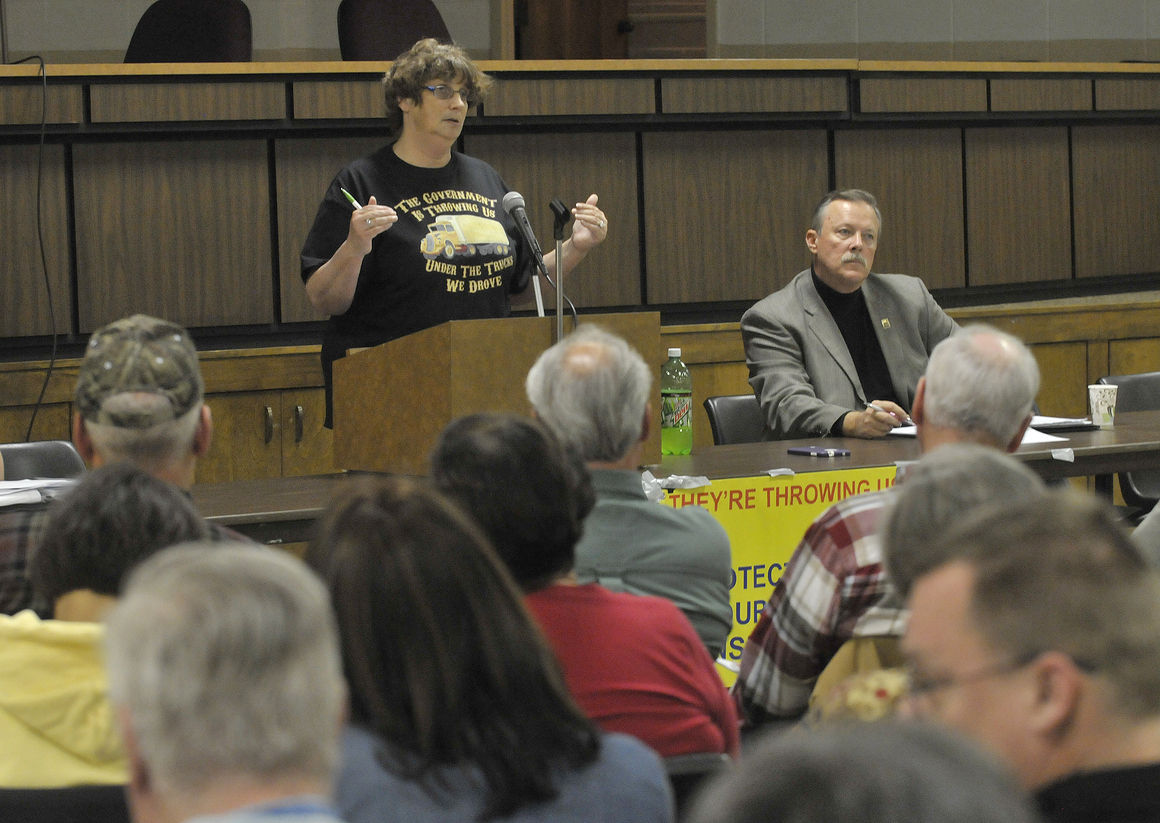 ROCK ISLAND -- Fred Lowry, a truck driver for 57 years, is facing a cut of $10,000 a year from his $33,600 annual pension unless federal action is taken on a controversial pension restructuring plan.
"If I lost $10,000 a year, it'd be a pretty devastating thing," the 76-year-old retiree of the Teamsters Local 371 said after a meeting Sunday at the union hall on what to do about Central States Pension Fund's reorganization plan. It recently sent letters to its more than 400,000 members warning that benefits must be cut for the fund to remain solvent.
"We've all got to get together and fight this," said Mr. Lowry, who retired from Roadway Trucking in 2005 (and still takes jobs about 10 times a year) and now lives in Omaha, Neb. "All of us retirees need to be active."
Mr. Lowry's daughter, Mary Packett, spoke to a packed hall of about 150 retirees, urging them to contact their representatives in the U.S. House and Senate and a special Treasury Department representative who will have the ultimate say on the pension fund changes.
"We'll clean this mess up, but I need your help," said Ms. Packett, who works to provide affordable housing in Omaha and has researched the pension issue for months. She assured the retirees that ultimate cuts will be nowhere near what has been proposed -- up to 50 or 60 percent for some.
"This isn't right," she said, noting the blame actually belongs to all of us. "We have been complacent; we have not been watching what's been going on. This is sneaky stuff done by the government, by executives, when nobody's paying attention."
Though the Central States Pension Fund lost $9 billion in value in 2008, as a result of the financial crisis, it has remained stable since then, and now is at about $18 billion, Ms. Packett said.
The fund is seeking approval for a pension rescue plan under the Multiemployer Pension Reform Act of 2014 (MPRA) to ensure it can continue providing pension benefits for years. On Oct. 1, all fund participants were sent a letter with individualized information (varying by retiree) about how the plan may affect them. If cuts aren't made, the fund could run out of money in 10 years, according to executive director Thomas Nyhan.
The Treasury Department will review the plan, to make sure it complies with the new law, and allow retirees to vote on it. The department will receive public comments through a special master, Kenneth Feinberg, a prominent attorney who was in charge of distributing compensation to families of the 9/11 victims and to victims of the BP oil spill off the Gulf coast, Ms. Packett said.
"Feinberg wants to hear from you all, how this is going to impact you all," she told the retirees. "Feinberg is the final say on the cuts."
Under a provision of the MPRA law, if individual cuts are "too steep and they impact you to the point you can't exist in a manner that's decent, safe and sanitary, there will be no cuts," said Ms. Packett, who has met (with her father) in Washington, D.C., with members of Congress on the issue.
Bills in the House and Senate have been introduced to stop the pension cuts and guarantee threatened retirees and workers a greater voice in deciding their future.
U.S. Rep. Cheri Bustos, D-East Moline, is among 30 co-sponsors -- all Democrats -- of the bill to repeal the MPRA cutback provisions, which were enacted last December (as part of a much larger bill to avoid a government shutdown). Previously, federal private pension law held that plans could not cut retirees' benefits unless the fund was out of money. The new law allows cuts while plans are solvent if they are projected to run out of money within 20 years.
"This is unprecedented and is an ill-conceived and misguided approach to solving the problems facing these plans," according to the Washington-based Pension Rights Center. Retirees also don't have the right to sue the pension fund, Ms. Packett said.
"People are freaking out over 50 or 60 percent cuts," Local 371 President Howard Spoon said after Sunday's meeting. "That's not sustainable. They're not wealthy now."
Representing about 2,000 retirees and 1,350 active members (mostly in the trucking industry), Mr. Spoon is organizing a committee to get retirees mobilized to fight the planned cuts. They would first take effect July 1, Ms. Packett said.
"This is a good turnout. We really needed to do something," Mr. Spoon said of Sunday's meeting. "It needs to keep going."
Republican Rob Portman, of Ohio, co-sponsored the Keep Our Pension Promises Act in the Senate, to protect workers and retirees from benefit cuts. To come up for a vote, the bill must be introduced by the majority party -- which is the GOP in both houses.
Jared Smith, a spokesman for Rep. Bustos, said Sunday that she had sent a letter to the House speaker saying the MPRA should not have been part of the huge omnibus bill, which she did end up supporting.
According to the Treasury Department, all comments on the House bill (HR 2844) must be received by Dec. 7 and can be sent electronically through regulations.gov, or mailed to the Department of the Treasury, MPRA Office, 1500 Pennsylvania Ave. NW., Room 1224, Washington, DC 20220.