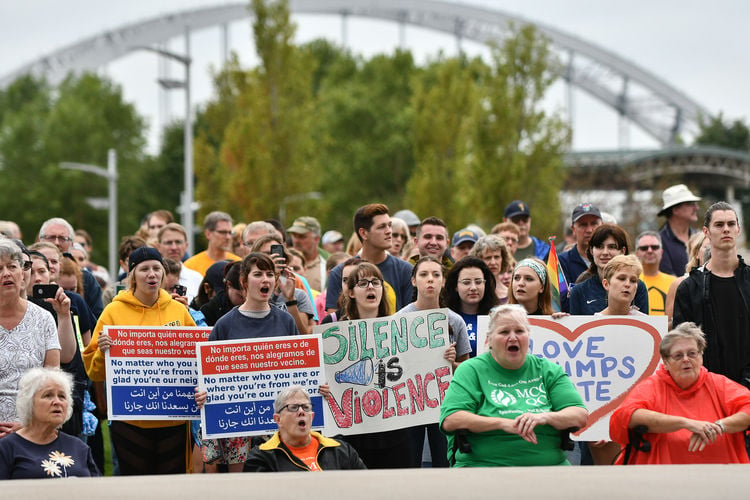 ROCK ISLAND -- More than 400 Quad-Citians stood up for peace, justice and diversity in another anti-hate rally organized by One Human Family QCA, this one Sunday at Schwiebert Riverfront Park.
"We've got a wide diversity of folks speaking today," Rich Hendricks, pastor at Metropolitan Community Church of the Quad Cities, said of the Rally for a Welcoming Quad-Cities. About 1,000 people attended a No Hate Rally 11 days ago at Davenport's Vander Veer Park.
"I was pleasantly surprised; we would have been happy with 200 people. It was overwhelming," Rabbi Henry Karp said of the earlier event, which was held in response to white-supremacist acts locally and nationally.
Sunday's rally was for those who couldn't make the Davenport rally and featured many more speakers, said the rabbi, convener of the new nonprofit group.
"If any group is targeted for hatred, then any group is vulnerable," Rabbi Karp said, noting every person should be treated as family, even those who express prejudice.
"We cannot transform our disagreement and anger with those who hate, to hate itself. If we start hating them, then we become them," he said. "We need to heal them with our love."
"You're here because this is what makes the Quad-Cities great; this is what keeps us here -- because we care for each other," he told the crowd. Several people held signs, such as "I believe in the fire of love and the sweat of truth" and "Love trumps hate."
Red, white and blue yard signs were sold, proclaiming: "No matter who you are, where you're from, we're glad you're our neighbor" in Spanish, English and Arabic.
While the focus of the first rally was "offering a response to hate activities in our community and around the nation," Sunday's focused on "calling upon our community to continue to affirm its welcoming spirit and commitment to diversity," according to One Human Family.
It noted that, since Aug. 16, hate groups have continued to make their presence known -- more flyers from the white-supremacist National Alliance have been distributed, and a large swastika was found in Meier Park, Bettendorf.
The city councils of Silvis, Davenport and Moline have adopted proclamations supporting diversity (based on a resolution presented by One Human Family), and Rock Island's council will vote tonight on a similar proclamation.
"We know communities succeed and achieve their best potential when all persons are welcomed," said Davenport Ald. Rita Rawson, who read her city's proclamation.
"We celebrate our community's diversity and welcome all residents who live here, regardless of their national origin, their race, color, creed, religion, sexual orientation, gender, marital status, gender identity, disability, familial status, financial or socio-economic status," she said, quoting the resolution.
"It doesn't matter what you look like. We all value the same things," said Maria Bribriesco from the local chapter of LULAC (League of United Latin-American Citizens). "We believe in the rule of law, education, and we believe in family. We will come through this crisis stronger."
"The United States of America was built by us all and belongs to all of us," said Vera Kelly, of the Davenport branch of the NAACP. "We have come too far, fought too hard, to let 45 -- Donald Trump -- drag us back decades... We will not, we shall not be moved until our job is finished."
The NAACP recently issued the first travel advisory in its history, warning people of color that their civil rights could be violated in Missouri, said Berlinda Tyler-Jamison, of the Rock Island County NAACP.
"White supremacists are not ultimately going to win," she said. "We're united against hatred."
Brandy Donaldson, representing the LGBTQ+ community, read the Maya Angelou poem "Human Family," which says: "I note the obvious differences between each sort and type, but we are more alike, my friends, than we are unalike." She implored people to defend anyone who is bullied or faces prejudice and to stand up against hatred in any form.
"Love is the only thing that can conquer anything," said Iowa State Rep. Phyllis Thede. "I wish we could do this every day."
"Hate is here ... but we have to stand up strong and say, 'No, it's not allowed,'" said Imam Saad Baig, of the Islamic Center of the Quad-Cities.
He cited a local high school student who in March was targeted in a hate crime at schoo, when another student said, "You're a terrorist; go back to where you came from." The imam also pointed out a sign in front by an Augustana student, saying "Silence Is Violence."
It reminded him of a quote by Albert Einstein, who said: "The world will not end by those who do evil, but by those who watch them without doing anything."
"If you're not standing up against it, then you're complicit in it," said Augustana senior Hannah Griggs, of Bettendorf, who held the sign, among many students who attended Sunday. "There are Nazis walking the streets of our country, and if you're not saying anything about it, you're condoning it."
"The main point of Jesus was on the side of the oppressed, and if I'm a good Christian, I need to be standing, too," she said.
The rally also included Regina Tsosie, of Sage Sisters of Solidarity, who is Navajo, and folk singer Chris Dunn, who led the crowd in civil-rights songs.
Before the event, Rabbi Karp said President Trump's Friday pardon of former Arizona sheriff Joe Arpaio (who was convicted of contempt of court for his immigration tactics) showed "without question, that the present administration stands on the side of racists ...The law doesn't matter; what matters is my prejudice," he said.
At onehumanfamilyqca.org, you can find 10 ways to fight hate. Event emcee Kai Swanson said his favorite is "Create an alternative. Every time you encounter an act of hatred, create an act of love."
Get local news delivered to your inbox!
Subscribe to our Daily Headlines newsletter.