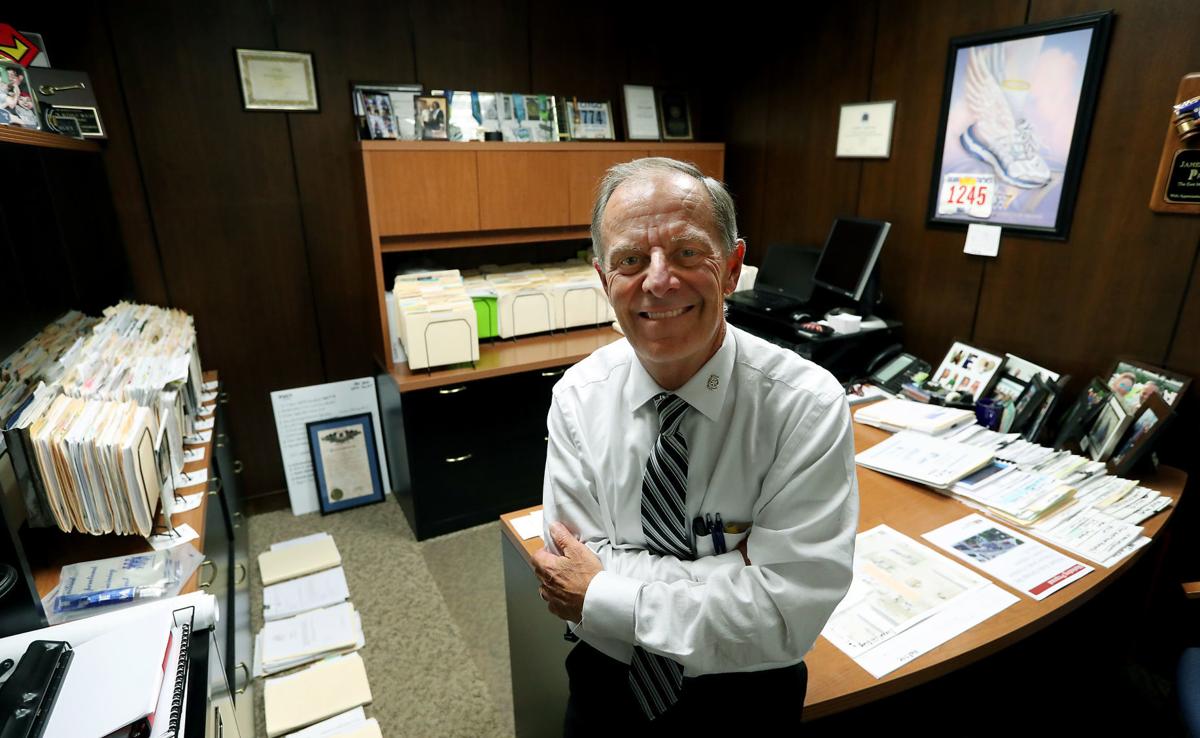 SILVIS — The many files sit neatly organized on Silvis Public Works Director/City Administrator Jim Grafton's desk. Two rows, both in the left-hand corner.
One is for upcoming meetings, the other for things he's working on.
Behind him up on a shelf sit even more files, and to the right more still.
Yes, Jim Grafton — all 5-foot-5, 130 pounds of him — is a very busy man.
His day begins around 5:30 a.m. with a run of four to six miles at about an 8-minute, 30-second pace.
He's usually at Silvis City Hall by 7 a.m. And if he leaves by 7 p.m. — a 12-hour day —  he jokingly calls that a half day.
Many times he sticks around for a city council meeting or a committee meeting, and gets home a little later.
Grafton, a former Silvis alderman, is nearing his 20th year as the city manager/public works director.
And he shows no signs of slowing down. He's a bit of a deal maker, who has helped Silvis grow substantially at a time when many Illinois Quad-Cities are shrinking.
And he does it all with just an associate degree from Black Hawk College.
Former mayor Lyle Lohse saw something in Grafton when he appointed him first as an alderman in 1998, then to public works director/city administrator.
'What can I do to help you?'
For Lohse, the observing began in the late 1970s when Grafton was dating the girl across the street, Lynn Perry, now Jim's wife.
Lohse liked what he had seen and heard of Grafton, so he checked him out with the Perrys and someone from Hardee's (Grafton was a partner in several franchises) that Lohse knew. "They spoke very highly of him," Lohse said. "So that was the reason I appointed him to the council (in 1998) originally. He seemed to know a lot about finance, so I thought he would be a good thing."
Then after about three years for Grafton on the council, in which he was the financial committee's chair, the public works director passed away.
"I had been pushing before to try and get a city administrator," Lohse said. "So I told the council, 'Put the public works position and the city administrator position together,' and we talked about it."
Lohse spoke to a few people about the job, including Grafton. Once again, Lohse was impressed with Grafton. "He seemed he could do a very good job with us," Lohse said. "So I appointed him to that dual position, which he holds to this day.
"I am very impressed with Jim."
Lohse likes his work ethic, and readily agrees Grafton is patient and helpful. "He's a very hard worker and really tries hard. I think he puts in a lot more hours than I would like him to." But Lohse said that's just what Grafton requires of himself to do the job.
"He always seems ready to get things done and work hard and he's very easy to get along with most of the time," Lohse said. "You can tell him your situation and he will work to solve it and come up with something."
City clerk Jim Nelson has worked alongside Grafton for 11 years. Grafton's humility strikes him.
"That's the No. 1 thing about Jim Grafton is that he wants to do what's best for the citizens with as little controversy as possible," Nelson said. "He's a very humble person and he doesn't have an ego. It's just 'how am I going to do this at the best possible price and for the citizens of Silvis?"
"He's a good man," adds Nelson, echoing Lohse. "For me, for the last 11 years, he has really made this job a joy. 'What can I do to help you?' He was so easy."
'I was struggling just to be able to run'
You have free articles remaining.
Eighteen months ago Jim Grafton, father of four grown children and seven grandkids, and a man who has completed nine Boston Marathons, about 30 marathons total, and 36 Bix 7s, had the surprise of a lifetime. It really began about two years ago when he and Lynn were vacationing in Florida.
"I was struggling just to be able to run down there, and I would have to walk and fast-walk and could barely jog," he said. "So, two years ago in October, I was trying to figure out 'why am i just so out of breath and weak?'
"I just kept fighting through that, and that was in late October. Then went through the winter, and did a little bit of running indoors on a treadmill and continued to try and push through, and I did it up until the middle of March.
Lynn knew something was wrong. "Something's going on," she said. "You got to get it checked out."
It was now late March. Grafton opted to get things checked out and failed a stress test. And after an echocardiogram, he somehow squeezed in two appointments that Monday night, with an angiogram set up for the next day. It revealed the widow-maker was 99% blocked, another blockage was 100% and another 85%.
He was rushed by ambulance to Genesis East for triple bypass surgery. He calls the cause a head-scratcher, as he had paid attention to things like cholesterol and taken statins for a while. His mom died of a stroke, but she was 79. And a grandfather had a heart attack but was a smoker.
His recovery was far quicker than most patients who have had open heart surgery. He was out running 11 days later. And is still running. 
He runs for his health, he said and also to think things through. "If there's something I can't seem to get an answer for I will put a long run in and I will figure out usually what to do. My saying is: If it can't be figured out in a 2-hour long run, it can't be figured out."
'It's about providing neighborhoods'
A Moline graduate, he was more into gymnastics and his books in high school than any form of running. It was there at age 16 that he started his adult career at Hardee's. By his mid 20s, he was a partner in nine Quad-City locations. But by the time he was in his 40s he was beginning to realize that being a minority owner was not all it was cracked up to be.
"That's where I learned that if you want to control your future, then you better be in a position where you are not strapped financially or by others that control your life," he said. "And that was a hard lesson to learn."
Hard work alone could not solve everything, and necessarily earn one a lot more money. "That was just a vicious circle," he said.
So as the century turned, he took Lohse's offer and began his career as a city administrator/public works director. His biggest shock was learning Saturday was a day off.
It's clear the city administrator/public works job fulfills him.
"I don't know if I look at the total picture," he said. "I just look at the smaller pieces that make our city our city. "Everything is unique. It's just like a neighborhood. Every house is different. The people in each house … everybody's different.
"That's what's cool about our community. Every neighborhood is unique. And the overall vision is to have a safe community and a safe place to raise a family. That's the vision. It's not about the big business and bringing in more business. It's about providing neighborhoods and just being sensitive to what our community needs."
He still sees people outside in their neighborhoods talking in Silvis, and he's proud of that.
And he doesn't feel trapped by his lack of a four-year degree or a master's.
"There's a lot of things that I have learned and experienced that there's no way you are going to learn it in a college setting," he said. "No way."
The lack of master's has kept him from looking elsewhere, Grafton added, "but as far as I am concerned it has worked for my benefit because that would have opened other doors.
"And I don't know if I would have been happy uprooting my family and moving to other locations.
"It's very rewarding what I am able to do."
He has praise for his cohorts, too.
"I've had a great set of aldermen and mayors I've worked for and been able to earn their support, trust and confidence.
"In a new environment, you gotta start all over and at what gain?
"If I can make a positive impact on the majority of 8,000 people that are in our city, wow, there aren't too many people that can say that."